Hawkeyes fall to Spartans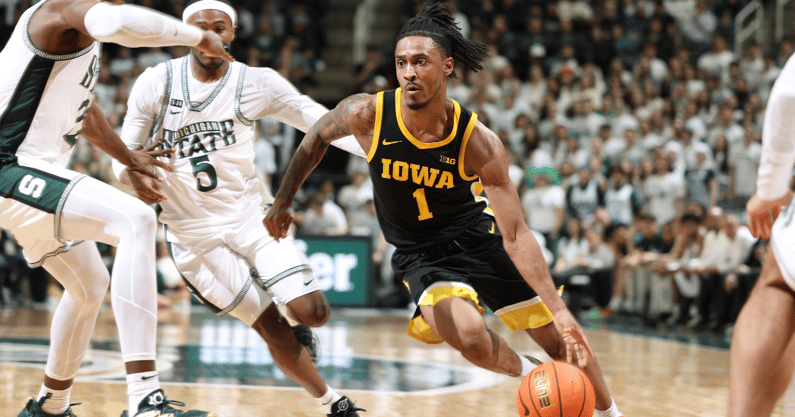 Road wins are hard to come by in the Big Ten. They are extra challenging at Michigan State. The Iowa basketball team came close to doing just that, but fell 63-61 after the Hawkeyes missed two opportunities to tie or win the game in the final seconds.
With the loss, the Hawkeyes drop to 12-8 overall and 4-5 in Big Ten play.
The Spartans held the two point lead, but A.J. Hoggard missed the front end of a one and one and Iowa had the opportunity to steal a win. The Hawkeyes called a timeout with eight seconds left to set up a potential game winning play. Connor McCaffery tossed the ball to Kris Murray, who then pitched the ball out to an open Payton Sanfort for a three. He hit the front of the iron and then eventually got a second crack at it and again came up short.
Iowa started this game with plenty of promise. They jumped out to a 10-0 lead in East Lansing. That start was capped by a Kris Murray dunk with 15:51 left in the first half. Murray finished with just 11 points in the game and only scored three points in the second half.
Michigan State finally got on the board on a three pointer by Tyson Walker. They kept chipping away at Iowa's lead. Eventually Walker hit a jumper with 5:27 left in the first half to give the Spartans their first lead of the game, 23-22.
The Spartans held a one point lead at the break, 30-29, but Iowa scored the first four points of the second half of the game. The first points were layup by Kris Murray and then Ahron Ulis knocked down a jumper to put Iowa up, 33-30. Ulis finished with a career high 17 points, including 13 in the second half of the game.
Free throw shooting played a role in giving Iowa a shot to win the game in the final seconds, but it also was part of the reason why they were behind in the game. This year Iowa is shooting 72.6% from the charity stripe, but at the Breslin Center, the Hawkeyes could only make 6-13 (46%) and that proved to be costly.
Iowa returns home for a game on Sunday against Rutgers. The game is schedule to tip at 1 pm and will air on the Big Ten Network. It is also Iowa's White Out game, where fans are encouraged to wear white at the game.