Taking a look at the Iowa WBB NCAA Tournament resume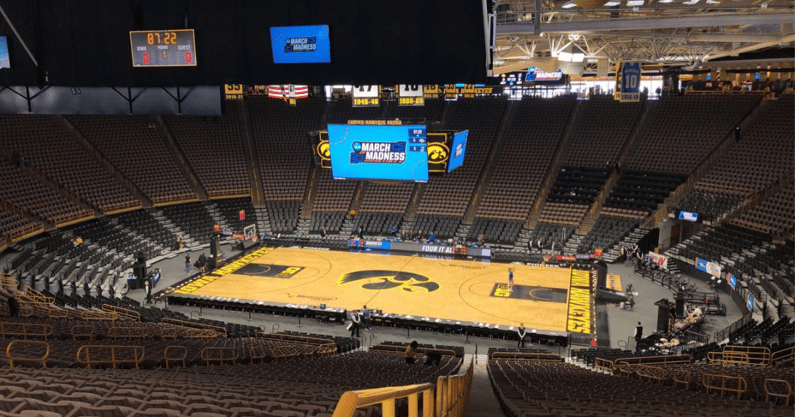 It feels like it wasn't that long ago that we were discussing preseason projections for the Iowa Women's Basketball team. All the sudden, we are halfway through the month of January and Big Ten play is in full swing. We're starting to find out what teams are for real and what teams aren't quite as good as they seemed a few weeks ago.
Selection Sunday is just 52 days away, with the tipoff for the play-in games taking place just three days later. The Hawkeyes have moved around a considerable amount in the projections since the beginning of the season. Losses to Kansas State, UConn and NC State had some wondering if their #5 preseason ranking was a little to ambitious. Currently, Iowa is on a four game winning streak and playing some of their best basketball as of late. That has moved them back up in the AP Poll and back up in the bracket projections.
After a stretch of three games against unranked opponents, the schedule ramps back up with #2 Ohio State on Monday. Right now, it's a good time to take a look at where the Hawkeyes stand with their resume, the NET, the bracket projections and then look ahead at the remaining schedule.
THE HAWKEYES RESUME
As of today, the Hawkeyes sit at 15-4 overall with a 7-1 mark in Big Ten play. They are ranked #10 in the AP Poll and also come in at #10 in the NET rankings, as the highest rated team with more than two losses. The Women's NCAA Tournament has a bit more importance placed on getting seeded highly, as the top 16 teams get to host a regional at their home arena. Last year, Iowa sold out Carver-Hawkeye Arena for both tournament games, so it is certainly an advantage the Hawkeyes would like to get again. At the moment, they seem to be on track to host a regional.
How do you assess a teams resume strength? That's where we turn to WarrenNolan.com. They do a great job of keeping track of the NET rankings and the quad system that makes up the resume.
Here is how the Quads are broken down.
Quad 1: Home 1-30, Neutral 1-50, Away 1-75
Quad 2: Home 31-75, Neutral 51-100, Away 76-135
Quad 3: Home 76-160, Neutral 101-200, Away 135-240
Quad 4: Home 161-353, Neutral 201-353, Away 241-353

The Hawkeyes have a 4-4 record in Quad 1 games, but they have certainly could be 6-2 or even 7-1. Recent wins at Michigan and Michigan State have helped the cause a bit, but the Kansas State loss is beginning to look worse as it is on the verge of falling to the Quad 2 category. The Wildcats have lost five of their last six games and WarrenNolan has them finishing at 14-17.
The good news is that Iowa is 5-0 in Quad 2 games and do not have a bad loss on the resume. The remaining landmines are Rutgers and Wisconsin, but both are at Carver, so the Hawkeyes should be able to comfortably get through those games.
Iowa's four Quad 1 wins are tied for 9th most in the country, while eight Quad 1 games is tied for 6th most in the country. Two of the Hawkeyes next three games fall in the Q1 category, so there are opportunities on the near horizon.
WHAT THE BRACKETS ARE SAYING
There's not nearly the amount of bracketologists for WBB as there are for MBB, so that narrows things down a little bit. ESPN's Charlie Creme has the Hawkeyes hosting a regional as a 3 seed right now, with a first round matchup against 14 seed Sacramento State. Funny enough, the other projection done by College Sports Madness has the exact same matchup. That is an improvement from a couple weeks ago when they fell off of the hosting line to a 5 seed after their loss to Illinois.
How comfortable are the Hawkeyes in the hosting picture right now? Well, unless you are a one seed, you can go to and from the hosting spot in the matter of just a few games. Take last year for example, Iowa was projected to be a 7 seed on February 18th. The Hawkeyes proceeded to rip off seven straight wins, including a Big Ten Tournament Title and secured a 2 seed in the NCAA Tournament less than a month later. It's a very fluid situation. So the real answer? Not incredibly comfortable.
LOOKING AHEAD
As it stands right now, the Hawkeyes still have six games left against Quad 1 teams. They face #2 Ohio State on the road and then still have to face #6 Indiana, #11 Maryland and Nebraska twice. That means there are plenty of chances to bolster the resume, but also chances to lose some games if they don't play their best basketball. A double-edged sword.
WarrenNolan.com sees the Hawkeyes going 6-4 down the stretch, which would give them 21-8 record and 13-5 mark in Big Ten play. That would be good enough for the three seed in the Big Ten Tournament per their projections. The Mred site gives their projection for the remaining games, but also allows fans to input their own results and see how the standings change. A cool feature to mess with. Without changing any of their results, they have Iowa going 5-5 in their final ten games and grabbing the five seed in Minneapolis. That would almost certainly be a disappointing finish for both the team and the fanbase.
As the calendar inches closer to March, the picture will become more clear and we will be able to give better idea of where the Hawkeyes stand. At the moment, Lisa Bluder's squad has a shot at hosting an NCAA Tournament regional, but they will likely have to exceed the current projections and pick up a couple of ranked wins down the stretch.