Iowa Women's Basketball Tip Time Preview: 15 seed Southeastern Louisiana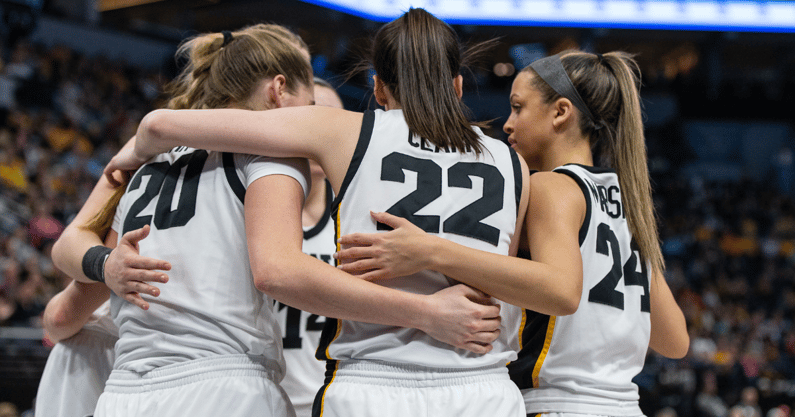 FIRST ROUND OF THE NCAA TOURNAMENT – IOWA CITY, IA
TIME: 3:00pm CT
TV: ESPN – Dave O'Brien and Christy Winters Scott
SERIES: First Ever Meeting – Iowa 1-0 all-time against the Southland Conference
THE NUMBERS
OFFENSE: IOWA: 87.5 PPG, 50.9% FG, 37.2% 3PT, 14.3 TO SELA: 62.7 PPG, 40.9% FG, 29.9% 3PT, 12.8 TO
DEFENSE: IOWA: 71.3 PPG, 40.0% FG, 29.8% 3PT, 14.3 TO, +6.3 REB MARGIN SELA: 54.5 PPG, 38.1% FG, 33.1% 3PT, 18.4 TO, -0.2 REB MARGIN
PROJECTED LINEUPS
IOWA HAWKEYES
6'0 PG Caitlin Clark – 27.0 PPG, 7.5 REB, 8.4 AST, 37.9% 3PT
5'9 G Gabbie Marshall – 5.8 PPG, 37.1% 3PT
6'0 G Kate Martin – 7.5 PPG, 4.2 REB, 3.5 AST, 47.5% FG
6'1 F McKenna Warnock – 11.0 PPG, 5.9 REB, 39.2% 3PT
6'3 C Monika Czinano – 17.3 PPG, 6.5 REB, 67.4% FG
SOUTHEASTERN LOUISIANA LADY LIONS
5'10 G Hailey Giaratano – 12.4 PPG, 3.9 REB, 2.0 AST, 40.0% FG
5'5 G Jalencia Pierre – 7.7 PPG, 2.8 AST, 43.0% FG
5'7 G Cierria Cunningham – 7.3 PPG, 44.7% FG
5'11 G Taylor Bell – 8.5 PPG, 41.0% FG
6'3 F Natalie Kelly – 4.4 PPG, 8.5 REB, 43.0% FG
IOWA PLAYER TO WATCH: C Monika Czinano
Monika will go to battle in the post against 6'3 F Natalie Kelly. Kelly went up against Utah All-American Alissa Pili early in the year and Pili went for 16 points on 8/10 shooting. Czinano has been held to 15 points or less in seven of the last 12 games, but was lights out in the Big Ten Championship against Ohio State. She put up 26 points on 11/12 shooting and will be looking to carry over that performance into the NCAA Tournament.
SE LOUISIANA PLAYER TO WATCH: G Jalencia Pierre
Pierre is not necessarily a player to watch for her role on the offensive side for the Lady Lions. She is important because she will be the one guarding Caitlin Clark. Pierre will have the task of guarding the likely National Player of the Year and how she does will be the difference between a close game and a blowout.
Caitlin is going to get her points, but Pierre will have to try to keep her from filling up the assist category as well. She leads the team in steals with 49 and has been an important piece for a defense that has been stifling their opponents all season.
KEY MATCHUP: Iowa three-point shooting vs SELA defense
As good as the Lady Lions defense is, they have the propensity to allow teams to shoot well from behind the arc. For the most part, they have played teams that don't shoot a lot of threes, but their opponents have made the ones they've taken. SE Louisiana is allowing opponents to shoot 33.1% from behind the arc and that ranks 333rd out of 361 teams. Notably, they allowed Utah to shoot 17/32 (53.1%) from three-point range and the Utes ran away for a 99-62 victory.
If the Lady Lions defense allows Caitlin Clark, Gabbie Marshall and McKenna Warnock to get open looks from outside, it could be a long night for them.
THE BREAKDOWN
The Southland Conference Champions are making their first ever NCAA Tournament appearance and are also looking to become the first ever 15 seed to defeat a 2 seed. The Lady Lions went 0-3 against NCAA Tournament participants, but had close losses against 3 seed LSU and 10 seed Alabama. SE Louisiana went 14-4 in Southland play and overcame a nine point deficit to defeat Lamar in the conference championship game.
The Lady Lions will be a bit shorthanded, as their second leading scorer Alexius Horne will be out with an injury. She averaged 12.0 points and 3.1 rebounds, while her season-high 28 points helped keep things close against LSU. That is a big loss for an offense that already ranks 242nd in the country in scoring.
With Horne out, the rest of the SELA squad will have to step up and score the basketball. That starts with Southland Conference Tournament MVP Hailey Giaratano. She is averaging a team-leading 12.4 points and has scored in double figures 21 times this season. Giaratano is the only healthy Lady Lions player averaging in double figures.
Taylor Bell is averaging 8.5 points per game and stepped up with 22 points against Lamar in the Southland Title game. Of the seven main rotation available players, each of them have scored 10+ points at least in at least two games, so they know how to spread the wealth. That will be important today. Jalencia Pierre (7.7 ppg), Cierria Cunningham (7.3 ppg) and Chrissy Brown (6.4 ppg) are the other major contributors.
F Natalie Kelly and G Chrissy Brown are the top two rebounders on the team. Kelly averages a team-leading 8.5 rebounds, while Brown is threat on the offensive glass. She has 13 games with 5+ offensive rebounds.
The Lady Lions are not going light it up from behind the arc. In fact, just 20.3% of their total points this season have come from three-point range. They rank 201st in three-point attempt rate and 226th in three-point percentage. Daija Harvey comes off the bench and leads the team with just 36 (1.2 per gm) made three-pointers.
The real calling card is the SE Louisiana defense. They rank 19th in points per game allowed and in the top 50 in turnovers forced per game. Four Lady Lions players average at least one steal per game. They held the third-ranked LSU offense (84.1 ppg) to a season-low 63 points and held Alabama's 79th ranked offense (69.9 ppg) to just 55 points. Utah is the only team this season that has been able to score more than 70 points against them this season. They put up 99 points and made 17 three-pointers in that game.
The weakness for SE Louisiana, as already talked about, is their three-point defense. The Hawkeyes average 8.9 three-point makes per game and the Lady Lions have allowed their opponents to make 8+ three-pointers in eight games. Their opponents shot above 40% from three-point range in ten games.
Here are some important stats to know for the matchup…
2pt FG: Iowa 1st (59.5%) SE Louisiana 212th (43.9%)
3pt FG: Iowa 10th (37.2%) SE Louisiana 226th (29.8%)
3pt Rate: Iowa 67th (32.8%) SE Louisiana 201st (27.7%)
TO: SE Louisiana 32nd (13.1) Iowa 83rd (14.3)
Forced TO: SE Louisiana 47th (18.4) Iowa 273rd (14.3)
Off pts/100 possessions: Iowa 2nd (113.6) SE Louisiana 188th (90.6)
Def pts/100 possessions: SE Louisiana (83.1) Iowa 182nd (92.4)
Possessions Per Gm: Iowa 10th (76.5) SE Louisiana 296th (67.1)
Off Rebounding: SE Louisiana 257th (27.9%) Iowa 273rd (27.3%)
Def Rebounding: Iowa 5th (76.2%) SE Louisiana 44th (72.9%)
THE PICK
Southeastern Louisiana has a tall task in front of them, as they are going up against the top ranked scoring offense in the country. However, the Lady Lions have kept their opponents below their scoring average in 22 of 28 games and have forced 20+ turnovers in 11 games. It is a defense that the Hawkeyes cannot sleepwalk against and score 90 points.
However, there are a couple of statistics that do not go in favor of the 15 seed Lions. Although the SELA defense has held their opponents below 70 points in 27 of 28 games, the Hawkeyes have only scored under 80 points in seven of 32 games. The SELA offense has scored 70+ points in just five games, so they are not built to get into a shootout.
WarrenNolan.com projects Iowa to win 83-54 and Las Vegas has the Hawkeyes favored by 29.5 points. It is an Iowa team that has been playing their best basketball over the last couple of weeks and experienced losing on their home floor in the NCAA Tournament last season. They are determined to deliver for the sell out crowd this year. The Lady Lions will keep things close early, as they try to shorten the game with their slower pace, but the Hawkeyes will get their transition game going and roll for an easy first round victory. IOWA 83 SE LOUISIANA 59