Rusty VanWetzinga IV walking on at Iowa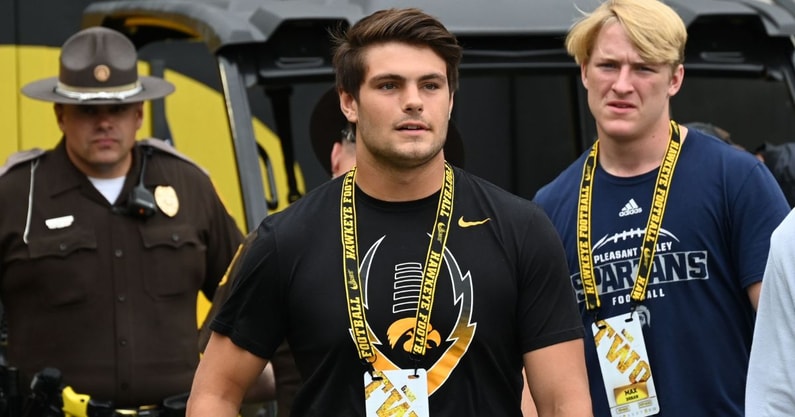 Rusty VanWetzinga IV is staying home. The 6-foot-1, 220-pound fullback/linebacker from Pleasant Valley announced today that he has accepted a preferred walk-on opportunity with the Iowa Hawkeyes.
Previously, VanWetzinga was headed to Southern Illinois on scholarship and also drew offers from Army, Navy, Charlotte, Western Illinois, and Northwest Missouri State, among others. But the opportunity to play for the Hawkeyes was too good to pass up.
"There's no place like home," VanWetzinga told HawkeyeReport.com. "Playing at Iowa has been a childhood dream of mine. I feel like if I didn't go to Iowa then I'll live with regret for the rest of my life."
A standout on both sides of the ball for Pleasant Valley, VanWetzinga finished his senior season with 262 yards rushing and eight touchdowns on offense and 58 tackles, seven tackles for loss, and one interception on defense. It is on offense where the Hawkeyes see him playing in college as assistant coach Abdul Hodge loves his potential at fullback.
"I love to hit people," said VanWetzinga. "It's something that Coach Hodge loved because you can't find guys like me anymore."
Iowa's Class of 2023 Walk-Ons
Hayden Large – 6-foot-4, 240-pound TE transfer from Dordt University
Austin Kutscher – 6-foot-0, 198-pound WR transfer from Ohio State
Jackson Filer – 6-foot-3, 230-pound DE from Iowa Western Community College
Watts McBride – 6-foot-1, 185-pound DB from Cedar Rapids, IA
Aidan McDermott – 6-foot-2, 190-pound WR from Cedar Rapids, IA
Jalyn Thompson – 6-foot-4, 235-pound TE from West Des Moines, IA
Judah Mallette – 6-foot-2, 185-pound WR from Chicago, IL
CJ Leonard – 6-foot-3, 185-pound WR from Shawnee, KS
Ryan Kuennen – 6-foot-3, 245-pound DE from West Des Moines, IA
Cael Winter – 6-foot-3, 250-pound OL from Waukee, IA
Luke Pollack – 6-foot-4, 200-pound WR from Deerfield, IL
Jack Laughlin – 6-foot-1, 202-pound LB from Carlisle, IA
Tommy Poholsky – 6-foot-2, 200-pound QB from Evergreen, CO
Nolan DeLong – 6-foot-1, 205-pound LB from Durant, IA
Rusty VanWetzinga IV – 6-foot-1, 220-pound FB from Pleasant Valley, IA