Four-star Kansas State linebacker target Asa Newsom in decision-making mode after visit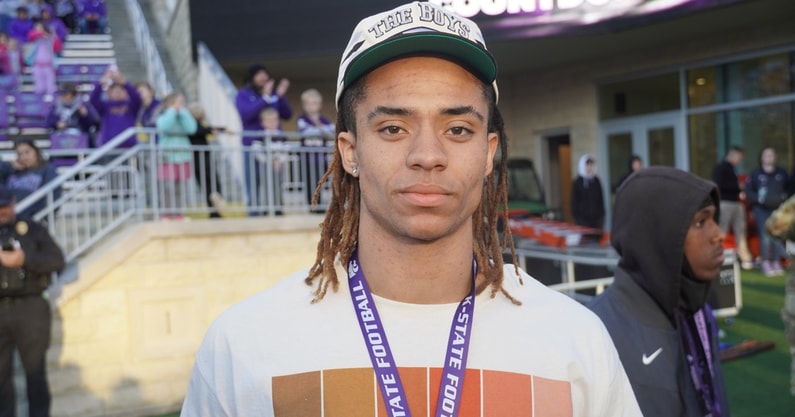 One of the headliners that Kansas State hosted on a visit for the Texas game was On3 four-star linebacker Asa Newsom of Iowa. He has presumably whittled his choices down to Iowa, Minnesota and K-State and now visited all three many times, including once for a game during the 2022 season.
His familiarity and comfort level with the Hawkeyes has uplifted them in his recruitment. The Gophers have remained consistent with him and chased him very hard for one of their final linebacker spots. Kansas State has had the better season, recruited him a long time and he has a strong relationship with head coach Chris Klieman.
It was the second game that Newsom has seen in Manhattan but first this year and the environment blew him away, even though the Wildcats couldn't secure the victory.
"It was really cool to see," he said. "It was an awesome atmosphere to be in."
K-State fell 34-27 when their comeback came up just short but are 6-3 on the season and 4-2 in Big 12 play. With a little bit of help, they still have a more than realistic shot of reaching Arlington and playing for a conference championship.
But Newsom was still able to take a lot from his trip to watch the Wildcats. It wasn't about just seeing them perform. It was about connecting with many of them and interacting with them in a very genuine and comfortable situation.
"It was really just another opportunity for me to get to talk with the coaches and get around the staff in person," he explained. "I also got to spend some time with the committed guys and the guys on the team, too."
Specifically, he had his ear bent by four-star Kansas State quarterback commit Avery Johnson.
"It was cool," Newsom pointed out about the conversation. "He's a cool dude. We've direct messaged a little bit, too. But that was the first time talking in person."
After a hoard of visits, a lot of time, a thorough process and with more discussions to come with his family, the Waverly-Shell Rock product is ready to begin to get serious about his college choice and announcing a commitment.
"Now that my season is over, I'll be able to sit back and really evaluate schools and hopefully make a decision," Newsom revealed. "I'm not going to put a date on it, though."