Rapid Recap: Kansas State dominates the paint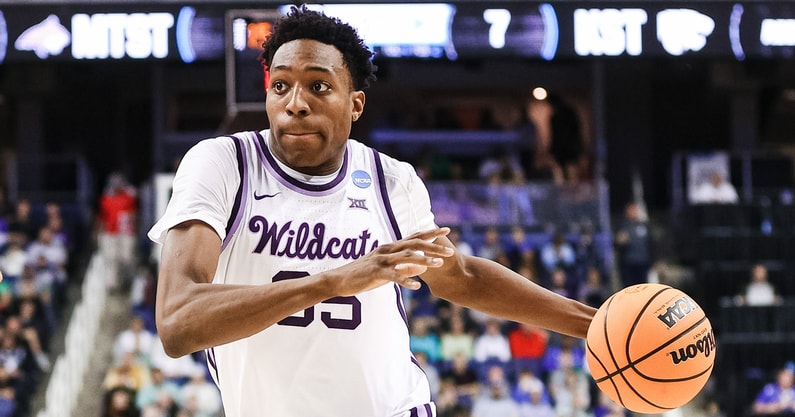 PAINT DOMINANCE FROM KANSAS STATE
Kansas State controlled the paint against Montana State by out-scoring the Bobcats 48-30. K-State has been a paint point team all season long and it's a point of emphasis for them. The Wildcats were getting in the paint off the dribble and off the pass versus Montana.
Stopping the Bobcats at the rim was a major key as well. Jubrile Belo averages 13 points and six rebounds on the season and had just five points and four rebounds on Friday night. It's safe to say that Kansas State was thrilled with that performance.
When K-State plays together and for each other, they are a really good team. They have a variety of playmakers who can get into the lane and either pass or shoot and it makes them hard to stop. Having two creators like Desi Sills and Markquis Nowell is a blessing.
LESSONS LEARNED
It was the first NCAA Tournament game as a head coach for Jerome Tang when Kansas State faced Montana State. Prior to that, he had mounted a ton of tournament experience as an assistant for 19 years at Baylor.
He learned a few lessons in his time with the Bears that have carried over to K-State.
Tang stressed once again the first game is the hardest one to win. It isn't necessarily easier to be victorious in the other games, but the preparation for the first game makes it the hardest to win. For example, the Bobcats threw in some wrinkles like a 1-3-1 zone.
He also doesn't like to look at the whole bracket. Kansas State just looks at one game and doesn't worry about everybody else. Seeding doesn't matter in college basketball. It's about that current 40 minutes and that particular opponent.
NOWELL'S RECORD-BREAKING NIGHT
Markquis Nowell tied his career high in assists in the win over Montana State with 14. Those 14 assists also broke a K-State single-game NCAA Tournament record, too. He has placed his name on a lot of Wildcat records in his final year wearing a Kansas State uniform.
It's a blessing for the senior point guard and he thanks his teammates for getting open and finishing the plays. It was a well-executed game plan by the K-State coaches and the players adhered to it very well on Friday evening.
Keyontae Johnson called it a blessing to be able to play with a point guard like Nowell.
LOOKING AHEAD FOR K-STATE
The Wildcats will face Kentucky on Sunday afternoon at 1:40 p.m. CST. Tang hasn't seen much of them this year since he told the players to just focus on one game. The only opponent they paid attention to was Montana State. They also did not watch much of the first game as a team.
However, it will not be Tang's first time facing Kentucky. While at Baylor, they broke the Wildcats' 55-game winning streak at Rupp Arena. The Bears were also victorious in two other times they met, though it was on a neutral site.
He knows Kentucky fans travel well, but he knows Kansas State fans do as well.