Rapid recap: No lingering concerns on passing game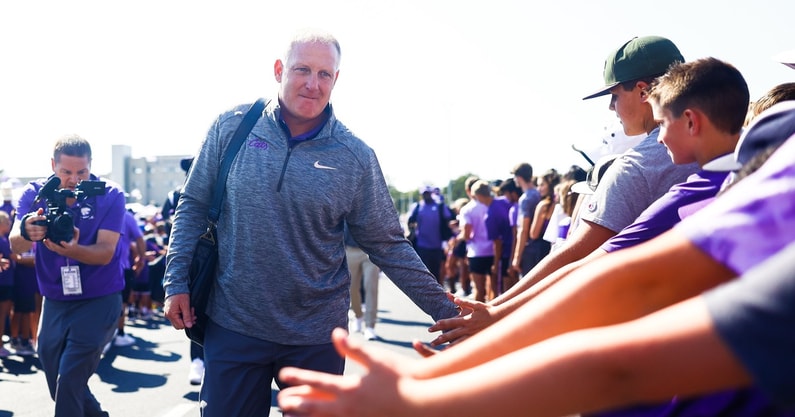 NOT CONCERNED ABOUT AERIAL GAME
Kansas State's passing game struggled a bit to get off the ground on Saturday night in the season opening win versus South Dakota. Adrian Martinez was efficient throwing the ball and was 11 of 15 through the air, but he only tallied 53 yards on those 11 completions.
Chris Klieman thought Martinez handled everything well and the operation of the offense was good, especially with how many things they have changed on offense since Collin Klein took over as offensive coordinator.
They missed a few chances in the passing game but he played within himself and took care of the ball.
WORD ON TAYLOR POITIER
Taylor Poitier went down with an injury against the Coyotes and did not return after being helped off of the field. He missed all of last season after being injured before the season. Everyone has their fingers crossed about the prognosis, but Klieman didn't have an update on his status moving forward.
KSO has been told that he will undergo further tests on Sunday.
PLEASED WITH THE DEFENSE
K-State pitched a shutout in their first game of the year, which was the first for the Wildcats since the Bowling Green game in 2019.
What makes it more impressive is that Kansas State was without Shawn Robinson, Josh Hayes, Will Honas and TJ Smith and had to play a lot of younger players. True freshman VJ Payne received the start at one of the safety spots and shared time with Nickendre Stiger.
A shutout is rare in college football and doing it while having to rotate in a bunch of new and younger players pleased the Wildcat head coach. They kept South Dakota off balance in the first half. The Coyotes only had one first down with less than five minutes remaining in the first half.
Getting off the field on third and fourth down was an issue for K-State last season, but they held South Dakota to just 31 percent on third down, with two of the five third down conversions coming after Kansas State pulled their starters.