Winners and Losers: Kansas State star Ayoka Lee to be cleared in July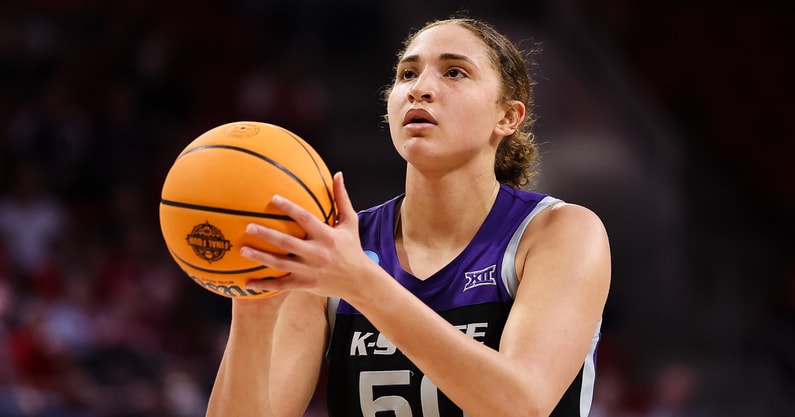 We wrap up the week was in the world of Kansas State sports and college athletics.
WINNERS
1) CASTILLO: We learned last week that Kansas State point guard commit David Castillo is now ranked as the No. 5 point guard in the country, according to On3. He picked Jerome Tang and the Wildcats over Kansas and Oklahoma State.
2) CATS: The K-State Catbacker Tour can reveal new information to the media at times. That was the case last week when we arrived at Old Chicago in Salina. One of the athletes available to speak to was Kansas State superstar Ayoka Lee. She missed last season after another knee injury. Per Lee herself, she will be cleared for all activity in July. Her recovery is on schedule.
3.) HOUSTON: Soon after it was reported that Houston head coach Kelvin Sampson interviewed for the opening at head coach for the Milwaukee Bucks, the basketball boss reaffirmed his status with the Cougars. That is big news for a program on the rise that needs him at the helm when they begin to face K-State and others in the Big 12 starting with the 2023-2024 season.
4.) KANSAS STATE: In case anyone missed it over the weekend, Kansas State added two members to their secondary for this upcoming season when they received commitments from junior college standout Daniel Cobbs and Southeast Missouri State transfer Tyler Nelome. Both visited Manhattan.
5) NGONGBA: Nobody's stock is rising faster than that of K-State target Patrick Ngongba. As we had forecasted about a month ago, he's seeing a spike in offers that has included the likes of Notre Dame, Syracuse, Providence, Indiana, Virginia Tech and UConn. The Huskies were the latest, and it wouldn't be a surprise if Michigan and UCLA joined the party.
LOSERS
1) OKLAHOMA: Soon, Kansas State won't be league members or partners with the Sooners. But until that day arrives, we can point and scoff at how Oklahoma is competing in the most important sports as they head into a league that could eat them alive even more. They have finished the 2022-2023 athletics year with losing records in all of football, basketball and baseball. That has to be very concerning for athletics director Joe Castiglione and his constituents.
2) REALIGNMENT: I'm a sucker for good nuggets on realignment as much as the next guy, but it is tough to keep everything straight and know where to look for accurate information. Even reputable writers often share information that is contradicting. Though insiders at The Athletic, Sports Illustrated's Ross Dellenger and San Jose Mercury's Jon Wilner continue to insist that the Pac-12 is still in active negotiations with ESPN on a potential media rights deal, that has been argued against or at least diminished in seriousness by Action Network's Brett McMurphy and Andrew Marchand of the New York Post. In any event, it is hard to see ESPN as a major player for the product unless it comes at a great price. Remember, the worldwide leader even passed on NFL Sunday Ticket, the Big Ten, the Premier League and Champions League.
3.) HUSKERS: Despite recovering nicely by landing Daniel Kaelin (a one-time K-State target) at quarterback, Nebraska swung and missed on No. 1 overall player and signal-caller Dylan Raiola of Arizona. The son of Husker offensive line legend Dominic Raiola picked Georgia.
4.)  BIG TEN: ESPN's Pete Thamel paints a pretty bleak picture of how former Big Ten commissioner Kevin Warren left the league and the reported television contract with NBC, CBS and FOX. The lack of transparency with member athletic directors and coaches have some fuming, and a few outstanding issues will likely diminish the value of the contract that was originally released to the public.
5.) MIZZOU: How did Nebraska land Kaelin? They flipped him from Eli Drinkwitz and Missouri.