10 Essentials for the Perfect Derby Party
I won't be at Churchill Downs tomorrow for the most exciting two minutes in sports, but I will be hosting a Derby party. Like many ex-pat Kentuckians, I refuse to part with the tradition that accompanies the first Saturday in May and have taken it upon myself to host a Derby Party to educate my Nashville family on all things Derby. For the past eight or nine years, it's been a smashing success. There are way larger and fancier Derby parties happening across the Bluegrass and beyond tomorrow, but if you're hosting your own humble shindig, 
here are 10 essentials for hosting a successful Derby party
:
A rain plan
Fortunately, you won't need one this year, but usually, with the Derby comes a chance of rain. For once, the weather gods are smiling on us, with little to no chance of precipitation in the Bluegrass and my Middle Tennessee. Take advantage of the weather and move your TV outside. Nowadays with fancy, lightweight flat screens, you don't really have an excuse not to.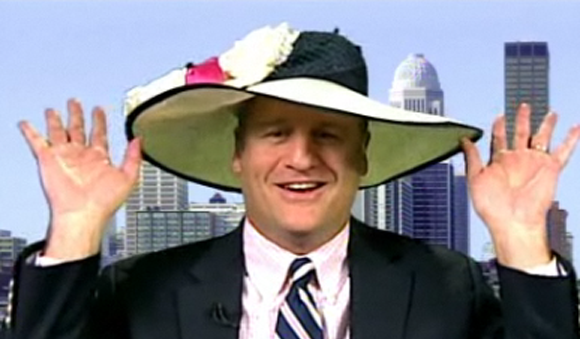 A hat
One thing older generations have on us is a proper appreciation for hats. Nowadays, unless you're very, very cool, it's very, very difficult to wear anything other than a baseball cap without looking like a tool. Unless it's Derby Day. The Derby is a holiday for hats. Celebrate by holding a best hat contest. Provide guests who don't wear one with cheap, silly hats. Liquor Barn sells the cheap plastic jockey hats that are always good for a laugh, especially in the wee hours of the night.
Bourbonade
I'm a stickler for tradition, and for my first few Derby parties, I was obsessed with making everything authentic. I had country ham and beaten biscuits shipped in, drove up to Liquor Barn in KY to get the authentic Derby glasses and supplies, went to about five different Sonics to get the right kind of crushed ice, and even picked fresh mint from my neighbor's yard. Unfortunately, it was all for naught. Mint juleps are definitely a acquired taste and most people took one sip, crumpled their noses, and switched to beer while the poor mint leaves wilted pathetically in the corner. After that, I decided to be lazy and buy the Maker's Mark mix, as well as provide an alternative. Hence, bourbonade was born:
Mrs. T's Bourbonade 2 cups ice tea (unsweetened) 1/2 cup sugar or Splenda 1 12 oz can frozen lemonade 1 12 oz can frozen limeade 1 750 ml bottle of bourbon 7 cups water
The drink was such a hit that we even served it at our wedding. I hope you guys enjoy it. A contest or an activity
One of my friends' favorite parts about our Derby parties is the annual coloring contest. And yes, we are all grown adults (for the most part), but who doesn't love to color? Make it interesting by offering a small prize for the winner (chocolate or a small pint of bourbon usually does the trick). Obviously, if kids are in attendance, they'll love it too. I know Willie Cauley-Stein (or Willie Caul-EQUINE!...see what I did there?) would.
A betting board
Make a large betting board with each horse's name, post position, trainer, jockey, owner, silks and odds on it. Have guests pay a dollar per horse they want to bet on and write their initials by their choice. Pick someone to be "the bank" and have them collect the money, which will be divvied up at the end.
A singalong to "My Old Kentucky Home"
You didn't learn the lyrics in grade school for nothing. Sure, singing along may seem cheesy at first, but if you don't get chills when the crowd's chorus of "Weep no more my lady" swells across Churchill, you're not a true Kentuckian.
Extra TP
You can never have too much. Same thing with ice.
Derby Pie (or an equally decadent dessert)
In the battle of salty vs. sweet, I always lean towards salt, but there's nothing better than a piece of Derby pie. It's really the best things in the world rolled into one: chocolate, pecans, bourbon, and lots and lots of sugar. Sure, you may not feel like moving after you eat a piece, but it's worth it. Go the extra mile and make your own, if only so you don't have to read the nutrition facts when you buy it at the store.
A parasol
Just kidding. As hard as you try, your backyard is not Keeneland and you are not Scarlett O'Hara. Put on a hat or sunglasses.
The Mayweather/Pacquiao fight on PPV
Okay, this one is just essential for this year. The Floyd Mayweather/Manny Pacquiao fight is being billed as the Fight of the Century, an event so big that it pried John Calipari, Mark Stoops, AND Rick Pitino away from the Derby. For the latter, I didn't think that was possible. Oh wait, there will be plenty of desperate women making bad decisions in Vegas too. Never mind.