10 Ideas to Boost Attendance at Commonwealth Stadium on Saturday
[caption id="attachment_206008" align="alignnone" width="2048"]
@KyWildcatsTV
[/caption]
To put it nicely, Kentucky hasn't exactly set the world on fire the first two weeks of football season (a dumpster, however...). Demoralizing losses to Southern Miss and Florida have fan frustration at a recent high, and combined with a soggy forecast, attendance will likely be far from capacity on Saturday night. Thankfully, Saturday is also Heroes' Day, meaning all active, reserve, and veteran members of the armed forces, along with police, firefighters, and first responders can receive two free tickets to the game; however, given the morale around the fanbase, it feels like most fans are looking for reasons not to attend. Kentucky football: it's just like your coworker's baby shower!
No one wants to see the stadium as empty as it was for the Vandy game back in 2012, so I spent the day coming up with ideas to boost attendance on Saturday. You're welcome, UK.
1. Allow fans to come in and out as they please
Earlier this week, Matt and Ryan proposed allowing fans to bring coolers in to the stadium to enjoy their own cold beverages, but the SEC prohibits the sale AND possession of alcohol in public areas. (Folks in the premium levels and suites can imbibe as they please because, you know, loopholes.) So, instead, why not let fans come in and out of the stadium as they please? Give each fan a wristband so that at halftime, they can head out to their tailgate to "fortify" themselves and come back in instead of just giving up on the game altogether. Or, just really look the other way when you see a flask in someone's pocket or purse.
2. Let the plebeians into the premium areas
Say it's pouring rain and attendance is really, really low. Instead of letting the faithful fans that do come out to see the Cats play suffer outside, invite them into the premium areas to reward their loyalty. I doubt Mitch Barnhart can make the rounds to shake every season ticket holder's hand, but bringing them in out of the lousy weather to tour the renovations that the average fan never sees seems like a nice consolation. I mean, someone has to hang out in there. Might as well be the ride-or-die crew, right?
3. Hold the KSR 4x100m relay challenge at halftime
Like many great KSR ideas, the 4x100m media relay has kind of fallen by the wayside, but I can think of plenty people who would come out to see the media make fools of themselves during halftime. A traditional 4x100m relay takes place on a track, but surely we can adjust it for the field at Commonwealth. Most of the media is eating free food during halftime anyways; this would be a much healthier -- and entertaining -- alternative. Besides, I bet Alan Cutler already has a pair of spikes.
4. Let fans in the stadium contribute to the music
We heard several complaints about the music at the stadium during the Southern Miss game. From Justin Bieber to "Callin' Baton Rouge," the selections weren't exactly pulse-pounding, adrenaline-pumping anthems you'd expect to hear at an intense sporting event. You're never going to please everyone when it comes to music, so why not let the masses contribute? Make a group playlist on Spotify and allow season ticket holders to put their suggestions in. If you want to run them by a DJ before they play, sure. If not, even better. Want to get the ladies in the crowd on their feet? Just put on "Fantasy" by Mariah Carey. Works every time.
https://youtu.be/qq09UkPRdFY Mariah might not scream football, but try not to bob your head during that. Impossible.
5. I hate to say it, but bring the basketball team out on the field
Not to play right into Gary Danielson's hands, but there's no denying a visit from John Calipari and his squad would perk up the crowd in between quarters. I'm not saying scrimmage during halftime or anything (although that would be amazing), but why not bring the guys out in some kind of capacity? Have Isaiah Briscoe address the crowd and tell them how excited the team is for the upcoming season. Hell, put some pads on Bam Adebayo and have him jog around a little and get everyone all worked up. I bet people would pay money to see that. I would.
6. Let Coach Cal call the game for a quarter
Similarly, let Calipari work the crowd. We all know how entertaining Calipari is during media appearances, his radio show, and on the sideline; listening to him talk is often times more fun than the games themselves. So, I propose letting Calipari help Commonwealth announcer Carl Nathe out for a quarter. Or, just let Nathe take a quarter off. Can you imagine?
"Look at Boom go! He's FLYING! BOOOOOOOM! No one's stealing on his joy! I tell you, you look at his stats before the game, are you surprised?? Come on, you football Freddies, he's in another league!"
7. Free popcorn after touchdowns
You all know how much I love popcorn. It's probably one of the cheapest (and most delicious) foods for the concession stands to make, right? Hand it out for free after each Kentucky touchdown. If the game goes poorly, you won't be out a lot of money anyways.
8. Let the military members help the Wildcat do pushups
Over the years, we've given the Wildcat mascot grief over his pushup form after touchdowns, but considering the stadium will be full of military members who can drop and give us 20 perfect pushups on command, why not give the Wildcat some help? No head bobs! Paws at the side! Don't you dare drop to your knees!
9. Play other games on the jumbotrons during timeouts and halftime
Unlike last weekend, Saturday's schedule is packed with good games. UK's kickoff is sandwiched between #1 Alabama at #19 Ole Miss, #12 Michigan State at #18 Notre Dame, and #3 Ohio State at #14 Oklahoma. Give the people what they want and play the games during timeouts and half.
10. Invite the first 1,000 women in the stadium to meet Jordan Rodgers
I didn't watch "The Bachelorette," but it sounds like this Jordan Rodgers fella is popular with the ladies. Rodgers, a former Vandy quarterback and brother of Green Bay Packers star Aaron Rodgers, is calling Saturday's game alongside Taylor Zarzour and Kevin Weidl for the SEC Network. The news has apparently already stirred up the ladies in Lexington, so -- with Jordan's permission, of course -- why not invite the first 1,000 women in the stadium to meet him? For a nice, humble young man who would never turn down good publicity, that sounds like a great pregame treat. JoJo would understand.
I can see the gates at Commonwealth opening now...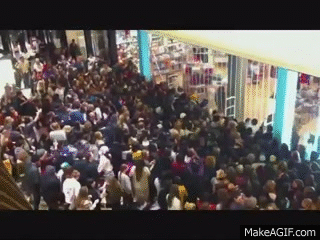 Feel free to add your suggestions in the comments.