10 interesting stats from Kentucky's win over Mount St. Mary's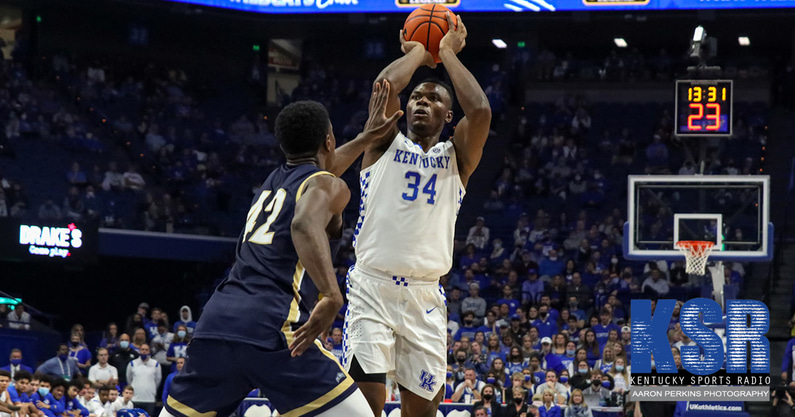 Kentucky's 80-55 victory over Mount St. Mary's has come and gone, with the Wildcats moving to 2-1 on the year and 2-0 at Rupp Arena. UK will now look ahead to a matchup against Ohio on Friday, the team's third of seven consecutive home games.
Before we officially move on to the Bobcats, let's take a look at some of the most interesting statistics from Kentucky's win on Tuesday, followed by the school's official game notes, courtesy of UK Athletics.
---
Kentucky is 80-0 under John Calipari holding teams to 55 points or fewer
By holding Mount St. Mary's to 55 points, UK is now 80-0 under head coach John Calipari when limiting the opponent to 55 or fewer.
UK held the Mountaineers to just 34% shooting, the best of the year
Kentucky limited Mount St. Mary's to 34.0% from the field, UK's best defensive percentage of the young season. UK is 211-24 (89.8%) under Calipari when keeping the opponent to 40% or less.
Wildcats have won all three games on the glass
UK won the rebounding battle 41-27. The Wildcats have won all three games on the backboards by an average of 14 per game.
Oscar Tshiebwe's 56 rebounds is the most for a Wildcat since 1956
Tshiebwe's 56 rebounds are the most by a Wildcat over three games to start a career since at least 1956-57 (as far back as comprehensive box scores go). The previous high was 52 by Dan Issel in 1967-68.
Tshiebwe hits Julius Randle's double-double mark
Tshiebwe is the first Wildcat with three straight double-doubles since PJ Washington did it in January and February of 2019. He's also the first UK player with three straight to start a career since Julius Randle opened his Kentucky career with seven straight in the 2013-14 season.
Tshiebwe joins Nick Richards in the 20 and 15 club…
He is the first Wildcat with at least 20 points and at least 15 rebounds in a game since Nick Richards posted 25 points and 15 boards vs. Fort Wayne on Nov. 22, 2017.
… he also joins Jamal Mashburn in the 24-point, 16-rebound, 3-block club
Tshiebwe is the first Kentucky player to have at least 24 points, 16 rebounds and 3 blocks in a single game since Jamal Mashburn vs. Eastern Kentucky on December 8th, 1992 (38 points, 19 rebounds, 3 blocks)
Sahvir Wheeler leads the nation in assists
Finishing with 12 points and eight assists in the win, Wheeler now leads college basketball in assists, averaging 10.0 per contest.
Wheeler breaks John Wall's early assist record
Wheeler's 30 assists through his first three games as a Wildcat are the most by any UK player to start a career. The previous high was 22 by John Wall in 2009-2010.
Not the longest home stretch of the Calipari era
Kentucky's game vs. Mount St. Mary's on Tuesday was the second of a seven-game homestand. Calipari had two eight-game homestands in 2014-15 and 2019-20 early in their respective seasons.
---
ATTENDANCE: 18,227
Final Score: No. 13/11 Kentucky 80, Mount St. Mary's 55
Team Records and Series Notes
Kentucky moved above .500 with its second consecutive win to get to 2-1. Mount St. Mary's dropped to 1-3 this season.
UK now leads the series 3-0, including 2-0 in games in Lexington, Kentucky.
This was the second of three straight games in the Kentucky Classic, a multi-team event.
Next up: Kentucky will wrap up its Kentucky Classic participation when it hosts Ohio on Friday at 7 p.m. in Rupp Arena. The game will be televised on SEC Network.
Team Notes
UK shot 53.1% from the field, a second consecutive game with better than a 50% clip.
The Wildcats made all eight of their free throws and has made 15 of 16 over the last two games.
Kentucky dominated points in the paint, 46-16, and led 13-4 in fast break points.
Player Notes  
Oscar Tshiebwe continued his early season dominance with a career-high 24 points and 16 rebounds for his third straight double-double to open the 2021-22 year.

It was his 15th career double-double.

He was 11 of 14 from the floor, a career high for field goals made.

He also had three blocks for a second time this season.

TyTy Washington Jr. had the best game of his young UK career with 16 points.

He made 7 of 12 from the floor, including two 3-pointers.

Sahvir Wheeler just missed out on a double-double with 12 points and eight assists.
Keion Brooks Jr. reached double-figure scoring for the second straight game with 10 points in addition to seven rebounds.
Kellan Grady added eight points with two 3-pointers.
Jacob Toppin (shoulder) and Lance Ware (ankle) did not play because of injury. Both are day-to-day.

Toppin also missed the home opener vs. Robert Morris.
Coach Calipari
Calipari improved to 341-94 at UK.
Calipari has a 786-234 all-time on-court record. 
UK is 277-55 in games vs. unranked Associated Press competition.
Calipari is 2-0 in his career vs. Mount St. Mary's
In the First Half
Kentucky started Sahvir Wheeler, TyTy Washington Jr., Kellan Grady, Keion Brooks Jr. and Oscar Tshiebwe for the third straight game and is now 2-1 with that lineup.
Tshiebwe picked up right where he left off in the first two games with a jumper on the Wildcats' opening possession and scored 10 of UK's first 16 points.

Four of his first five field goals were on jumpers.

Daimion Collins was the first sub of the game at the 17:38 mark.
Mount St. Mary's opened the game strong with a 7-4 lead and hung tough for much of the first half. The Wildcats began to separate just a bit at 25-18 after a layup by Brooks at 8:19 to take a 25-18 lead, part of a 9-3 run.
Just as it looked like the Wildcats were primed to pull away with a 29-20 lead after a Washington layup, MSM answered with five quick points to cut the deficit to 29-25 and force Calipari to burn a timeout with 4:02 left in the half.
Kentucky responded with a 9-2 run to close the half, capped by Washington's second 3-pointer of the half.
UK led 38-27 at halftime.
Tshiebwe was dominant again. He scored 14 points, grabbed seven rebounds and blocked two shots in the opening half.

He was 6 of 7 from the floor.

Washington played the best half of his young career with 12 points on 5-of-6 shooting, including his first two career 3-pointers at Kentucky.
In the Second Half
Kentucky started the second half with the same starting five: Wheeler, Washington, Grady, Brooks and Tshiebwe. 
The Wildcats scored four quick points out of halftime with a Wheeler layup and a Tshiebwe dunk on a slick feed from Wheeler. Mount St. Mary's called timeout 43 seconds into the half.
The timeout did not slow down the Wildcats, who reeled off 13 straight points to begin the second half before MSM's Josh Reaves ended the run with a 3 at the 15:55 mark.

Before the trey, the run had extended what was a 33-27 lead with 1:52 in the first half to a 51-27 Kentucky advantage at the 16:15 mark of the second half, an 18-0 stretch.

Another 8-0 run extended Kentucky's lead to 61-32 with 13:09 to go.
The Wildcats' largest lead was 70-39 (31 points) with 7:24 to play.

MSM answered with nine straight points.

Tshiebwe paced the Cats in the second stanza with 10 points and nine rebounds.
All eight of Grady's points came in the second half.