10 Kentucky Football players down the Depth Chart that need reps vs. Youngstown State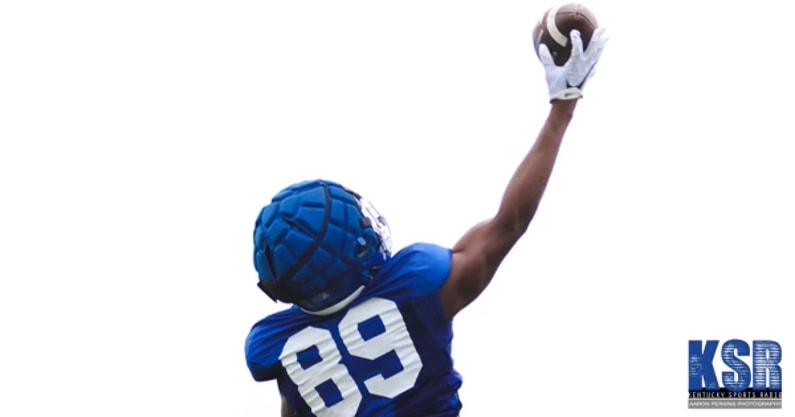 Let's say the quiet part out loud. FCS games serve as a vital opportunity for underclassmen to receive valuable reps against inferior foes. Kentucky needs to take advantage of it this Saturday against Youngstown State.
"A lot of time as you play, you get better," Kentucky head coach Mark Stoops said Monday. "You have heard me talk about the talented guys we have on our roster right now but we have to get them playing some more. That is the plan. The really good ones that we feel like we have to get more snaps for them."
Kentucky did not accomplish that goal against last year's FCS foe, allowing Chattanooga to hang around far too long in a 28-23 victory. If the Cats reverse course and come out hot, there are 10 players in particular down the depth chart that need to receive quality developmental reps at Kroger Field.
Wide Receivers
Stoops has frequently commended Kentucky's deep wide receiver room. The problem is that most of the production has come from the starters, save Chuncey Magwood. This week Rich Scangarello wants to get more pass-catchers involved, namely Dekel Crowdus and Chris Lewis. Each player moved around on this week's depth chart. The redshirt freshmen arrived at Kentucky as four-star talents. However, there are more four-star talents arriving on campus next year. This Saturday is a great opportunity for them to prove they have lasting power in Kentucky's pro-style offense.
Offensive Line
It became clear in the second half at Florida that the Wildcats found their five best offensive linemen. The Big Blue Wall must build on that momentum over the next two weeks. Creating continuity is imperative, but so is developing depth. In an ideal world, Kiyaunta Goodwin, John Young and David Wohlabaugh will each receive quality reps after a few dominant drives by the ones. They can play an important role for the Big Blue Wall this fall if they get their feet wet early in the season.
Linebackers
The strength of Kentucky's dominant defense are its experienced linebackers. We know what they can bring to the table. Now it's time to learn what the talented underclassmen can provide if and when their number is called.
Keaten Wade made an outstanding play on third down in week one. Another edge, Tyreese Fearbry, has the size and athleticism to play in the SEC this fall, albeit without the in-game experience. In 2021 Kentucky rarely had two healthy edge rushers at the same time. These true freshman need the game experience now before they are potentially thrown into the fire down the road.
Trevin Wallace was sidelined by an injury in week one and only played in a dozen snaps at Florida. He popped as a true freshman, but he did so primarily relying on his raw talent. One of the first to admit he needed to catch up on the football IQ department, this week he should be able to log enough snaps and I would not be surprised if he led the team in tackles.
Secondary
Jordan Lovett will start for the injured Jalen Geiger, but he cannot be the only free safety taking significant snaps. Here's where Texas State transfer Zion Childress enters the picture. He performed well in week one at strong safety and he has experience at a bunch of different positions, just not in the SEC. That needs to change this Saturday.
"He's going to have to be a guy that can swing (to both safety positions) for us. I think he can," said Kentucky defensive coordinator Brad White. "He's smart. I think he'll understand it. He's a guy that we're still very high on, but he's gotta get in the game and help us."
During preseason camp Maxwell Hairston earned some props from his coaches. We will leanr Saturday how much that translates into game action.