10 Reasons Why The TaxSlayer Bowl is the Best Christmas Present Ever for UK Football
When it comes to bowls, the game itself isn't really important; it's the intangibles that come with it that pay dividends going forward. Kentucky's invitation to the TaxSlayer Bowl came a week after the Cats' monumental win over Louisville, and while we all lingered in a dream state for a while, the impact that win and Kentucky's New Year's Eve bowl can have on the program is quickly being realized. With that in mind, here are the top ten reasons why the TaxSlayer Bowl is the best Christmas present the Kentucky Football program's ever received.
1. Finally, the program has something to hang its hat on
Don't get me wrong; had Kentucky gone to the Liberty Bowl or the Independence Bowl or what have you, we'd all be happy and made the most of Memphis or Shreveport. But, there's something different about a New Year's Eve bowl. There won't be any bowl games on New Year's Day this year because it's a Sunday and the NFL says so, which makes a New Year's Eve bowl just as sweet. Especially when it comes to...
2. Recruiting
The program is already reaping the benefits of the upset over Louisville and the bowl where it matters most: recruiting. Since December 4, Kentucky's pulled in five commitments -- two today! -- including four-star defensive end Joshua Paschal, arguably the biggest coup of the Stoops Era. To give you a sense of how big Paschal's commitment is, he didn't even include Kentucky in his top seven this summer. For years, Stoops and Vince Marrow sold recruits on what Kentucky could be; now that they're in a New Year's Eve Bowl, they have some actual results.
3. Recruiting in Florida
Florida is one of the top states in the country when it comes to high school football talent. Kentucky's made inroads there with six commits so far in the 2017 class via Eddie Gran, who has ties in the area going back to his days at Florida State. While recruiting in the state of Florida just got much, much tougher with Charlie Strong at South Florida and Lane Kiffin at Florida Atlantic (not to mention Jimbo Fisher at Florida State, Jim McElwain at Florida, and Mark Richt at Miami), it can't hurt to play in a bowl game there, right?
4. Everyone will be watching
The TaxSlayer Bowl is one of four bowl games on Saturday, December 31, kicking off a day of football that will continue with the Citrus Bowl, the Peach Bowl, and the Fiesta Bowl, the latter two being playoff games. Win or lose, the exposure for the program is a huge plus. It also wouldn't hurt if whoever's calling LSU/Louisville in the Citrus Bowl mentions Kentucky's big upset of the Cards a time or two. You know, for good measure. [caption id="" align="alignnone" width="1200"]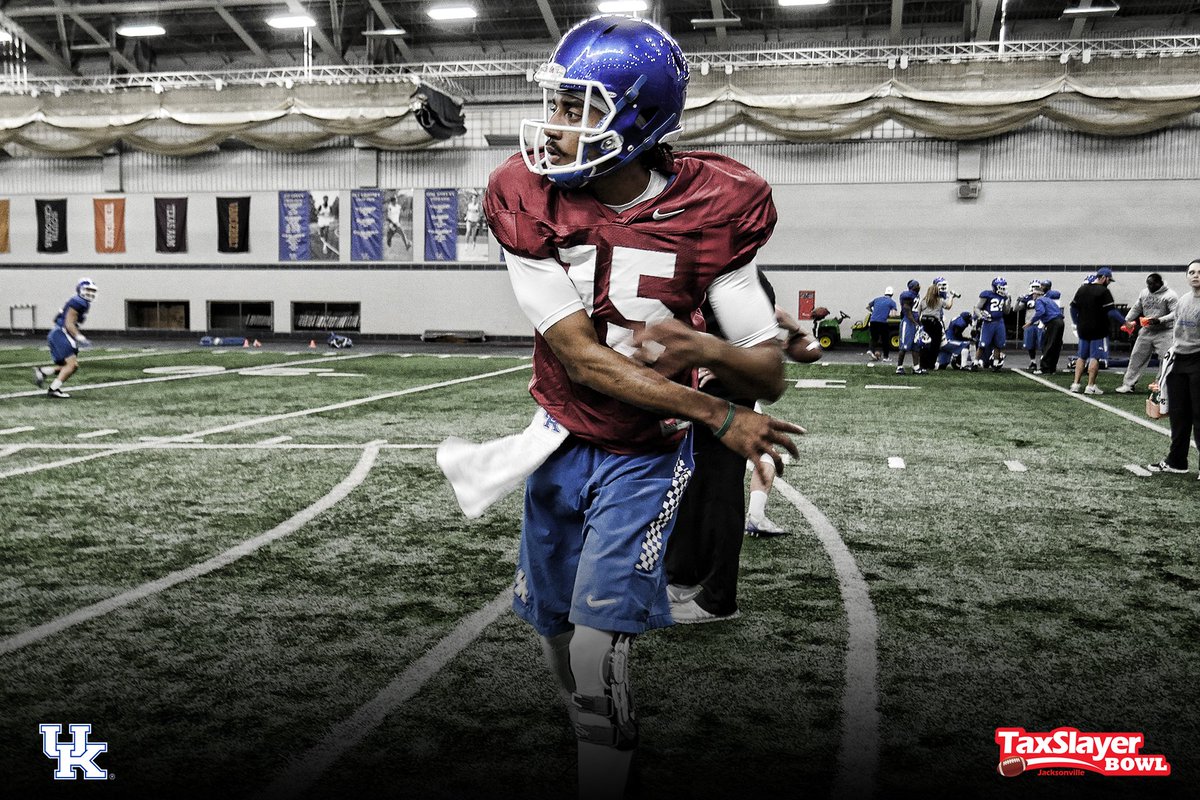 @UKStoopsTroops
[/caption]
5. Extra practice time
The most obvious benefit of a bowl game are the 15 extra practices the team gets, which are especially crucial for a young squad like Kentucky. Sixty-seven percent of Kentucky's players are in the freshmen and sophomore classes, which is also where the bulk of the talent is. Having essentially another spring practice period to teach and develop is so valuable you can't put a price on it.
6. The continued development of Stephen Johnson
Johnson played the best game of his life vs. Louisville, and now, he'll have another month to build on that performance in practice and vs. Georgia Tech. We know Johnson's great at the deep ball and he looked better vs. Louisville on short passes, but all of the extra practices give Darin Hinshaw and Eddie Gran another opportunity to work with him on mechanics and develop the offense around him.
7. It's a reward for the team
The team faced a lot of criticism this season, most notably after the Southern Miss loss when Stoops famously prepared his players for the onslaught of negativity. It came; despite winning four games in the SEC, Kentucky stumbled just enough to keep the nattering nabobs of negativity chirping until the win over Louisville. While yes, there is a game to be played, the team will be able to have some fun in Jacksonville, a much needed celebration for a program that's dealt with a lot over the years.
8. It's a reward for the fanbase
All of the stuff I said about the team? Ditto for the fans, those long suffering warriors who have endured more than their fair share of heartbreaking football over the years. Based on ticket sales, it sounds like a lot of you are planning to go to Jacksonville, and rightly so. Live it up. You've earned it.
9. There's a beach
The early forecast for New Year's Eve in Jacksonville looks to be in the low 70s and partly cloudy; while that may be a tad too chilly to body surf in the waves, it's heck of a lot nicer than 30s and raining, which is probably what it'll be like in the Bluegrass on New Year's Eve. You better believe the BBN will be out in force on the beaches around Jacksonville, so pack your swim trunks, your flippy floppies, and your UK koozie. I expect lots of pictures of "KSR" or "BBN" scrawled in the sand.
10. A win over Georgia Tech might get Kentucky ranked next year
I'll admit this is one I didn't even think about until I heard Freddie Maggard and Jen Smith discussing it on "The Leach Report" Monday morning: if Kentucky beats Georgia Tech, there's a very good chance they'll be ranked heading into next season. The Yellow Jackets received votes in the last AP Poll and Kentucky returns 87% of its players. I double checked with Freddie on this tonight and he reiterated that with a decisive win over Georgia Tech, Kentucky could be ranked anywhere between 22-25 in the preseason 2017 polls. How about that for momentum?