10 Takeaways from a Weekend in Louisville

The Kentucky Sports Radio team is home and resting up before the upcoming trip to Cleveland, but Mrs. Tyler and I would like to share a few takeaways before we close the book on the Louisville subregional. Below you will find five things that came to mind when I woke up from my Sunday afternoon nap, followed by Mrs. Tyler's first impressions of the Yum! Center and the 2015 NCAA Tournament.
Super Smash Bros. is the secret.
The Wildcats are obsessed with a video game, a video game that came out 16 years ago.
Super Smash Bros.
, a classic on the Nintendo 64, is the team's only hobby when they're not playing basketball. I'm told the players were up until the wee hours of the morning Wednesday night -- yes, the night before the first game -- and got right back to it after team breakfast on Friday. They even played it on the team bus on the way back to Lexington after Saturday's game.
If Kentucky runs the table and wins a ninth banner in a couple of weeks, we can say the secret behind one of the best college basketball teams ever was a 64-bit video game that came out shortly after they learned to walk.
Tyler Ulis is getting minutes.
Ulis played a career-high 34 minutes in Saturday's win over Cincinnati, scoring nine points with five assists, three rebounds, three steals and zero turnovers. It was the third time in five postseason games Ulis played over 30 minutes, after playing 30 minutes in only three games during the regular season. It's clear Cal trusts him when it matters and he and Andrew Harrison have been great together in the backcourt, no matter who handles the point guard responsibilities. "The greatest thing about Tyler is he'll do whatever needs to be done," Calipari said on Saturday.
The Hampton cheerleaders stole the show Thursday night.
While Hampton's basketball team served as a punching bag for Kentucky on the court, its cheerleaders and fans provided entertainment away from the game. They were energetic and loving the spotlight despite the lopsided contest in front of them.
With all due respect to UK's 20-time national champions, Hampton was the better squad Thursday night.
Trey Lyles really is "the X-factor."
Lyles recorded his second career double-double with 11 points and 11 rebounds in the Cincinnati game. He took the Bearcats' physical play in stride and he was huge on the offensive glass, grabbing five of UK's 12 offensive rebounds in the game. When things got chippy, he did not back down. Ask Octavius Ellis. Lyles is a matchup nightmare for anyone in the tournament and he's finally using it to his advantage, just in time for this final six-game run. To quote one Billy Donovan, "Trey Lyles is a major problem."
Rupp Arena needs suites.
After visiting several friends in suites around the arena, I've decided Rupp Arena needs suites and Rupp Arena needed suites yesterday. There was some serious arena envy going on amongst Big Blue Nation, though we hate to compliment anything Louisville, and the two games in the Yum! Center only refueled that old discussion of upgrading Rupp. Let's move the loud fans closer to floor and put the social crowd up in boxes so they can eat overpriced chicken tenders. Everyone wins. Don't tell your UofL friends I said this but that place is
realllllllly
nice. And it has at least two Taco Bells inside.
MRS. TYLER THOMPSON....
I was slightly concerned...and then Willie dunked
UK's game against Hampton seemed like a fluke. The late tip, combined with the fact that each Hampton player seemed about half the height of each Kentucky player, made the game feel like a scrimmage; in turn, Kentucky slept walked through most of it, making for a pretty boring affair. Afterwards, the team was noticeably upset with themselves for their lackluster effort, the freshmen especially. Go figure: a perfect team is full of perfectionists. Based on that, I expected the Cats to storm out of the gates on Saturday. Not so much. For most of the first half, Kentucky was unable to make a shot, letting Cincinnati dictate the pace of the game. When Cincinnati continued to cling onto a small lead, I started to get nervous. For the first time in a while, the Cats were overthinking things, and the other team looked like they wanted it more. Thankfully, Willie's dunk woke everyone up and they finally clicked into gear. Octavius Ellis didn't help his team's cause by poking the bear with his antics. This team is fun to watch anytime, but they're really fun to watch when they're playing with a purpose.
The national media is catching on to Willie
We've all known how entertaining Willie is for years. Since the minute that picture of him drawing on the sidewalk with chalk popped up, Willie's been the most interesting player on this team. Three years later, he's matured into a superstar, posterizing opponents and holding court in the locker room afterwards. The national media got their first real taste of Willie this weekend, and now, like us, they can't get enough. When the locker room opens, reporters immediately flock to him, swarming him so badly that poor Dominique Hawkins had to scoot out of the way to make room. Willie makes it worth it, turning in golden quote after golden quote, my favorite coming after his ridiculous dunk yesterday. "That might have been worse than Florida. I don't think they put the kid back in the game," Willie said. "I guess that's why Coach wants me to dunk everything." Lately, Willie's been more entertaining than Cal after games, and that's saying something.
The Yum Center is nice, but it looks even better in blue
This was my first trip to the Yum Center and I'll admit, I was very impressed. As much as I wanted to hate it, the arena was gorgeous, top notch all the way. I wish UK could pick it up and put it right in the middle of Lexington and paint all the red blue. This weekend, that's exactly what it felt like. Kentucky fans covered up all the red, making Yum their own. Like the SEC Tournament crowd, Saturday's fans were much louder than Rupp's. Each time Devin Booker shot a three, the crowd drew in their breath in unison and groaned as one as each rimmed out. Cruelly, the one three Booker did make was after the ref blew the whistle, but the crowd cheered as though it counted. Only Kentucky fans, man.
When in doubt, go to the Harrison Twins
As they've done so many times, the Harrison Twins came though in the clutch yesterday. The Twins, especially Aaron, seem to click into a different mode in March, and Aaron called for the ball at least twice behind the three-point line at crucial times. Similarly, Andrew's "and one" with eight and a half minutes left pushed UK's lead to double digits: I'm not sure which is better in that video, Andrew's drive or Trey Lyles' towel snaps.
Sitting behind Uncle Verne was cool
Matt, Drew, and I went into this weekend expecting the worst treatment from the UofL Athletics department, who hosted the games and staffed the event. Despite the fact that we didn't get parking passes, I was very pleasantly surprised. I figured KSR's seats on press row would be up in the rafters, but one seat was right behind CBS' Verne Lundquist and Jim Spanarkel, meaning that my laptop got some serious TV time. I hear that Verne was actually pretty terrible to listen to this weekend, but I'd be lying if I said it wasn't fun to sit behind him. He really is like college basketball's jolly grandpa and couldn't have been nicer to everyone. When I suggested they use a running clock in the second half of the Hampton game, he laughed and said "The room is OPEN," and even though I have no idea what he meant, I laughed and I feel like we shared a moment. I also capture this moment between him and a young fan who found his way onto press row: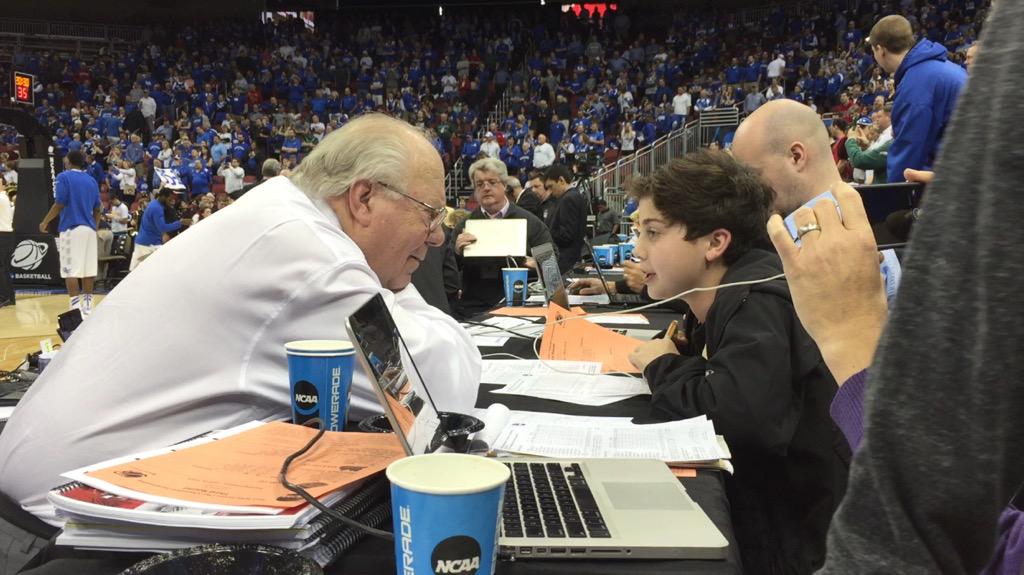 Even if Verne's best days are behind him, I'll always be a fan.