10 takeaways from Calipari's busy recruiting weekend
If you spent your weekend away from the computer like I did, you missed a lot of recruiting news. This weekend was the second of the spring evaluation period and most of UK's 2017 targets were in action at the Nike EYBL event in Indianapolis. As always, John Calipari was a busy man, holding court at the Jonathan Byrd's Grand Park Fieldhouse from Friday to Sunday, with a quick detour to Atlanta on Saturday afternoon for the Adidas Gauntlet. Oh, the places you'll go and the recruits you'll see when you have access to a private jet! A lot happened in the last recruiting period before July, so I spent the day catching up on the latest and breaking it down into ten takeaways for you.
1. He pretty much saw everybody
All thirteen 2017 players with Kentucky offers played in the event in Indianapolis, making the EYBL event the perfect opportunity for Calipari and staff to really hone in on who they want to prioritize in the class. Here's a list of who Calipari and Kenny Payne watched in Indy Friday through Sunday:
Kevin Knox
Gary Trent Jr.
John Petty
Mohamed Bamba
Hamidou Diallo
Michael Porter Jr.
Trae Young
Nick Richards
Tremont Waters
PJ Washington
Wendell Carter
Jarred Vanderbilt
DeAndre Ayton
While the act of making that list is enough to wear me out, Calipari did as Calipari does, straddling courts and watching several targets at once.
2. Cal ran into Tubby Smith
[caption id="" align="alignnone" width="500"]
@SBN_Ricky[/caption] This blurry picture of the two made the rounds Saturday morning, inspiring captions upon captions. It's still a little weird to see Tubby decked out in Memphis gear, but here's hoping Calipari passed along some good advice, like, "There are better rib places than Rendezvous," or "I'm sorry to break it to you, but the pyramid really is just a Bass Pro Shops now."
3. The Trae Young/Michael Porter package deal remains strong
I know, I know, NOT ANOTHER PACKAGE DEAL. While the majority of package deals between elite basketball recruits rarely come to fruition, Mokan Elite teammates
Trae Young and (Not That) Michael Porter set the likelihood that they'll attend the same college at 85%
. Right now, a handful of schools have offered both, including Kentucky, and the Cats seem high on both's lists, with Porter calling Kentucky a "dream school" and Young getting a ton of attention from Calipari this spring. What would you get in the 6'2" Young? Calipari told the Norman, Oklahoma native he considers him a combination of Tyler Ulis and Brandon Knight. Yes, please. We'll take both.
4. Wenyen Gabriel is in Hamidou Diallo's ear
A few days after getting a scholarship offer from Kentucky, five-star shooting guard Hamido Diallo scored 33 points (12-18 shooting) and grabbed 12 rebounds with Calipari in the stands, including this ridiculous dunk: https://vine.co/v/iUWUZbwiwDj It turns out Diallo is friends with future Cat Wenyen Gabriel, who is already recruiting him to come to Lexington: "Yeah, he's basically telling me, 'What am I waiting for?',"
Diallo told Ben Roberts
. "He's just been telling me to join and stuff like that." Kentucky already has a solid lead over UConn in Diallo's Crystal Ball, but keep it up, Wenyen.
5. Four 2017 targets are already planning on coming to Big Blue Madness
We still don't even have a finalized roster for the 2016-2017 season, but that's not stopping the 2017 recruits from planning their visits to Kentucky for the fall. Wendell Carter, John Petty, Gary Trent Jr., and PJ Washington
all confirmed to Ben Roberts
they plan on attending Big Blue Madness in October, which, really, I'm only excited about because it will be the debut of the new center-hung scoreboard. Hopefully it will live up to everyone's expectations.
6. Calipari really, really likes Romeo Langford
How much does Calipari like 2018 shooting guard Romeo Langford? After watching his 2017 targets play in the morning session in Indianapolis, he flew to the Adidas event in Atlanta just to see Langford play one game. Langford earned scholarship offers from Kentucky, Duke, and Kansas last week, and if that wasn't indication enough that Calipari wants him, Saturday afternoon's jetsetting should hammer the message home. With Calipari watching, Langford put up 20 points and 11 rebounds
in a performance ESPN's Adam Finkelstein called "nothing short of sensational"
:
ESPN 25 guard Romeo Langford was nothing short of sensational this weekend. At 6-foot-4, he is a high-level athlete with a terrific wingspan. His physical tools don't initially jump out, but he is the total package. He has a skill-set and the type of effortless smoothness that just can't be taught. He is also a truly elite perimeter rebounder.
From there, Calipari flew back to Indianapolis to -- you guessed it -- do some more recruiting.
7. In Atlanta, Calipari was joined by Twany Beckham
[caption id="" align="alignnone" width="387"]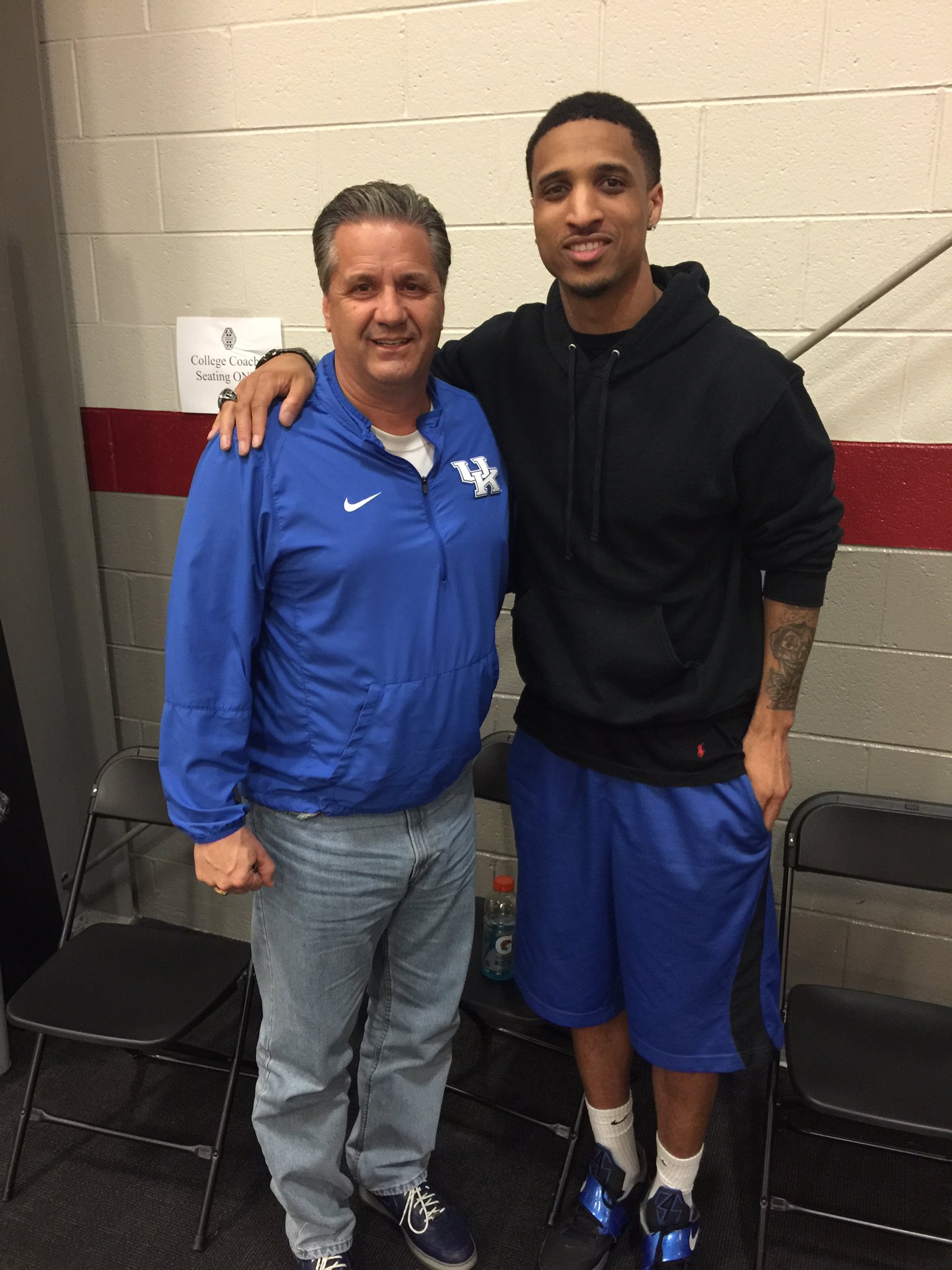 @UKCoachCalipari[/caption] Beckham lives in Atlanta and stopped by the Adidas Gauntlet to check out the action, and, coincidentally, see his former coach, who was sporting quite possibly the most Dad pair of Dad jeans I've ever seen. Twany even joined Cal and Robic courtside to see Romeo Langford: [caption id="" align="alignnone" width="600"]
@3stripehoops[/caption]
8. John Petty talked to Eric Bledsoe and DeMarcus Cousins about playing for UK
Petty was the first player in the 2017 class to get an offer from Kentucky, and many, including this blogger right here, think he could be the first to commit. The 6'6" small forward from Huntsville, Alabama has been a UK fan since he was nine, and
told Ben Roberts this weekend
that he's already talked to fellow Alabamans DeMarcus Cousins and Eric Bledsoe about playing for UK.
"They tell me it's a great school," Petty said. "They tell me how Coach Cal is as a coach and as a man, period."
Petty said the pull to stay home and play for Avery Johnson at Alabama is also strong and that he's not in a rush to make a decision. Totally the right way to do it, but whenever I read his quotes, it sounds more and more likely he'll be a Wildcat.
9. What is going on with DeAndre Ayton?
The oddest story on the recruiting scene in recent weeks has to center around De'Andre Ayton, the consensus #1 player in the class. Seems like everyone would be all in on trying to land the 7-footer from the Bahamas, who looked every inch the best player in the country over the weekend; however, when Ayton spoke with reporters, he said only one school is after him right now: Kansas. Huh? Ayton said he thinks other coaches believe he will skip college and take the Thon Maker route; however, he claimed that isn't so,
telling SB Nation's Ricky O'Donnell
that both he and his mother think college is "a must." Ayton insisted there are no eligibility concerns, but right now, I'm questioning his sanity after reading his response when asked if Kentucky was still involved in his recruitment:
"Kentucky, right now they're mediocre. I'm not really big on who is really out there right now."
Maybe "mediocre" means something else in the Bahamas. Or maybe Calipari and others are backing off for a good reason.
10. Nick Richards' quotes about Kentucky and Indiana speak volumes
Kentucky is considered the early leader for the nation's number two center from St. Patrick's in New Jersey, where Michael Kidd-Gilchrist and Dakari Johnson also played high school ball. The 6'11" New York native also has an offer from Indiana, and when asked about the two programs, gave TJ Walker a response that speaks volumes: https://twitter.com/TWalkerRivals/status/723895984426651650 I realize the Hoosiers just got the best of us, but that's pretty telling commentary on the trajectory of each program in the past ten years. Brag all you want about your two wins over Kentucky, Indiana fans, but I'm pretty happy with how things are going in Lexington.
---
That's it -- no more coaches at recruiting events until July. If only we had some commitments to keep the news flowing between now and then...