10 Takeaways from a Big Night at Kroger Field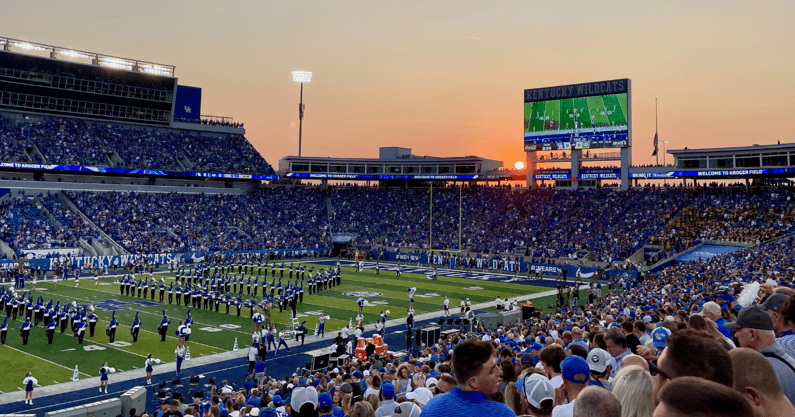 Saturday night was a big one for the Kentucky Football program, and for the first time in over a decade, I was in the stands to bear witness.
KSR is a (relatively) well-oiled machine now, so I stepped out from behind the live blog and into Kroger Field to see the Cats in person — not from the press box, but as a fan. My family and I watched every second of last night's 35-28 win over Missouri from Section 4, and because it was so freaking awesome — and I don't know how to process it otherwise — I thought I'd share some of my favorite moments.
1. Chris Rodriguez is a star in his own right
Given the way he drags defenders down the field, it's easy to compare Chris Rodriguez to one of his predecessors, Benny Snell. "Mini Benny" is a nickname for a reason; however, last night was further proof that Rodriguez is a star in his own right. C-Rod had 27 carries for 206 yards and three touchdowns — all career hights — and pulled in his first receiving touchdown. His 331 rushing yards this season are the most ever by a Kentucky player through two games.
The junior had a chance to put Kentucky up 28-7 in the second quarter but fumbled the ball in the end zone. If he hadn't turned the ball over, the Cats could have easily romped to a rout; however, Rodriguez's highs more than made up for his lows. Turnover aside, he was Mr. Reliable for the Cats last night when they needed him the most. Anyone complaining about Rodriguez today needs to hush.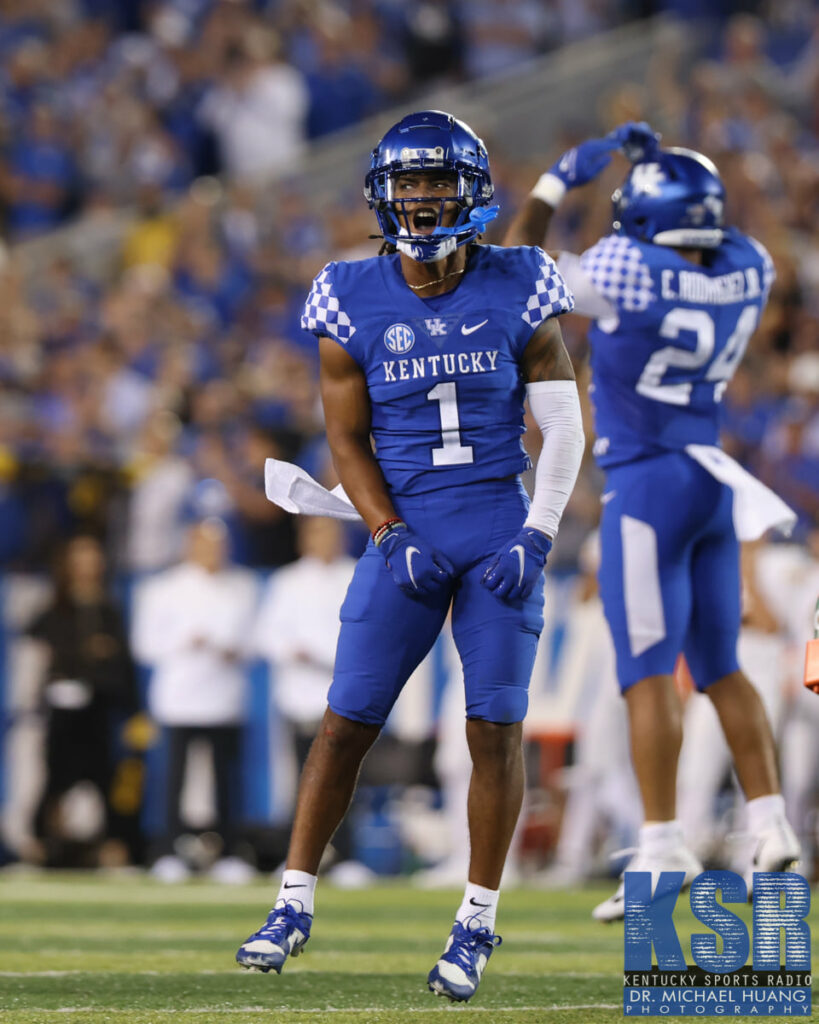 2. One amazing Wan'Dale Robinson moment
Going into last night, I was most excited to see Kentucky's new offense firsthand. I'll talk about Will Levis in a minute, but my oh my, Wan'Dale Robinson is well on his way to becoming a Kentucky Football hero. The Frankfort native had five catches for 101 yards, his second straight 100-yard game, AND three carries for 73 yards. We heard all about Robinson's versatility before the season, but it is so fun to see in person.
One moment stood out to me. With the score tied at 28 — and old Kentucky Football fears rearing their ugly heads — Robinson went deep for a Will Levis pass, only to be met by Missouri's Jalani Williams head-on. The play was not ruled targeting after review, but Robinson crumpled to the ground. Kentucky's trainers rushed over and advised him to stay down until the review was over, at which point he popped to his feet and motioned to the crowd at Kroger Field to get loud. We saw Robinson's toughness in glimpses in the first game vs. ULM, but that moment will always stand out to me as the potential beginning of a legacy.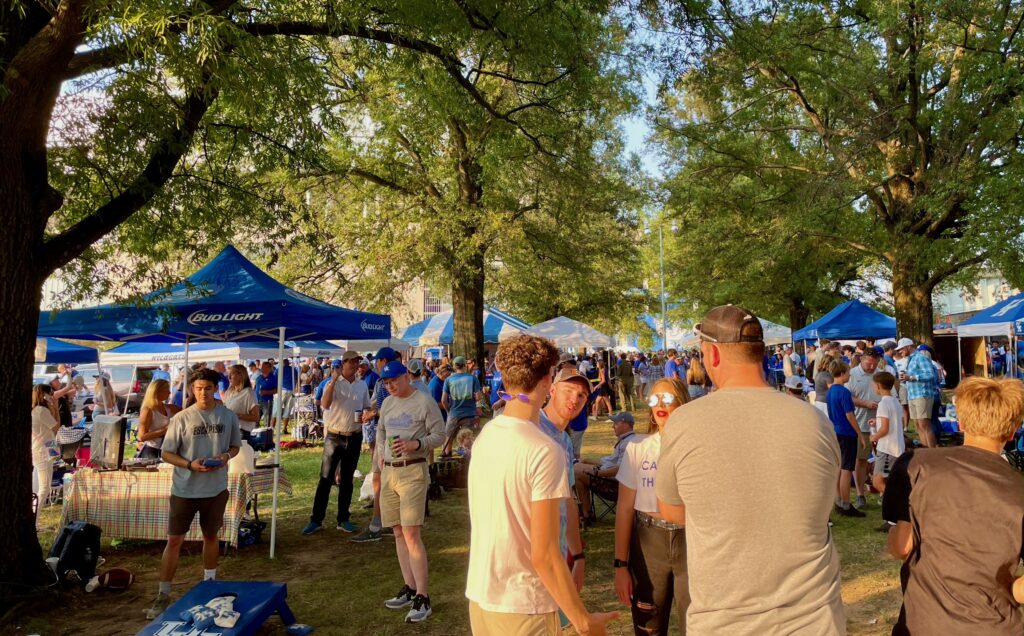 3. A Perfect Tailgating Day
I am very fortunate to cover Kentucky sports for a living; however, the gig comes with some compromises. Hours of tailgating don't really lead to hours of productivity in the press box. Thankfully, Mother Nature blessed my day off with perfect tailgating weather.
We didn't arrive at Kroger Field until late afternoon, but it was clear many fans had been there since breakfast. The Orange Lot was absolutely packed, tailgate tents and cornhole sets blocking rows as fans lubricated themselves for a long night. We set up shop with friends in the Blue Lot, where I drank in all of the sights and sounds of an ideal Saturday in September. The buzz around the stadium was only equaled by the buzz inside. Even though the general public had to pound their last beers before heading in, I was happy to see the stadium mostly full once the pregame festivities began.
4. Paging a Pass Rusher
Okay, I've said a lot of nice things, so here's some criticism. There's no escaping how poorly Kentucky's defense played at times last night. Thankfully, it's a lot easier to review this stuff after a loss. Either Missouri's offensive line is amazing (or, as my husband speculated, got away with a lot of holds) or, as we suspected, Kentucky is really in need of some pass rushers.
JJ Weaver's sack with less than two minutes to go was HUGE, pushing the Tigers from 3rd and 5 to 4th and 13; however, Weaver needs some help. If Kentucky really wants to contend with the big boys in the SEC, it's going to need to put more pressure on the quarterback.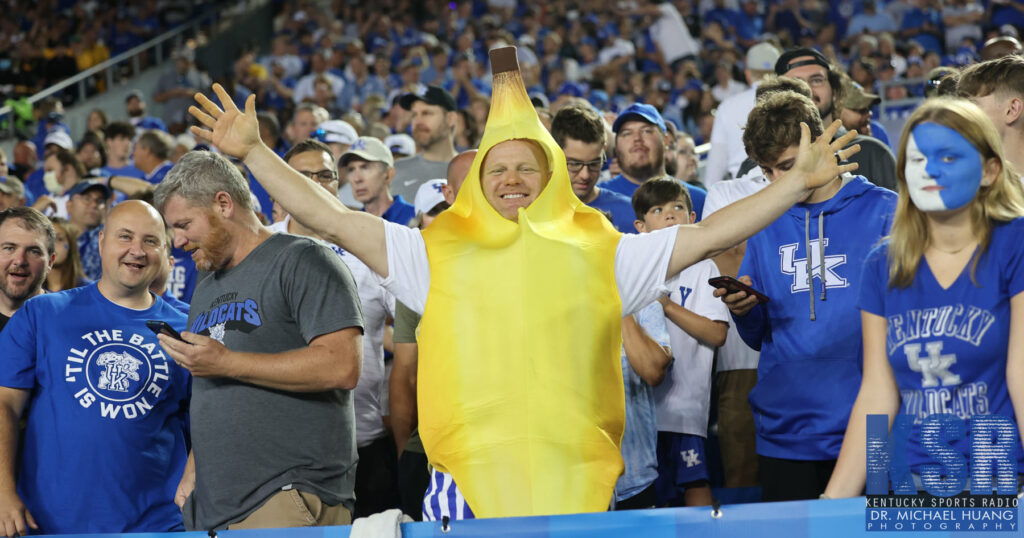 5. The Will Levis Bananarama
After his stellar debut, Will Levis came back to Earth a bit vs. Missouri, completing 10-18 passes for 179 yards, one touchdown, and an interception. I was still impressed as hell by the junior from Penn State. Levis had three big throws: two to Robinson, one for 49 yards in the 2nd quarter, the other for 33 yards in the 4th quarter on a crucial drive, and one to Justin Rigg for 28 yards on the previous possession.
It's one thing to have a quarterback who can physically make these throws; it's another to have one with the moxy to do it. Levis is the latter, and the fanbase is quickly falling in love. While the good times were rolling in the first half, fans batted around inflatable bananas like beach balls. I saw more than one person dressed as an actual banana. The Big Blue Nation (or Big Banana Nation…too soon?) has fully latched on to Levis' budding fame and it is a hoot.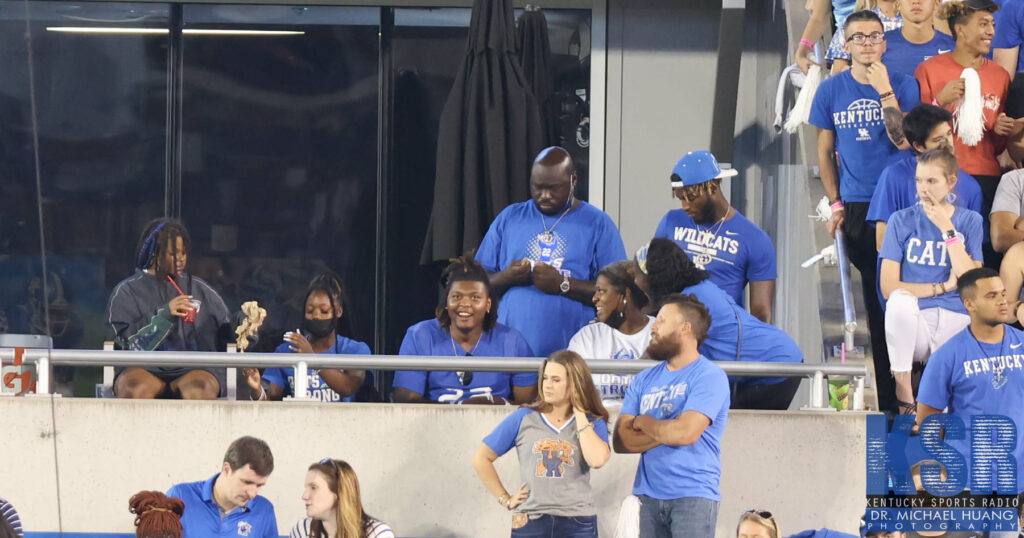 6. It was really good to see Chris Oats
Of all the great moments from last night, none brought a bigger smile to my face than the smile on Chris Oats' face. Oats watched the game from the recruiting room deck and was featured prominently on the jumbotron, most notably after a video message from Mark Stoops asking for donations to the GoFundMe for his recovery from a stroke. It wasn't until I was stuck in traffic getting out of the stadium that I saw the story of Oats meeting his childhood hero, Ray Lewis. What a spark of joy for a family going through something few of us can imagine.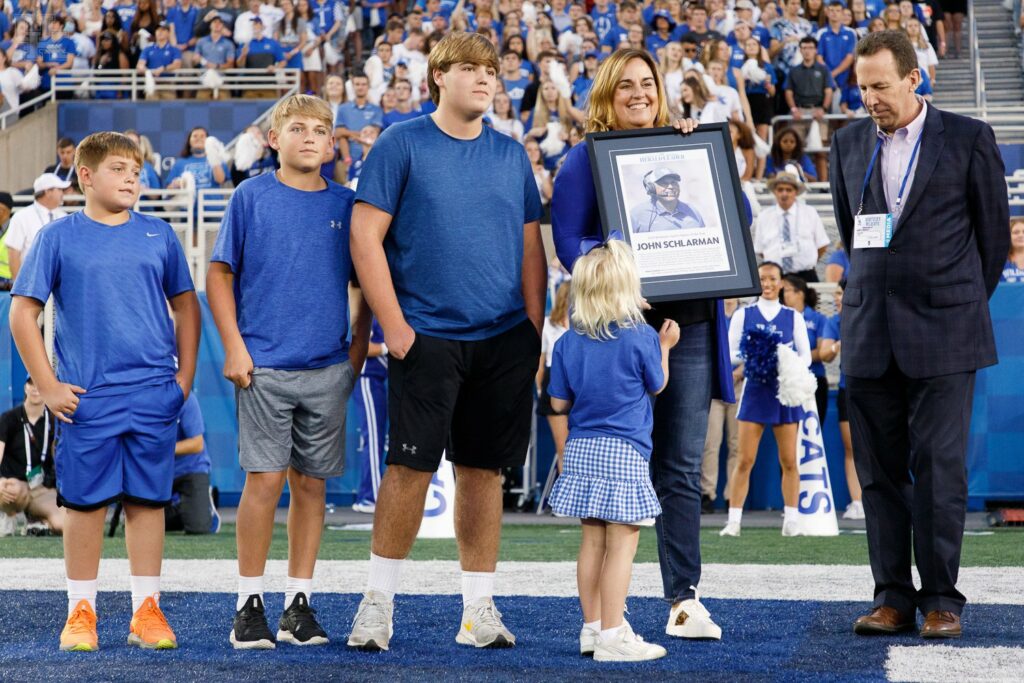 7. It was also great to see the Schlarmans
The late, great John Schlarman was voted Kentucky Sports Figure of the Year by the Herald-Leader in January. Last night, his family accepted the award at Kroger Field. The timing was fitting; Kentucky's last game vs. Missouri was the team's first without Schlarman, who was entering the final stages of his battle with cancer. I don't think it was a coincidence that the Cats lost that game, knocked back on their heels by emotion.
The program has rolled out several tributes to the man who built the Big Blue Wall so far, but it's hard to top his family taking the field to a standing ovation. Even more emotion on a very big night.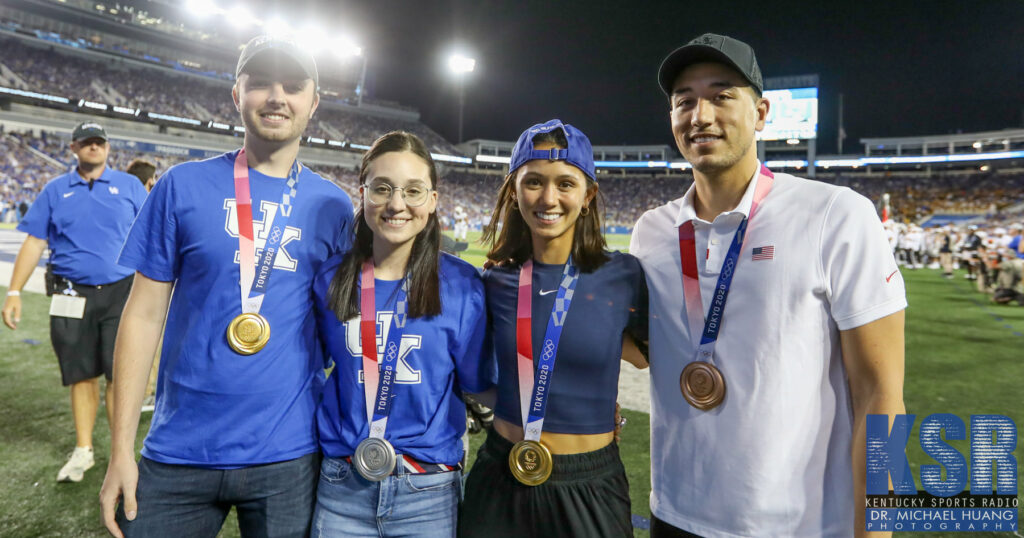 8. Olympians, former basketball players in the house
We've joked about UK's tendency to pack timeouts with tributes to the science club, etc., but last night, the athletics department got it right. During timeouts and halftime, UK brought out its Olympic gold medalists (Will Shaner, Mary Tucker, Lee Kiefer, Gerek Meinhardt), the swimming and diving team, and former members of the basketball team. The roar when DeAndre Liggins, Isaiah Jackson, Nick Richards, Immanuel Quickley, and Tyrese Maxey took the field was wonderful.
9. Well done, crowd
I've been to a lot of Kentucky Football games in my life. Most are spent holding my hands to my face in fear. There was still some of that, but mostly, I spent the night screaming my lungs out, to the point I have no voice today. Shoutout to the nearly 59,000 fans at Kroger Field for doing their part. I haven't watched the replay on television yet, but I know we were loud, rattling Missouri late in the fourth quarter. It was a big game, and the crowd delivered — even if we were all terrified at the end.
10. New Kentucky Football triumphed over old
I feel like most of the Mark Stoops era has been spent defeating the ghosts of Kentucky Football past. Stoops has built the program from the ground up and infused it with more and more talent each year; however, the evolution of the fanbase's psyche is a bit trickier. You can't just snap your fingers and get rid of Old Kentucky Football. It's a demon with roots that takes years of wins, mostly predictable, to exorcise.
So, when the defense faulted in the second half vs. Missouri and the score evened at 28, admit it: you got worried. Even more so when Matt Ruffolo's field goal to put the game out of reach was blocked and the Tigers had a chance to tie or even win with two minutes left. Thankfully, the team doesn't share our defeatist mentality. With a loud crowd behind its back, the defense redeemed itself. The roar after JJ Weaver's sack on 3rd and 5 with 1:36 left was downright cathartic. After taking over on downs, the Cats entered victory formation, but if you're a true Kentucky fan, you didn't exhale until the clock hit 0:00. Some habits are hard to break.