10 Things About Missouri and 1 Ford Giveaway
Ford is back with their Tickets & Tours Giveaway and they want to send YOU and three friends to watch the Cats take on Mizzou on February 24 —but that's not all. They're also throwing in a tour of Rupp Arena and a Ford prize pack including a $500 Visa gift card as well!
Don't miss your chance to get a behind-the-scenes look at the home of the greatest tradition in college basketball and witness next class of Kentucky basketball greats—sign up for the Ford Tickets & Tours giveaway now. Registration is easy: just click here, fill out the form, and cross your fingers.
---
1. They've been better than expected without Michael Porter Jr.
When Missouri lost star freshman Michael Porter Jr. to a back injury at the beginning of the season, most gave up on what was supposed to be a breakout year for the Tigers; however, they held their own in non-conference play, only losing at Utah, to No. 23 West Virginia, and to Illinois. In conference play, they've suffered similar losses, falling to Florida, at Arkansas, at Texas A&M, vs. No. 19 Auburn, and at Mississippi State. It's still unlikely Porter will play this season, but kudos to the Tigers for proving they're more than just one player.
2. They're currently sixth in the SEC standings
STANDINGS
CONFERENCE
OVERALL
SEC
W-L
GB
PCT
W-L
PCT
STRK
#11 Auburn
8-1
—
.889
20-2
.909
W4
#18 Tennessee
6-3
2
.667
16-5
.762
W4
#23 Florida
6-3
2
.667
15-7
.682
L1
#21 Kentucky
6-3
2
.667
17-5
.773
W3
Alabama
5-4
3
.556
14-8
.636
L1
Mississippi State
4-5
4
.444
16-6
.727
W2
Arkansas
4-5
4
.444
15-7
.682
L1
Missouri
4-5
4
.444
14-8
.636
W1
Georgia
4-5
4
.444
13-8
.619
W1
South Carolina
4-5
4
.444
13-9
.591
L2
Ole Miss
4-5
4
.444
11-11
.500
L2
LSU
3-6
5
.333
12-9
.571
L2
Texas A&M
3-6
5
.333
14-8
.636
W1
Vanderbilt
2-7
6
.222
8-14
.364
L1
On a related note, man, I'm happy we beat Vandy.
3. The win at Alabama was huge
Missouri took a three-game losing streak to Tuscaloosa, but somehow, got out with a win, beating Alabama 69-60 to stay on the NCAA Tournament bubble.
"The physicality of Missouri just overwhelmed us from start to finish," Alabama's Avery Johnson said of Missouri afterwards. "They played like a team with their backs to the wall."
The visitors' locker room at Coleman Coliseum after the game was, as the kids say, lit:
#ToTheFinishLine ?? pic.twitter.com/VUbFwId0Jg

— Mizzou Basketball (@MizzouHoops) February 1, 2018
4. It was Cuonzo Martin's 200th win
After stops at Missouri State, Tennessee, and Cal, Martin notched his 200th win as a head coach in the Tigers' victory at Alabama on Wednesday. He's now 200-129 (60.8%) over his ten-year career.
Had some time to reflect on 200 wins… I'm filled with gratefulness! The wins don't belong to me. They belong to the players, staff, administration, fans & friends whose support made each win possible. I can't express how much my family appreciates the love & support. pic.twitter.com/1X37kEWJWR

— Cuonzo Martin (@CuonzoMartin) February 2, 2018
After the way Tennessee treated him, I only wish it had come vs. the Volunteers.
5. A graduate transfer is their best player
Kassius Robertson leads the Tigers in scoring with 16 points per game off 42.1% shooting, 41.7% from three-point range, the highest scoring average of any grad transfer in the country. The Toronto, Ontario native came to Mizzou from Canisius, where he scored 16 points vs. Kentucky in the Bluegrass Showcase last season. He had 22 points in the Tigers' win over Alabama, his third straight 20-point game this season.
6. Their veteran guard is still suspended
Junior guard Terrence Phillips is still suspended indefinitely after multiple women came forward to accuse him of physical abuse, harassment, and nonconsensual recording of a sexual encounter. I think it's safe to say he won't play tomorrow.
7. ESPN's BPI is picking them to win
Vegas agrees; the Tigers opened as a three-point favorite.
8. Jontay Porter is playing well
After reclassifying to play with his famous older brother, Jontay is making a name for himself, leading the Tigers in rebounding with 6.5 boards and 8.1 points per game. In an odd stat, he is one of just four players nationally with at least 40 assists and 40 blocks this season.
9. It's going to be a Stripe Out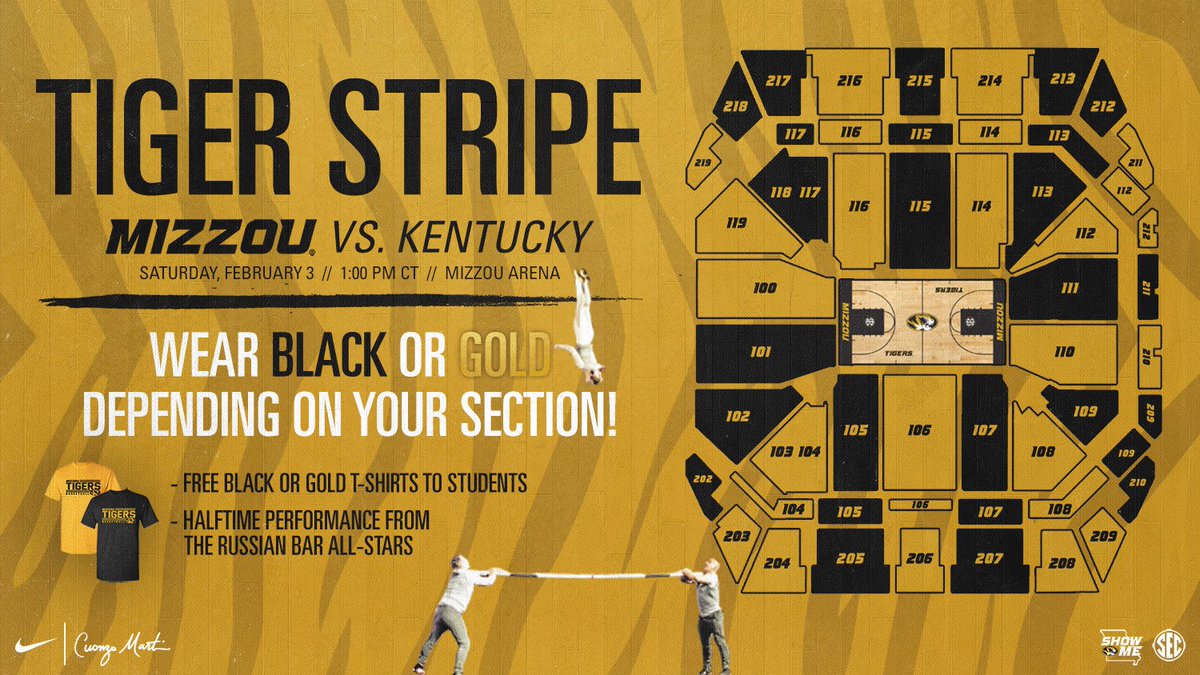 …Which means we can't wait to see Blue get in and mess it up.
10. They've never beaten Kentucky
That's right; the Cats and the Tigers have only played each other ten times and Kentucky has won each contest (only four of those games took place before the Tigers joined the SEC in 2012). Let's keep that streak going.
[mobile_ad]