10 Things About Vandy and 1 Ford Giveaway
Ford is back with their Tickets & Tours Giveaway and they want to send YOU and three friends to watch the Cats take on Mississippi State on Jan. 23rd but that's not all. They're also throwing in a tour of Rupp Arena and a Ford prize pack including a $500 Visa gift card as well!
Don't miss your chance to get a behind-the-scenes look at the home of the greatest tradition in college basketball and witness the next class of Kentucky basketball greats– sign up for the Ford Tickets & Tours giveaway now. Registration is easy: just click here, fill out the form, and cross your fingers.
---
1. Vandy is off to its worst start since the 1977-78 season
Vandy is 6-10, which is the worst overall record in the SEC by far. In conference play, they're 1-3, which is ahead of only 0-4 Texas A&M. The Commodores came into this season with some buzz but have stumbled early and often. Some of the losses are understandable (#10 USC, at #5 Arizona State, at Florida), but with a huge recruiting class coming in, the 'Dores clearly have yet to take the next step in Bryce Drew's second season.
2. Memorial Gym hasn't been so magical
With its end zone benches and raised floor, Vandy's opera house turned gymnasium is usually one of the toughest venues in the SEC. The 'Dores have a 78% all-time winning percentage at home, but Memorial Gym hasn't been so magical this season, with Vandy losing four of their ten home games thus far. Part of that is due to low attendance, but with the Kentucky game being the first sell-out of the season, you can probably expect some of that Memorial Magic to return tomorrow afternoon.
3. Riley LaChance, Matthew Fisher-Davis, and Jeff Roberson are STILL there
If it feels like you've seen those three names since the dawn of time, well, you have. LaChance, Fisher-Davis, and Roberson are finally seniors, each with over 1,000 points in their Vandy careers, and lead the 'Dores in scoring. Even though LaChance is now 21 years old, he still looks 12. I'll never forget when the SEC Network's Pat Bradley asked him often he shaves at SEC Basketball Media Day. The answer is never, Pat.
4. Saban Lee is a preview of the future
The freshman guard has been on a tear in SEC play, leading the 'Dores in scoring the past three games (20.3 ppg). In conference play, the former four-star recruit is the SEC's top scoring freshman. Once Darius Garland gets to Vandy next season, watch out because the 'Dores' backcourt will be legit.
5. Roberson is a double-double machine
Senior forward Jeff Roberson leads the 'Dores in scoring and rebounding with 14.8 points and 7.8 rebounds per game. He's currently second in the SEC in double doubles (six), fourth in rebounding, and sixth in free-throw percentage (87.5%).
6. Vandy's holding a blackout
As I mentioned earlier, attendance at Vanderbilt games this season is the lowest it's been since 1964-65 season, so you better believe the 'Dores are capitalizing on tomorrow's game vs. Kentucky. Tomorrow's game will be a blackout, with the first 10,000 fans receiving free black t-shirts. If you're going to the game, make sure a Vandy fan thanks you for coming and boosting their attendance numbers.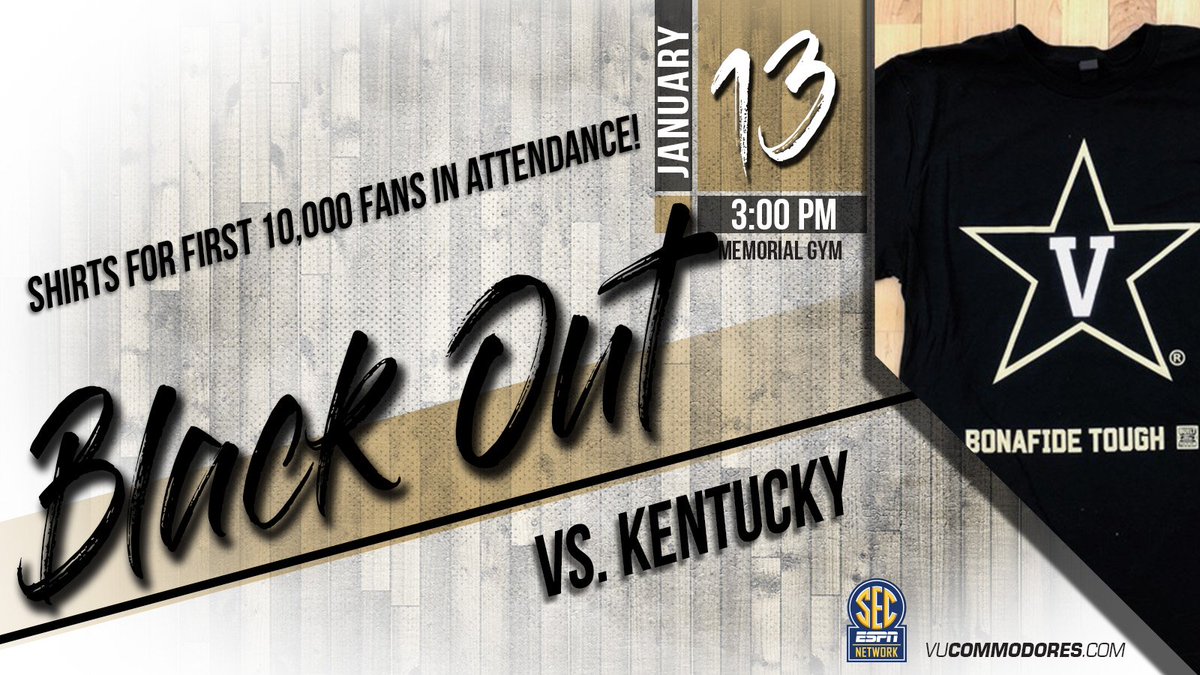 7. Their big man is coming off two bad games
Redshirt sophomore center Djery Baptiste looks like the kind of player that could give Kentucky fits. At 6'10", 235 lbs., the Haiti native is physically imposing, but still very raw, as the last two games have shown. Baptiste scored only 11 points total in Vanderbilt's losses to South Carolina and Tennessee, and the players he guarded, Chris Silva and Grant Williams, combined for 64 points. Eek.
Ya hear that, PJ Washington? Go. At. Him.
8. Dick Vitale is on the call
Have you been going through Dick Vitale withdrawal? Have no fear because Vitale, Bob Wischusen, and Allison Williams are calling tomorrow's game for ESPN. Get ready for a few no-so-subtle references to Ricky P, baybee!
9. Tomorrow is the 100th meeting of a ranked Kentucky team and a Vanderbilt team
Tomorrow's game is the 190th meeting between Kentucky and Vandy, but per Vandy's game notes, it's also the 100th meeting between the two when Kentucky is ranked. Vanderbilt is 16-83 all-time when the Cats are ranked overall and 12-32 against a ranked Kentucky team at Memorial Gym. Let's make it 16-84 and 12-33, shall we?
10. Kentucky fans are pregaming at the Marriott hotel bar
Coming to the game? The UK Nashville Alumni Club is holding a pregame social at Park25 Bistro, the lobby bar at the Marriott Vanderbilt hotel. The gathering will start at 1 p.m. CT and there will be door prizes, so get in there and help us get the W!
[mobile_ad]