100 Days 'til Rio's Wednesday Morning Wakeup

One hundred days from now, the Summer Olympics will be upon us. From Friday, August 5 to Sunday, August 21, the world will turn its eyes to Rio de Janeiro, whether the city is ready or not. The Zika virus, water pollution, political issues, and venue delays have plagued Rio over the past year, making everyone pretty nervous about the Brazilian city pulling off its first ever Olympics. I mean,
have you seen the pictures of the dead fish
? And they want Olympians to row and sail in there? No thanks. Regardless, I'll be watching it like I always do, because I love the Olympics, especially the Summer Olympics. Not only will we have track, gymnastics, and swimming to entertain us, we'll have at least a few former Cats to watch. DeMarcus Cousins, Anthony Davis, and John Wall are all on the list of National Team finalists, although Davis won't be able to play because of knee surgery. Make us proud, boys. So, get it together, Rio. We'll be watching. Now, on to much more pressing matters in UK sports land...
Matthew Mitchell be on KSR at 10:30 a.m.
Just this week, one player, two future players, and one assistant have severed ties with the UK Hoops program, the latest in what has been a tumultuous year for Matthew Mitchell's squad. This morning at 10:30 a.m., Mitchell will come on KSR to discuss the changes, and at 1:30 p.m., he'll hold a press conference at Memorial Coliseum. The program did get a much-needed bit of good news yesterday when word got out that former UK assistant Kyra Elzy is rejoining the staff as associate head coach. Elzy worked at UK from 2008-2012 before leaving to join the staff at Tennessee.
Charles Matthews had a minor surgery yesterday
Matthews gave the BBN a scare last night when he uploaded this picture on Instagram: https://www.instagram.com/p/BEr1b_NOzTt/ Don't worry; KSR is hearing Matthews had a minor procedure and shouldn't miss any significant time.
Patrick Patterson got his first career playoff start last night
Shoutout to Patterson, who moved into the starting lineup for the Raptors last night, his first start of the season and his first ever playoff start. Patterson had seven points and four rebounds in the Raptors' win over the Pacers. Toronto now holds a 3-2 lead over Indiana in the series.
The latest update on Marques Bolden is...
...there is no update on Marques Bolden. Carry on.
Tonight's NBA Playoffs schedule
8 p.m.: Hornets at Heat, TNT
10 p.m.: Trail Blazers at Clippers, NBATV
10:30 p.m.: Rockets at Warriors, TNT
In case your head has been in the sand the past few days, Steph Curry is out for two weeks with a sprained MCL. Take care of business while he's gone, Warriors.
Pearl Jam rocked Rupp last night
https://twitter.com/PearlJam/status/725166803178004481 The band uploaded this picture of their setlist on Twitter last night and the guitarist wore a UK shirt: [caption id="" align="alignnone" width="509"]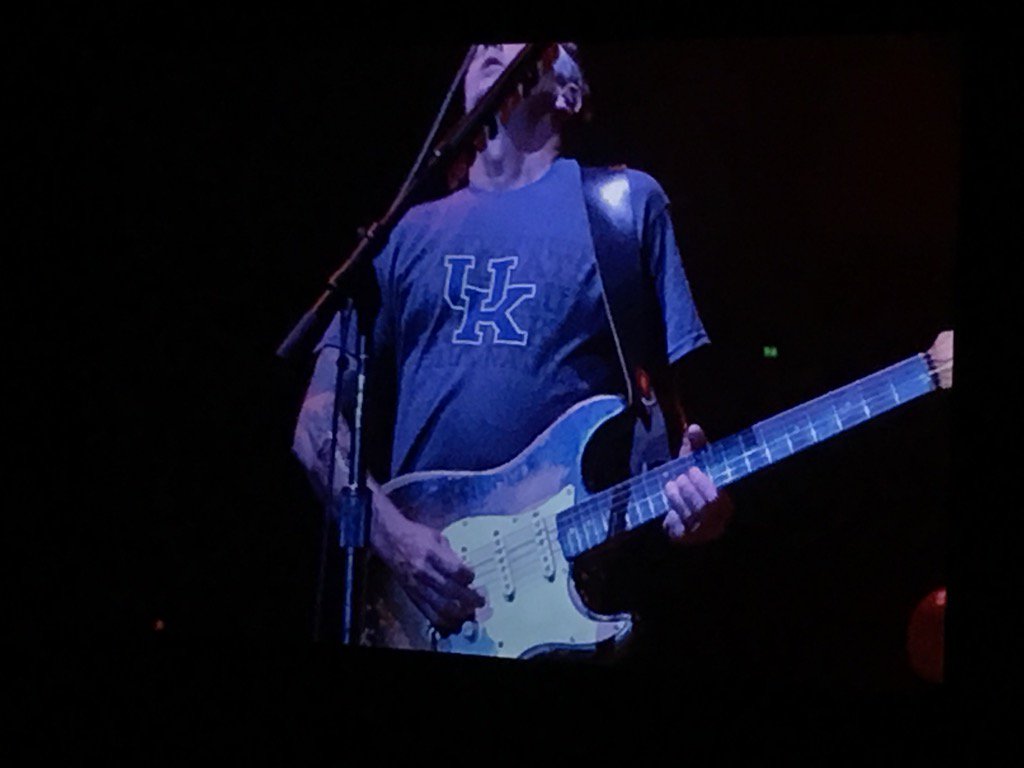 @dhsteeler[/caption] I'm sure many of you were in the audience, if so, how was the show?
Shoutout to BTI
I planned to share the #MoreThanMean PSA with you guys this morning, but BTI beat me to the punch, so I'll just say thank you to him and everyone else for their kind words the past few days. Twitter bullying is the worst thing about social media, and while women in sports media may encounter it more than others, no one should have to deal with it. If you wouldn't say it to someone's face, don't tweet it. Simple stuff, really.
KSR in an hour
It's a big one, so get some work done now so you can give Matthew Mitchell your full attention later.