Judging the non-conference scheduling across the board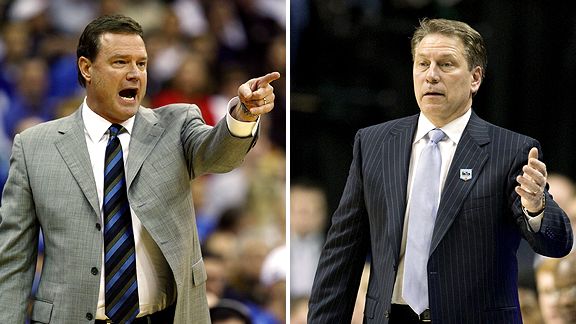 In a column earlier this week, Gary Parrish tipped his hat to Kansas' Bill Self and Michigan State's Tom Izzo for "scheduling aggressively."
Parrish applauded both coaches for being two of the best in the country when it comes to taking risks with the non-conference schedule and putting their respective teams to the test. Parrish also states that many other college basketball coaches across the country shy away from similar scheduling tactics in large part due to "fears and insecurities." Parrish did admit though that both Self and Izzo are at an advantage because they are secure and established winners in no danger of being fired. The two points are very important. In a college basketball world in which you are measured as a coach by NCAA tournament appearances and wins, the margin for error can be very slim. A select few coaches are in the position to take chances on making the tournament by adding beef to the non-conference schedule. The danger for others is simply too high. In the wake of Kentucky releasing its 2013-2014 non-conference schedule, a few grumblings about the strength of the schedule could be heard. Personally, I think Kentucky has put together a very solid and challenging schedule for next season.
My question is, if Tom Izzo and Bill Self are considered to be "two of the best" when it comes to scheduling... how close behind is Kentucky? And how does Kentucky's non-conference schedule compare to a few other notable schools across the country such as Louisville, Syracuse, Duke, North Carolina, Indiana, Florida, Gonzaga, and Ohio State?
 Since not all of the schools have released the full 2013-2014 non-conference schedule yet, l
et's take a look at last year's non-conference schedules for the following teams...
Michigan State
Neutral:
UCONN, Kansas
Home:
Texas Southern, Boise State, Oakland, Louisiana-Lafayette, Nicholls State, Arkansas Pine-Bluff, Loyola-Chicago, Tuskegee, Texas
Away:
Miami (Fla), Bowling Green
Thoughts: Michigan State did take a risk by going away from home twice for two true road games. Michigan State's neutral site schedule is also very strong. 
Kansas
Neutral: 
Michigan State, Washington State, St. Louis, Oregon State (Kansas City, MO)
Home: 
Southeast Missouri State, Chattanooga, San Jose State, Colorado, Belmont, Richmond, American, Temple
Away: 
Ohio State
Thoughts: Most of Kansas' neutral site games were in very close proximity to home, but going on the road to Ohio State was tough scheduling. Kansas' home schedule didn't necessarily have marquee opponents with big names that jump off the page, but most of the teams were solid teams with NCAA tournament experience or hope in their respective conferences. 
Louisville
Neutral:
 Northern Iowa, Missouri, Duke, Western Kentucky
Home: 
Manhattan, Samford, Miami (OH), Illinois State, Missouri Kansas City, Florida International, Kentucky
Away: 
College of Charleston, Memphis
Thoughts: Other than Kentucky, Louisville's home schedule left much to be desired. With that said, Louisville did travel for 2 true road games as well as playing 4 times away from home on neutral sites against a few tough opponents. 
Syracuse
Neutral: 
San Diego State
Home: 
Wagner, Princeton, Colgate, Eastern Michigan, Long Beach State, Monmouth, Canisius, Detroit, Temple (Madison Square Garden), Alcorn State, Central Connecticut
Away: 
Arkansas
Thoughts: Weak, weak, weak. 
Duke
Neutral: 
Kentucky, Minnesota, VCU, Louisville, Temple, Davidson (Charlotte)
Home: 
Georgia State, Florida Gulf Coast, Ohio State, Deleware, Cornell, Elon, Santa Clara
Away:
Thoughts: As you'll notice, Duke manages to be one of the few teams to actually avoid a true road game. Duke did leave home for 6 legitimate opponents in neutral site games though, as well as hosting a marquee home game in Ohio State. 
North Carolina
Neutral: 
Mississippi State, Butler, Chaminade
Home: 
Florida Atlantic, UAB, East Tennessee State, East Carolina, McNeese State, UNLV
Away: 
Long Beach State, Indiana, Texas
Thoughts: North Carolina gets credit for going on 3 true road game trips in the non-conference schedule. UNC had the most true road games of any of the teams being examined. 
Indiana
Neutral: 
Georgia, Georgetown, Butler
Home: 
North Dakota State, Sam Houston State, Ball State, North Carolina, Coppin State, Central Connecticut State, Mt. St. Mary's, Florida Atlantic, Jacksonville
Away:
Thoughts: Tom Crean realllllly doesn't like playing away from home...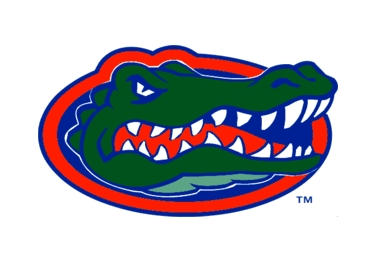 Florida
Neutral: 
Florida State, Kansas State (Kansas City, MO)
Home: 
Georgetown (Jacksonville), Alabama State, Wisconsin, Middle Tennessee State (Tampa), Savannah State, UCF, Marquette, Southeastern Louisiana, Air Force (Sunrise)
Away: 
Arizona, Yale
Thoughts: Florida took a risk by going out west on the road against Arizona. 
Gonzaga
Neutral: 
Clemson, Oklahoma, Davidson, Washington State
Home:  
West Virginia, South Dakota, Lewis-Clark State College, Pacific, Illinois, Kansas State (Seattle), Campbell University, Baylor
Away: 
Oklahoma State
Thoughts: Gonzaga managed to bring a few fairly solid match-ups to the state of Washington for either home games or "neutral" games. Gonzaga's non-conference schedule is not incredibly tough though, and that's probably in part due to other teams not wanting to make the trip out west or host a bit of a high-risk opponent in the Zags. 
Ohio State
Neutral: 
Marquette, Rhode Island, Washington
Home: 
Albany, UMKC, Northern Kentucky, Long Beach State, Savannah State, UNC-Asheville, Winthrop, Kansas, Chicago State
Away: 
Duke
Thoughts: Decent schedule all the way around with a few neutral games against decent opponents and one true road game at Duke. Ohio State also brought in a marquee home match-up with Kansas. 
Kentucky's 2013-2014 Non-Conference Schedule
Neutral: 
Michigan State, Providence, Baylor (Cowboy Stadium)
Home: 
UNC-Asheville, Northern Kentucky, Robert Morris, University of Texas at Arlington, Cleveland State, Eastern Michigan, Boise State, Belmont, Louisville
Away: 
North Carolina
Thoughts: Kentucky will be playing 3 of the best teams in college basketball season in Michigan State, North Carolina and Louisville. One is neutral, one is home, and one is on the road. That's a pretty tough and balanced schedule. The other home games on the schedule do leave something to be desired though. 
3 parting thoughts:
1) Take a look at the home schedules for each and every team listed. Other than maybe 1 or 2 (mostly 1) marquee opponents, fans of other teams are left with the same type of home schedule as Kentucky fans. The games aren't overly exciting, but we aren't the only ones looking at that kind of home schedule. 2) Playing neutral site games is clearly becoming a more advantageous option than going on the road for a true road game. 3) The biggest difference right now between Kentucky's overall home schedule when compared to some of these other teams is that the SEC is considerably down as of late. The SEC schedule only provides a few highly anticipated home games each season now. Some of the other conferences such as the ACC, Big 12, Big 10, etc. are strong overall, and therefore at least 4-5 of the home games during the conference season are ones that fans get excited about.