BTI's Rants and Ramblings: What Percentage Impact do Refs Have?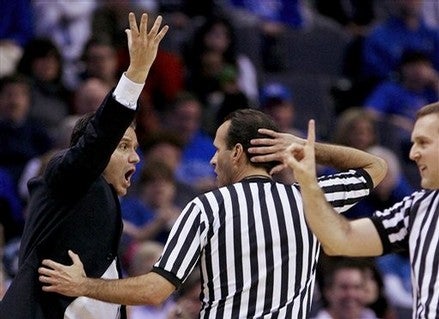 (photo courtesy of Deadspin)
I'll be honest, I can't stand the "blame the refs" fan and I know many of you agree with me on that.  That fan thinks every call that goes for your team was the right one and every one that goes against is the wrong one.  And above all else, it's probably a conspiracy to screw your team.  For those who listen to the radio show, you heard Chester argue that Vegas paid off the refs against Wisconsin.  Certainly, we have a sliver of fans that act that way in UK world, but every fanbase does.  Look at UL fans.  
They continue, to this day, to claim the officials screwed them out of the game against UK in the Sweet 16 in 2014.
 It's quite annoying because it ignores that refs have about a 20% impact in my opinion on a game in the long run. But in this NCAA Tournament and Final Four, we really did see refs dip to a new low.  Not only were there numerous poor calls and no-calls, but then they blew three different replay calls as well.  So even when given 2nd, 3rd, and 4th looks at a call, they still don't get it right.  So it's safe to say my opinion on how much a ref affects a game might be changing as the quality of official declines. Now, playing devils advocate and let's use the Final Four loss to Wisconsin as an example: 1. Referees blew obvious calls on the shot clock violation and the out of bounds call.  Those 2 calls directly led to 4 Wisconsin points. 2. But, what about the officials caused UK to commit 3 consecutive shot clock violations.  Or Trey Lyles charge.  Nothing the officials did caused Dekker to hit the step back 3-pointer either. Did the refs have an impact on the game?  Of course, and it was in crucial times.  But they did not cost UK that game.  And frankly, at the end of the day, made shots and missed shots are almost entirely on the players.  Turnovers are almost entirely on the players.  Refs can dictate the flow of the game and foul trouble, but that is also assuming every foul call is incorrect.  The fact is that 90% of foul calls are the correct call.  We only focus on the bad ones. The point is this: refs are an easy target and sometimes they deserve to be.  The quality of officiating has gone down over the last 5-10 years at both the college and pro level.  
But just because that is the case doesn't mean that officials decide who wins and loses games.  They don't.
 Their decisions are not always right, but the actions of the players still are the main impact on a game.  Officials are rarely the cause for a guy to shoot 1-10 or why a team allows an opponent to score 45 points.
I think officials have around a 20% impact on a game.
 Does putting a guy into foul trouble impact a game?  Timing is a consideration on many of these calls too.  But at the end of the day, a player has 4 times the impact on a game than an official in most cases.  And I always wish that the sliver of fans who think refs have it out for them could see the bigger picture of things and recognize that sometimes it their guy and not the guy in the stripped shirt that makes the most impact.
What say you?  Do refs actually have a direct effect on the outcome of the game or do they just play a small role in what truly goes on?  I say 20% impact.  Too much or too little?