18 Reasons To Get Excited For Football Season
Eighteen days from now, we'll be under the lights at Commonwealth Stadium for Kentucky's season-opener against Southern Miss. If you're a football fan, that alone should give you goosebumps, but after five seasons of dumpster fires, close calls, and gut-wrenching losses, the UK fanbase is a little slower to get up off the mat this time around, myself included. In an attempt to fire us all back up and get back on the football bus, I spent my afternoon compiling a list of
18 reasons to get excited for football season
. (Get it, because there are 18 days until kickoff.)
1. Tailgating
For some, the most obvious reason. Nothing beats waking up, packing up the cooler/tent/grill/TV/generator/etc. and setting up shop in the parking lot outside Commonwealth. This isn't as easy as it once was, but the first sip of the first beer on a long day of pregaming is still one of the most blessed experiences known to man.
2. There's finally no quarterback battle
For the past several years, the first game of the season has also been a proving ground for whoever was named starter during fall camp. Fortunately, we haven't had to endure a quarterback battle this season, with Drew Barker firmly entrenched as QB1 from day one. Barker hasn't had an easy path since coming to UK, but all reports out of UK this preseason have been promising, and barring meltdown or injury, the job is his. https://youtu.be/t5RbU6iIuuk
3. Boom Williams will do something special
Boom christened the renovated Commonwealth Stadium with a spectacular 75-yard touchdown run on the first offensive play of the 2015 season. Last year, he led the Cats in rushing with 121 carries for 855 yards and 6 touchdowns in 10 games, but injured his elbow twice. Now back to 100% after an offseason surgery, I have a feeling the junior speedster will give us at least a few reasons to go "Booooooooom!" vs. Southern Miss.
4. Boom Williams Sr. will do something special
Boom's famously outgoing father has been a fixture on the tailgating scene the past three years, and although last season, he was asked to only pump up the crowd before and after the Cat Walk, not during, it's still something I look forward to every year.
5. Matt Elam running with the American flag
Fat or skinny, Elam carrying the American flag out of the tunnel is a thing of beauty.
6. Our secondary is really good
Despite the loss of Darius West, Kentucky finally has a secondary that can compete at an SEC level. Chris Westry, Derrick Baity, and Mike Edwards have the talent and the swagger required to play in this league, and although there are other gaping holes on defense (the line, oh the line!), secondary is one position at which we may actually win some battles.
7. Our running backs aren't bad either
Boom Williams, JoJo Kemp, Mikel Horton, Sihiem King, and Benny Snell combine to make a formidable unit. In fact,
ESPN ranked UK's running backs the fifth best in the SEC
behind LSU, Georgia, Tennessee, and Alabama.
8. The return of the KSR Pregame Show
As if hearing them five days out of the week wasn't enough, Matt, Ryan, Drew, and Jared will grace the airwaves three hours before kickoff each Saturday. I hear they're already accepting invitations to your tailgates. Just please don't give Ryan Lemond too many jello shots.
9. An extra 30 minutes of Freddie Maggard and Christi Thomas on the pregame show
"Cat Walk to Cat Talk" was so popular last season that the UK Radio Network is extending it from thirty minutes to an hour. Freddie's been on a strict kale and salmon diet all summer to prepare.

10. CJ Conrad will be a star
Conrad had a decent first year in Lexington, leading SEC freshmen tight ends with 15 catches for 149 yards and one touchdown, but if Eddie Gran has anything to say about it, this will be his breakout season. Gran's offense is known for featuring tight ends, and Gran himself promised that the first offensive play would be a pass to Conrad. (We're holding you to that, Coach.)
11. More bench backs!
With the exception of the student section, the entire lower bowl of Commonwealth Stadium now has bench backs. In addition, the first ten rows of the upper deck also have backs, making for a much more comfortable experience during timeouts, halftime, and offensive series.
12. The chance to enjoy Kentucky Proud products at Commonwealth Stadium
Last year, UK spent $90,000 on locally-sourced foods to serve at Commonwealth Stadium, including new menu items like the Bluegrass Burger and Spicy Cat Tail Brat, both of which are made in the school's own butcher shop. Other "Kentucky Proud" items on the menu: popcorn, bred pudding, and corn on the cob. Mmmm, popcorn.
13. There are no more excuses
With a renovated stadium, state of the art football training facility, and four classes worth of his own recruits, Mark Stoops and the UK Football program are out of excuses. While Stoops' buyout may ensure him another season regardless of whether or not the Cats go to a bowl, there is definitely a feeling of, "If not now, never?" around the fanbase. This isn't exactly cause for excitement, but according to those around the program, that sense of urgency is also fueling the players and coaches in camp.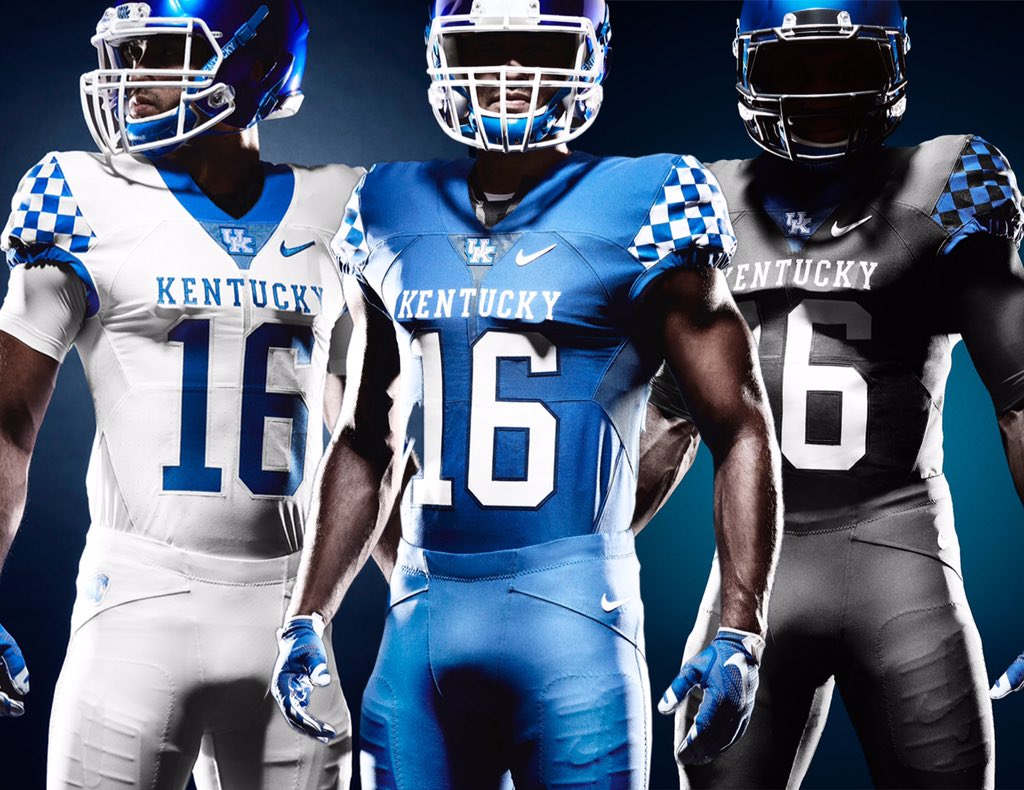 14. New uniforms
Even though they feature the new
birds having relations
secondary Wildcat logo, the new uniforms seem to be a hit with players and recruits. I'm more of a traditionalist, but I'll admit that the white uniform is pretty sharp, especially in person.
15. Saturdays are restored to their rightful place
Thank God for the Olympics, because Saturdays during the month of August are usually the worst. In 18 days, Saturdays will get back to what they're meant to be: football from "College GameDay" to the Pac-12 nightcap. In turn, my social life will finally get back on its axis. Game coverage occupies most of my Saturdays in the fall, but there's always a game on, meaning there's always a chance to gather at the local watering hole with my pals. On that note...
16. Day drinking
Or, at least socially acceptable day drinking. Beer just tastes better before 5 p.m. with football in the background. It's a proven fact.
17. It's better than being depressed
This being UK Football and all, the letdown may be inevitable, but for now, why not rally and enjoy the preseason glow while the slate's still clean? We'll even let you get in as many "I told you so"s if things go south later on.
18. It's football
And it's the best, most American sport we've got. Get on board.