1st and 10 discusses Cousins vs. Wall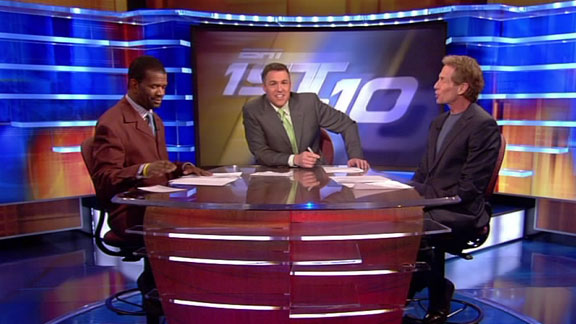 The ESPN 
Cold Pizza
First Take
1st and 10 panel discussed the great Cousins/Wall debate today
.  Skip Bayless, Rob Parker, and Herm Edwards weighed in on who they think is the best player at Kentucky (because we need Bayless, a guy I've never heard of, and a former NFL coach to tell us about Kentucky basketball).  Our KSR Spy was able to obtain the transcript from the great debate and what each panelist really meant:
Skip Bayless:
"Most important, not even close - Demarcus Cousins is already the best big man in all of college basketball. Bigger, stronger, more skilled, more fundamentally sound than anyone I have seen. I like John Wall but don't love him because he is a shoot first, high turnover point guard who isn't great at getting the rest of the players involved."
What Skip really meant:
They're both better than Lebron "Prince" James.  I'll go with Cousins because he gets a bad rap and the entire country loves John Wall.  Ocho Cinco sucks.
Herm Edwards: 

"Basketball is like football anymore.

The point guard is protected like the quarterback in football.

You can't hit him, you can't touch these guys.

Wall is a fantastic player — he's fast, he can dish, he has good vision.

In my eyes, he is like the quarterback.

Don't touch him, let him play."
What Herm really meant
:
Why are you asking me about basketball?  I need a new job.  I'll even go to Oakland, just get me off this set.
Rob Parker: 

"I think Cousins gets help because Wall is out there.

The attention is on Wall and that's why Cousins can flourish.

If he were out there by himself, without a player like Wall out there, I don't know if he would be as good.

Wall is the reason why Cousins can excel."
What Rob really meant:
Herm Edwards needs a job.  Why is he talking about college basketball?  That quarterback analogy made absolutely no sense.  He should've just said "they play to win the game" and moved on. And cut from this morning's segment:
Jemele Hill:
"It's not about Wall and Cousins in Kentucky, as long as they're winning.  Timothy McVeigh could run the point while John Wayne Gacy recorded a double-double and UK fans would flock to buy their jerseys."