2016-17 UK Basketball Preview: Preseason Q&A with John Calipari
As he's done each and every year before fall practice, John Calipari held an hour-long Q&A session for select members of the media to review the summer and preview the season ahead. Calipari talked in length about the return of Isaiah Briscoe and the role he will play in his sophomore season; his six incoming freshmen from the star-studded 2016 class; the new and improved Isaac Humphries; what he needs from Derek Willis; how he expects his new team will play; and much, much more. Read the summary of his comments below.  
---
This team's strength will be its defense.
One of the biggest strengths of Calipari's new team will be its defense. With three 6-foot-3 guards in De'Aaron Fox, Malik Monk and Isaiah Briscoe; a lockdown defender in Dominique Hawkins coming off the bench; a freak of an athlete in Bam Adebayo; two long, stretch fours in Derek Willis and Wenyen Gabriel; and a lean and improved seven-footer in Isaac Humphries; Kentucky has all of the pieces one team needs to be dominant on the defensive end. Calipari simply said, "You just have guys that can maul people."
They will try some zone.
With all of that size and athleticism on defense, Cal will consider playing some zone, believe it or not. "There's some zones we could play," he said. "Not the traditional 2-3, but those three big guards out with two bigs -- or, 6-11 or 6-10 at the top of the key, where you have a big guy out there who can really guard and make that tough on people." He will toy around with several combinations, trying out two or three big guys or one big buy with Willis or Gabriel at the four. "There's all kinds of ways."
This is a very tight-knit group.
As with all of Calipari's Kentucky teams, this year's bunch is very close off the court, maybe more than any team he's had before. Isaac Humphries told him in a summer meeting he couldn't believe how close last year's team was, and that this year's team is even closer than that. Cal's wife has said the same about the new team.
"I'm excited about coaching them."
It is Isaiah Briscoe's team and he has embraced his leadership role.
He's only a sophomore, but Isaiah Briscoe has had to take on the role of team leader going into his second season. Calipari met with him over the summer to tell him it is his team and to not take a backseat to the two freshman guards he will be sharing a backcourt with. Briscoe has embraced his new role when many others would "pee themselves," as Calipari put it. "He's on a mission and he should be," Cal said. "He's got a killer in him. You win with guys like him." Briscoe's situation is almost identical to Tyler Ulis' of a year ago. You may remember, Cal met with Ulis after the 2014-15 season and told him it is his team. Ulis had just watched several of his teammates leave for the NBA and he too had to take two new freshman guards under his wing. If Briscoe is leading the way Ulis did, and it sounds like he is, it should be a big year for the returning star. Cal said, "He's been in the trenches and he's doing a heck of a job right now and I'm pleased with him."
Calipari expects Briscoe's shooting will improve.
The main (and only) reason Isaiah Briscoe is back for another year is because he was one of the worst shooters in all of college basketball in his freshman campaign. He shot an abysmal 13.5 percent from behind the three-point line and only 46 percent from the charity stripe, which made for a historically bad year in that regard.
Calipari said he told him, "It doesn't matter if I put the ball in your hands more or less, it doesn't matter if you don't improve your shooting."
With that message sent and received, Cal expects Briscoe to be much better shooting the basketball this coming season after all of the hard work he's been putting in throughout the summer. He thinks Briscoe's shooting will also benefit from having the ball in his hands a little more, because he believes Briscoe is better off the bounce than in a catch-and-shoot situation, which is how he had to play with Tyler Ulis running the point.
"The good news for him is: he was so bad last year, if he shoots 30 percent and 67 percent from the foul line, he's a lottery pick. Because the improvement is so drastic, they look and say, 'Wow, he's on that path.'"
Cal added, "Let me just say this: With Isaiah last year, if he shot the ball better, he would've been in the first round. Does that matter where he played? Because everybody saw him defensively, rebounding – he had a heck of a year last year. He just didn't shoot the ball well. Now it becomes, okay, you had the summer – you're going to miss some shots, how do you recover from that? He's got a great frame of mind right now. He's a confident kid anyway."
Isaac Humphries is a new player, on path to be Josh Harrellson 2.0.
Every summer there is a player who is the star of water cooler and message board talk, and this year that player is Isaac Humphries, who, by all accounts, is an entirely different player. Humphries reportedly lost a ton of weight and added some muscle mass, which has made him a little more explosive and agile on the basketball court. The seven-footer wasn't very mobile in his rookie season, but now he's making plays he wasn't able to make in his old frame.
Cal compared his improvement to that of Josh Harrellson in 2010-11, saying, "Josh started dunking balls and well that's what this kid is doing now. Like, he does not lay any balls in. He's trying to dunk every ball."
Cal also noted the 18-year-old will still be one of the youngest players in college basketball.
"Basically he's a freshman. He got an extra year last year because of his age."
Derek Willis needs to be consistent.
How Derek Willis plays will have an enormous impact on how well Kentucky plays. As one of the team's only seniors and arguably its best three-point shooter, Willis will be a major contributor with a lot of responsibility.
Coach Cal said Willis is on a great path so far, but he has to sustain for an entire season. Cal wants him to be the Derek Willis we saw in the middle of last season, when many called him UK's "X-factor" in the midst of a breakout year.
But inconsistency kept Willis from reaching his full potential and he was unable to play at the level he showed glimpses of in a handful of SEC games. Cal wants to see that Derek Willis--the one who had 12 and 12 at Auburn and 18 and 12 against Missouri-- in 2016-17, not the other Derek Willis.
"He has to prove to all of us that this is who he is, not that other guy," said Cal. "That's all we try to do here is help them develop habits -- habits meaning, you gotta do it everyday and then you own that habit. You own who that is. And obviously he didn't own it last year. He played some and did some and we were like 'Oh my gosh' -- then all of the sudden it wasn't his anymore. So he's gotta go do it and I think he's capable of it."
"He'll be in the eight-man rotation. The question is, are you a guy that we know we can count on every game for 25, 30 minutes? Or is it, every once in a while you can do that? Then what we're doing is every once in a while we'll play you. How consistent are you?"
Calipari doesn't know how he will spread the ball around the backcourt.
Unlike last year when Tyler Ulis had to have the ball in his hands at all times, this team will move the point guard responsibilities around a little bit with Fox, Monk and Briscoe sharing the rock. Fox will likely be the closest thing to the full-time point, but Monk and Briscoe are also very capable of running the offense.
"When you talk those three, it's pretty even," Cal said. "So how are we going to do this?"
That's the challenge the coaching staff is faced with going into the season. They have to figure out, of those three guys, who will run the half-court offense and who needs the ball in transition. If Fox and Monk are better shooters, does Briscoe take the ball? Or, as Cal asked, "Do you have De'Aaron have it and have Briscoe run, which means, if you get it to him, he's a finisher. It's just a lot of stuff you have to figure out when you're doing this this way. There's no -- this is how we play, fit in... It just doesn't work that way here."
De'Aaron Fox showing flashes of John Wall.
The early talk on De'Aaron Fox is the John Wall comparisons from high school are proving to be accurate, although Fox hasn't learned to use his speed to his advantage, like Wall did.
"There are times he can look as fast as John Wall," said Cal. "John Wall knew that was his number one weapon and he used it all the time, probably too much. De'Aaron hasn't figured out that should be his number one weapon. It's a weapon he'll use every once in a while but it's really hard to run that fast all the time, so I'll run fast when, you know, the rest of the time I'm so good with the ball, I don't wanna run fast so he catches me."
Cal also said Fox is great at getting to the rim, but he needs to get more physical. He's capable of creating contact and getting his shot off, but plays too casual at times. And he can also do the unexplainable:
"I saw De'Aaron Fox make a play in transition, shoot it, miss the layup and grab it and dunk it. WHAT?! And that's your point guard."
Malik Monk has a little MKG in him.
While Fox drew the John Wall comparisons, Calipari likened Malik Monk's game to that of Michael Kidd-Gilchrist, in that they're both excellent finishers in the fast break.
"Malik maybe played like Michael, which is, if he's ahead, give it to him," Calipari said. "If you don't give it to him you're coming out because he can just, you know, his explosion to go by you, his ability to make runners, he's getting better at taking hits."
The early knock on Monk's game is his shot selection.
"He settles for shots. He can literally – he has the best runners, like shots left and right, that I've seen. Why don't you shoot more of those? Why don't you just go by people and jump over them and shoot runners? 'I like that other one.' What?"
Cal has to occasionally get on Monk for taking contested jumpers. The problem is, Monk can jump so high, he's always believes he is open, which is a good problem to have."
Bam Adebayo has been limited, needs to toughen up.
At the time of the interview, Calipari admitted to only seeing a little of Bam Adebayo due to Adebayo's ankle injury and nagging tendinitis. But on looks alone, he sees a guy who is ahead of everyone, physically and athletically.
However, there are some slight concerns with Adebayo's work ethic and toughness. He has a case of DeMarcus Cousins Syndrome, where he doesn't feel like practicing at times.
Calipari said, "I've had to tell him, 'You understand, if you don't practice, you're not going to play here, right? Like, someone's told you that, right? If your knee really hurts and you can't practice that's okay but you will not get in the game, right? You know that, right? 70 percent of the NBA has tendinitis in their knees and ankles. You have tendinitis. They play and practice. You have to figure out how to play and practice. If it hurts and you can't do it, I'm good. You're not playing, but I'm okay.' So he's gotta get through that stuff."
More player observations:
Sacha Killeya-Jones: "First of all, he came at us, and that's always a good thing. He wanted to visited and he had decommitted from Virginia and he and his father and mother came in – tell me why you have an interest in us. 'I want to be in a program who have had guys like me who have grown and have been taught and coached and challenged and have made it. And the way you guys play is how I want to play.' And so, then watching him, I'm like the kid's good enough. He's skilled, but he's got a long way to go. They're all on different paths."
Wenyen Gabriel: "I'm like, 'Wenyen get really good from seven feet and then we'll do all this other stuff.' He could be like Derek – a 6-10, perimeter, inside-outside – but he's got more of a motor; he blocks more shots; he'll rebound the ball; he's different in that regard than Derek. But, let's learn seven feet and in first so you'll always have something."
Tai Wynyard: "I still think he's a little behind physically, conditioning. Until you break that, it's really hard to break through because you're behind the action, which means you're late to balls, which means shots get blocked. Being in great condition, that's what Isaac's done, and that's what Tai has to do. But he's a big body, he gives us another size. He and Sacha give us two more guys."
Brad Calipari will play, sparingly.
Coach Cal sees an opportunity for his son to play a little bit in blowout situations. If he continues shooting the ball well and doesn't try to do too much, he'll get some clock in meaningless, last-minute moments, although Mama Calipari wants him to play more.
"His mother thinks he's playing. She's out of her mind," Cal said, laughing.
Brad is also studying under his dad and the UK assistants to one day become a coach, which is why he chose to come to Kentucky. Cal told him he would have to go to Division II or lower Division I to really play, but Brad wants to get into coaching and he thought it would be best to learn under his old man in Lexington.
Calipari knew last year's team would struggle against a big man in the tournament.
Indiana's Thomas Bryant presented the one problem Calipari hoped to avoid in the NCAA Tournament: a dominant big man. Cal and the staff knew that was the team's achilles heel, just as cold shooting was the concern in 2010, when the Cats were upset in the Elite Eight.
He said, "Last year's team, we knew if we faced a physical team around that basket or they had a guy that could score and our guys didn't do it, we were in trouble. And we knew it. We knew it before, so when it happened, it was sort of like – we kind of knew that could happen. We didn't want it to happen."
Cal thinks the draft would've played out a lot differently for his four entrants if Kentucky had won that game and maybe one more.
"I'm absolutely convinced if last year we had won two more games in the NCAA tournament, Tyler absolutely would've been in the lottery; Skal would've been in the late lottery; Jamal would've moved three or four spots; and Alex would've been a second round pick. No question in my mind. I just know how the NBA thinks, their scouts think. And by us losing, it affected all of them. So winning matters but the only way to win is they get along so well, your talented enough."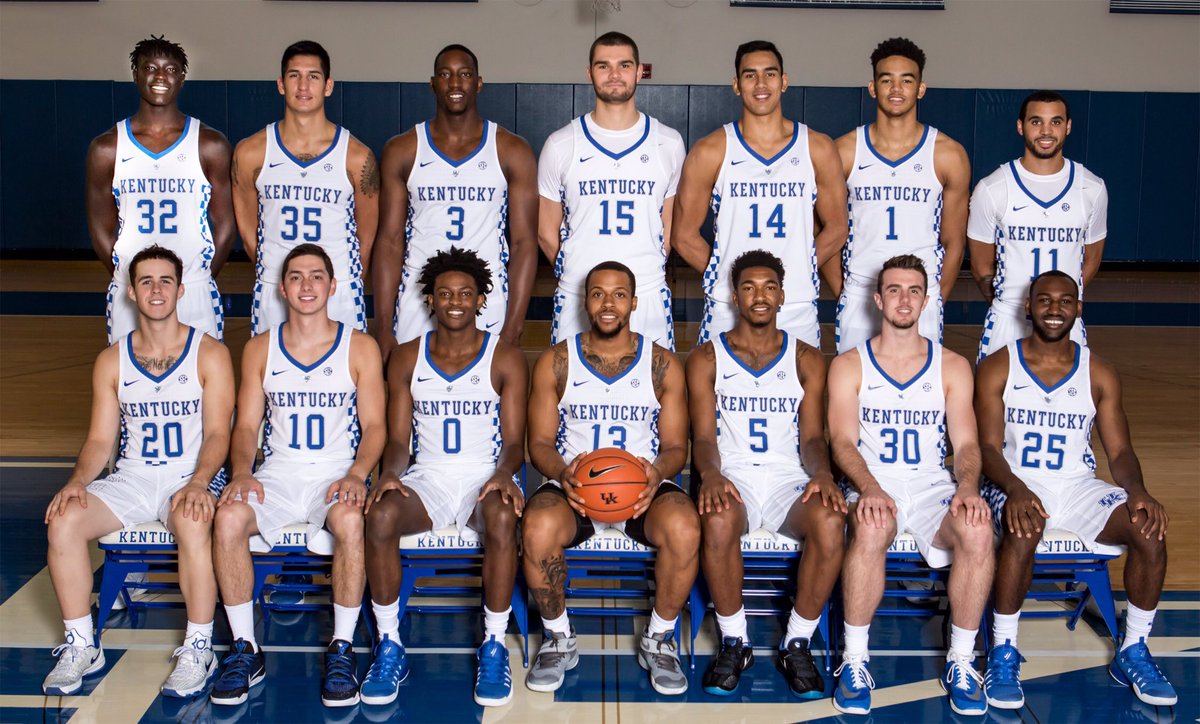 "Late February early March rolls around, let's be ready. Let's be at our best."
"The great thing is they're all good kids. They listen. If you walked in our practice, they're very locked-in and focused. Practices will be hard for them early on. I think early on we will be a team that only runs three or four things offensively – probably our first month and that's not good because we've got some really big games that first month – but then it'll be primarily let's be defensive-minded. Let's be a team that, alright, even if we don't shoot it well, we're going to execute will and we can still win the game and that's what I think we'll do with this team."
"You could lose early and then try to get it right and right the ship by the end of the year – you just gotta be ready. Late February early March rolls around, let's be ready. Let's be at our best."