What the 2021 All-SEC team should look like: Offense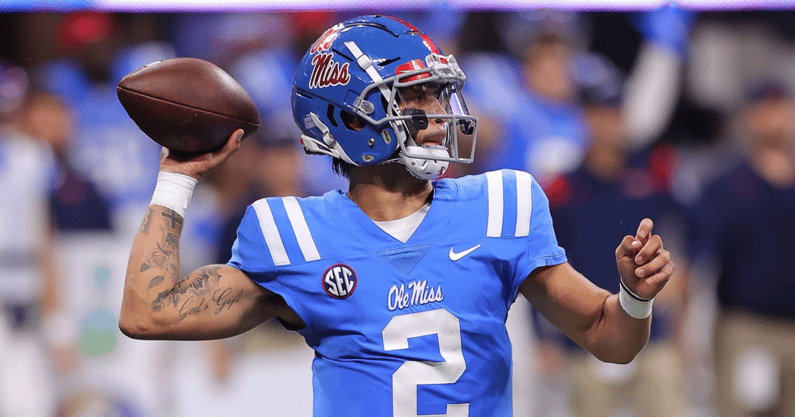 Believe it or not, the 2021 college football season is pretty much over. Things move very fast.
In the SEC, the league once again produced the best team in college football and Georgia is set to face Alabama for the conference crown on Saturday evening in Atlanta. All eyes will once again be on CBS.
Before that arrives, it's time to check in on what the all-conference teams should look like. After checking in at the halfway point, KSR is back to provide our All-SEC teams for the 2021 football season.
First up is the offense.
Quarterback: Matt Corral (Ole Miss)
The 2021 season was a very good one in the SEC. Stetson Bennett leads all Power Five quarterbacks in yards per attempt (10.8), and he doesn't make the list. That tells you all you need to know.
Matt Corral gets the edge after leading Ole Miss to a 10-2 record and pending New Year's Six bowl berth. The former top-100 recruit from Southern California saw a dip in his numbers but still put up over eight yards per attempt despite throwing to a somewhat average wide receiver group. Add in 11 rushing touchdowns on 597 rushing yards, and Corral was the most valuable player in the SEC.
Bryce Young was a close second place after leading Alabama to an 11-1 record with 3,901 passing yards and 40 touchdowns. Hendon Hooker also deserves some praise after saving Tennessee's season by averaging 9.8 yards per attempt with 31 total touchdowns.
Running Back: Tyler Badie (Missouri), Chris Rodriguez Jr. (Kentucky)
Tyler Badie rushing the ball 22.3 times per game is not something many saw coming in year two under Eliah Drinkwitz at Missouri. However, the former low three-star recruit from Memphis delivered a monster season when the Tigers desperately needed it.
Badie led the league in rushing yards (1,604) and rushing touchdowns (14) while averaging just under six yards per rush. Despite a mediocre 44.4 percent rushing success rate, the outside zone scheme at Mizzou created chunk play opportunities, and Badie responded with 46 rushes of 10-plus yards. With the Mizzou passing game struggling, Badie put the team on his back in wins over Vanderbilt, South Carolina, and Florida to get the Tigers to bowl eligibility.
Take out the fumbling issues, and Chris Rodriguez Jr. had a strong season. Another former low three-star recruit, the Metro Atlanta native rushed for 1,272 yards and eight touchdowns averaging six yards per rush. His 54.6 percent success rate is one of the best numbers in college football as Rodriguez remained an efficiency monster in Liam Coen's first offense at Kentucky.
Elsewhere, Georgia had an impressive platoon with James Cook and Zamir White. A thunder and lightning combination, each paced the Georgia offense and provided the efficiency to counter the explosiveness of the passing game in Athens.
Wide Receiver: Wan'Dale Robinson (Kentucky), Jameson Williams (Alabama)
The transfer portal made a huge impact at wide receiver in the Southeastern Conference.
Nebraska transfer Wan'Dale Robinson became WR1 in Lexington and set a program record for single-season receptions (94). The former high four-star recruit became the first wideout at Kentucky to go for over 1,000 yards in a decade.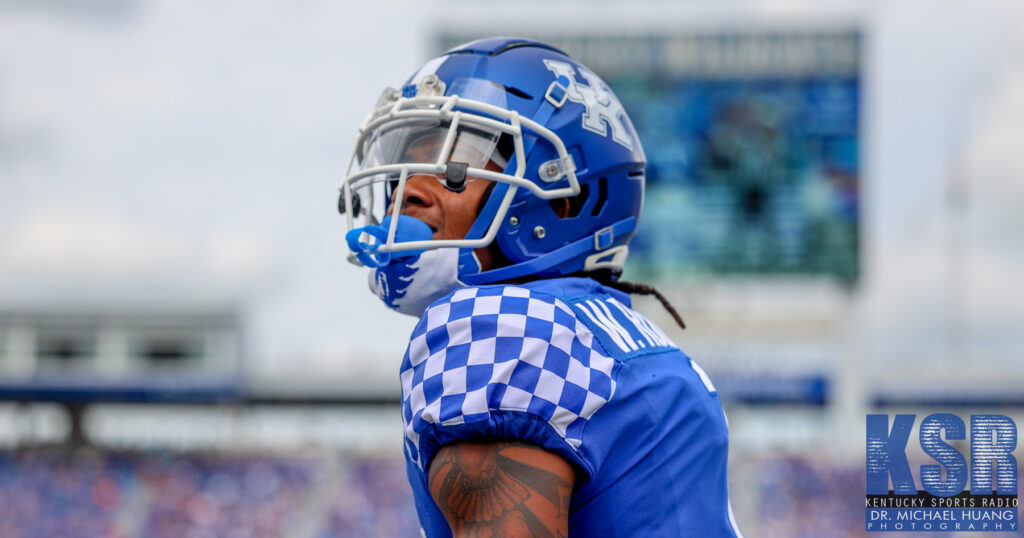 In Tuscaloosa, Ohio State transfer Jameson Williams became the go-to deep threat that Bill O'Brien's first offense at Alabama desperately needed. Williams led the league in receiving yards (1,261) and receiving touchdowns (13) while averaging over 20 yards per reception.
Transfers produced the best wide receivers in the conference. Elsewhere, Treylon Burks (Arkansas) and Dontario Drummond (Ole Miss) each had big seasons worth recognition.
Tight End: Brock Bowers (Georgia)
A true freshman from California turned into the league's best tight end in 2021 Brock Bowers was a top-100 recruit, and he delivered for the Bulldogs with 37 receptions on 53 targets with 652 yards and 10 touchdowns.
Bowers had a strong success rate (56.6%) and produced a ton of chunk plays. The diaper dandy should get some All-American looks as the season comes to an end.
All-Purpose: Velus Jones Jr. (Tennessee)
Josh Heupel brought his version of the Art Briles offense to Tennessee, but weapons are needed to make that style of play successful. Super senior Velus Jones Jr. stepped up to the plate.
The Alabama native recorded 52 grabs on 66 targets with an impressive 65.1 percent success rate. Jones was the most efficient wideout in the SEC, but the USC transfer also provided supreme value in the return game.
His 16 yards per punt return led college football, and his 28.1 yards per kick return ranked second in the SEC. Jones was a playmaker for the Vols all season and turned into one of the best multi-dimensional skill talents in the SEC.
Center: Michael Maietti (Missouri)
Transfers treated the wide receiver position well, but super seniors made a huge impact at center.
Rutgers transfer Michael Maietti returned for his sixth season and paced a strong rushing attack for the Tigers. Despite some injuries along the offensive line, Maietti helped solidify the interior and delivered a big season.
The veteran barely beat out Kentucky super senior Luke Fortner. The Ohio native moved to center this season and excelled for the Wildcats pacing one of the best offensive lines in college football.
Maietti barely beats out Fortner, but this is a close race.
Guards: Kenyon Green (Texas A&M), Justin Shaffer (Georgia)
Kenyon Green might be the most talented offensive lineman in college football. The Aggies attempted to switch him to tackle this season but quickly moved the former top-10 recruit back to guard and he became a force.
Over at Georgia, Justin Shaffer helped pace one of the best offenses in college football. A former three-star recruit will be a strong development story for Kirby Smart's program.
Tackle: Darian Kinnard (Kentucky), Evan Neal (Alabama)
Darian Kinnard is the best right tackle in college football and should hear his name called early in the NFL Draft. The senior once against put together a strong season and made real strides in pass protection. He has been one of the best players of the Mark Stoops era.
Meanwhile, Evan Neal has been a rock at left tackle for Alabama. The former five-star recruit will likely be a top-10 draft pick.
Elsewhere, former five-star Charles Cross had a strong season at Mississippi State. The late bloomer could be the top tackle taken in the upcoming NFL Draft.