2024 five-star guard Ian Jackson commits to North Carolina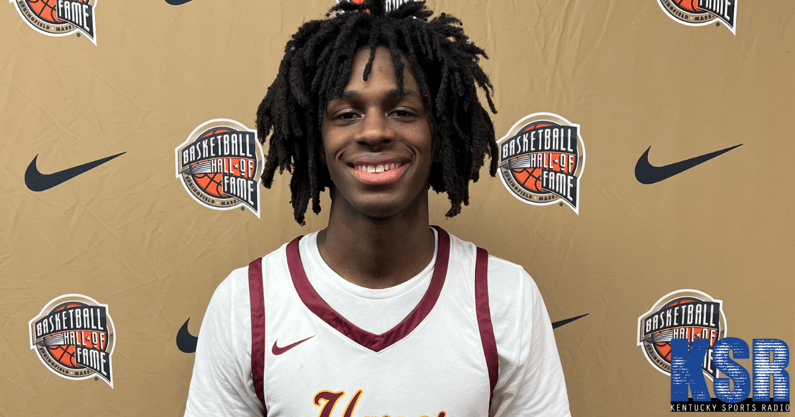 The wait continues in Kentucky's search for its first commitment in the class of 2024.
Ian Jackson, the No. 2 prospect and No. 2 shooting guard in the 2024 On3 Consensus, will not be a Wildcat. Instead, the five-star guard out of Cardinal Hayes (NY) High School chose North Carolina over Arkansas, Kentucky, LSU and Oregon on ESPNU on Monday.
Jackson took official visits to all five finalists, with Arkansas, Kentucky and North Carolina emerging as the top contenders down the stretch. It was the Tar Heels, though, that earned the first major recruiting win of the upcoming cycle, the first top-five prospect to commit in the junior class.
"Where I picked, I feel like it's best for me. It'll be best for me," Jackson told KSR of his decision. "Individually, I feel like in their system, I'll thrive and be a one-and-done."
North Carolina moves up to No. 1 in the On3 team recruiting rankings for 2024, with Jackson joining the likes of five-star guard Elliot Cadeau, four-star center James Brown and four-star guard Drake Powell in Chapel Hill.
Jackson was Kentucky's top recruiting target in 2024, joining the likes of Tre Johnson, Boogie Fland and Flory Bidunga at the top of the program's wish list.
Where do the Wildcats turn now? Johnson and Fland are still available and certainly crucial targets moving forward. Four-star guards Tahaad Pettiford and Isaiah Elohim previously picked up interest from Kentucky, with the former telling KSR this weekend that a visit to Lexington was in the works.
Maybe the biggest name to keep an eye on? 2025 five-star guard Darryn Peterson, who is considering a reclassification to 2024 and is one of Kentucky's favorite prospects in high school basketball. With Jackson out, Peterson could step in as an immediate top-three recruit in the class, assuming he ultimately makes the jump.
There are replacement options out there, but there's no denying Jackson turning down Kentucky is a hit. The 6-foot-5 guard is widely considered the top two-way threat in his class, a versatile scorer on offense and a terror on defense. He brings intensity and a never-ending motor to the floor on both ends, which separates his game from his peers.
Scouting report aside, it also doesn't help that Jackson has long called Kentucky his "dream school," with the coaching staff recruiting him as long as anyone. This wasn't John Calipari coming in late and coming up short due to effort or long-term relationships being too much to overcome elsewhere. In fact, UK was the first blue blood to make a real push, part of the reason so many assumed this one was locked up from the beginning. Jackson was the first player in the '24 class to receive an offer from the Wildcats.
"That's a school (Kentucky) I've been looking forward to going to, hopefully going to," he told KSR. "That would mean a lot to me."
Instead, North Carolina was the program that came in late and pulled off the upset, forcing Kentucky to look elsewhere.