2024 PF Derik Queen establishing himself early on in recruiting process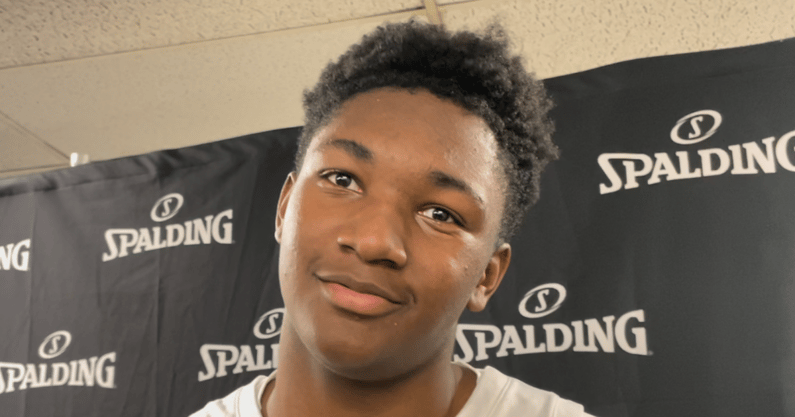 One of the top high school sophomore hoopers in the country is someone that might be of interest to Kentucky down the road. Derik Queen, a 6-foot-9, 240-pound power forward who plays for Montverde Academy, is quickly establishing himself as one of the premier recruits of the future.
Queen already holds scholarship offers from the likes of Alabama, Arizona State, Auburn, DePaul, Georgetown, Indiana, LSU, Maryland, Syracuse, and Virginia Tech. Remember, he's just a sophomore, but his talent is undeniable, and college coaches are trying to get in on him early before he truly blows up in the next year or two.
Suiting up this season for Montverde after playing in Baltimore as a freshman, Queen is stuck behind five future Power 5 prospects, all of them seniors rated as five-star prospects, or at the worst a high four-star. It makes for tough practices, but ones that make him better every day.
"It's hard, you just gotta wait your turn. Practice is hard," Queen told KSR over the weekend.
That being said, he has a clear role on a loaded roster. Queen came off the bench in both of his outings at the HoopHall Classic this past holiday weekend up in Springfield, MA.
Queen posted eight points and two rebounds on 3-4 shooting in 13 minutes during his HoopHall opener on Saturday against DeMatha Catholic, helping Montverde cruise to an 86-65 victory. Two days later on Martin Luther King Jr. Day, Queen went for three points, three rebounds, and one steal on 1-2 shooting in nine limited minutes. Montverde fell in that outing though, losing a tight contest to another extremely talent-rich squad in IMG Academy.
Playing spot minutes off the bench, he has to take full advantage of every second. Queen believes he did just that for Montverde at HoopHall.
"I could have rebounded a little bit better, but that's about it. I think I did everything else well," Queen said.
As far as Kentucky and head coach John Calipari go, Queen hasn't heard from the Wildcats at this point but said it was a school he definitely would like to speak with. Queen has dreams of making it to the NBA, which Kentucky has become well-known for under Calipari.
"Coach Cal, he recruits the best players," Queen said. "They come from the one-and-done system and he makes them play together."
There is still a long way to go in Queen's recruitment, and Kentucky isn't known to heavily recruit high school freshmen or sophomores, but he's absolutely a name to keep an eye on. Queen and fellow Montverde teammate, KJ Evans, who is a junior receiving plenty of Kentucky interest, come off the bench as five-star reserves.
Once those ahead of Queen move onto greener pastures, he'll get the full minutes load that will showcase exactly how special he could be down the road.