New UK Transfers Demonstrate Leadership, Are Grateful for Opportunity
[caption id="" align="alignnone" width="448"]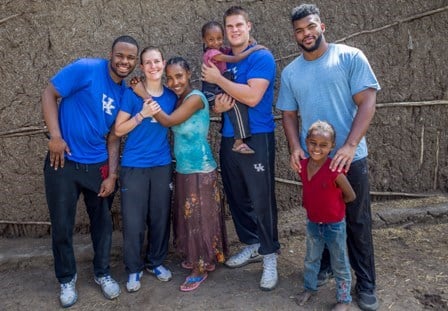 via UK Athletics[/caption] For three of Kentucky's newest football players, this summer was one they'll never forget.
Last year's transfers Courtney Love, Greg Hart, and De'Niro Laster were selected to join this summer's UK service trip to Ethiopia.
Before they ever played a down inside Commonwealth Stadium, these three players were given an opportunity to travel to help others. It also was another opportunity for them to bond, just as they had on the scout team last Fall.
"We were already kind of bonded because we had to sit out last year," explained Laster, a linebacker. "So we worked out together every day and we've seen each other through our ups and downs."
It was just last season that the three were forced to watch home games from the stands, per NCAA rules. They also had to watch their teammates load up on buses and planes, while they remained in Lexington during road games. To be a part of a football program, yet missing out on those experiences was hard.
"Us three, we went through a hard time with transferring and going through that whole process," said the newest tight-end Hart.
Their goal last season was to help make every player better, as members of the scout team. During practice they'd encourage the opposing player to play harder, to improve at every aspect of their game. Ultimately, it was this type of leadership and initiative that landed these three the opportunity to join the service trip.
 "We always look for three guys that we feel like it can make an impact ... and it just worked out that way," Coach Mark Stoops said of choosing the transfers.
The biggest take away from the trip was that it made them more grateful for the things the university has given them. There's one instance in Ethiopia where the transfers came across a homemade workout area for a children's school. In the backyard of this small house were homemade monkey bars and weights made up of wood, paint cans, and cement.
"It was crazy to see the innovation they had, the want to work out," Love said. "And the initiative. … They want to work out. They still have dreams to be body builders and professional athletes. Sometimes we complain we have to go work out and we've got this beautiful weight room, beautiful weights and they're lifting with cement, paint cans and a piece of wood, which is just crazy. Just helps us appreciate things we have here more."
The players helped the children by demonstrating new workouts that would make them bigger and stronger, and even put in a workout session with the boys.
"I love to help people," said Laster. "I feel like I have the biggest, loving heart ever. So going to Ethiopia it just made me more appreciative of what I have. I already love helping people."
Lastly, for one single mother they met, the UK players offered her food, clothing, and money enough for three month's rent. She had been struggling, as her children hadn't ate much of anything for nearly two weeks. Helping this mother was a life-changing moment for the three young men.
"She was losing hope," Laster said. "She wasn't expecting money. She knew she might get some food and clothing, but she wasn't expecting the money."
Courtney Love showed emotion as he recalled the moment,"She burst in tears because she was so thankful for that."
Love, Hart, and Laster are already collecting money from teammates to send to help build houses for the people they met. According to Laster, the coaches plan to match whatever funds the team raises to help as well. 
"You can see the players be grateful and talk about all the things that we have – not all the things that we don't have – whether we're in the old building, old stadium, new stadium, new building, whatever it is," Stoops said. "We're all very blessed and sometimes we don't always look at it that way. They've been very good at getting the message across and talking with the guys and being grateful for what we have."
Expect to see great things this season from these three young leaders! [
Herald-Leader: Three UK football transfers experience trip of a lifetime before suiting up for Cats
]