'23 OT Sean Thompkins includes Kentucky in Top 4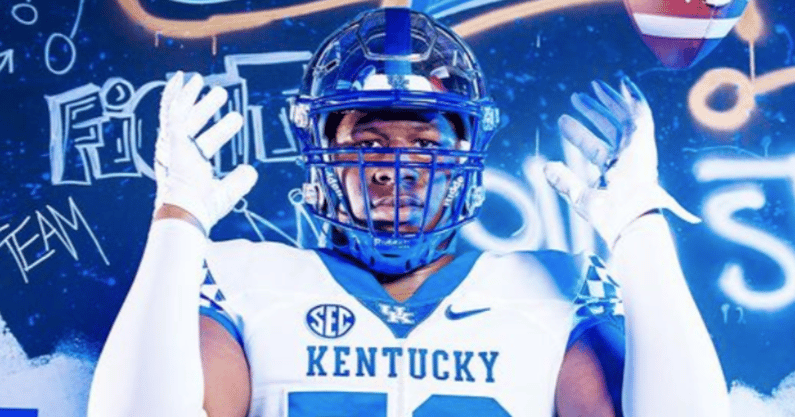 Nearly two weeks removed from his official visit to Kentucky, Sean Thompkins is down to just four schools — and the Wildcats made the cut.
On Thursday afternoon, Thompkins, a 6-foot-6, 310-pound offensive tackle out of Newton, GA, announced that he is down to Tennessee, Kentucky, Baylor, and Florida. Although he's not currently ranked by any of the major recruiting outlets, he is expected to receive a significant bump in the near future. Thompkins went from having just two offers in 2021 (Arkansas State and Georgia Tech) to generating significant Power 5 interest over the spring.
Thompkins was in Lexington two weekends ago for an official visit in what was a massive recruiting stretch for UK. He was at Baylor a few days before that and most recently returned from an OV to Florida last weekend. He also attended Tennessee's Junior Day back in March but has not taken an official visit to Knoxville yet, although one is expected in July.
All that being said, Thompkins told Corey Bender of Gators Online earlier this week that Florida and Baylor are "neck-and-neck" with Kentucky seen as a close third. A return visit to Florida is expected at the end of July for the Gators' recruiting cookout. But on the flip side, two different analysts from 247Sports and Rivals have logged picks in favor of Baylor since June 21.
Kentucky appears to have some work to do, but this recruitment could extend into the fall, which would only benefit the 'Cats at this stage.