'24 QB Danny O'Neil building good relationship with Rich Scangarello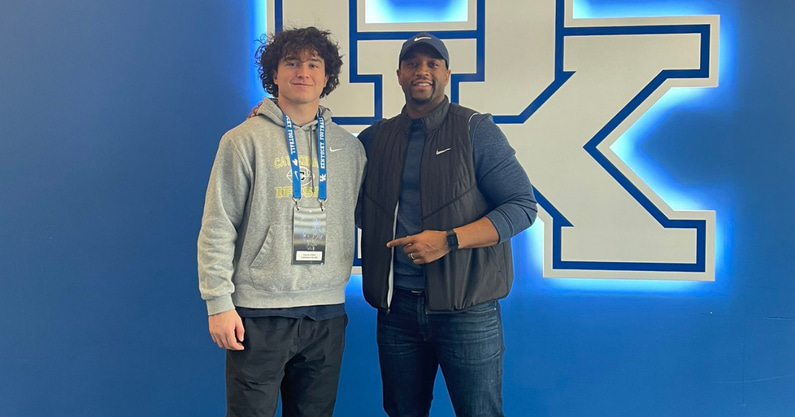 Kentucky's new offensive coordinator, Rich Scangarello, appears to be identifying the high school quarterbacks he'd like the program to heavily recruit.
Last week, we mentioned class of 2024 QB Dante Reno as a prospect to know. The Loomis Chaffee School (CT) product spoke highly of Scangarello and the advanced knowledge of the game the former NFL QBs coach possesses. Kentucky had been a bit slow-moving this spring when it came to offering young gunslingers, but more and more targets are popping up by the week as we head into the summer.
On Monday, UK reached out and offered another signal-caller from the '24 class in Danny O'Neil, a 6-foot, 165-pound QB out of Cathedral (IN). O'Neil is considered a three-star recruit by the On3 Consensus and a top 400 prospect in the country. Prior to his offer from Kentucky, he received Power 5 scholarships from the likes of Indiana and Purdue.
O'Neil has only been in communication with the Kentucky staff for a couple of months, but the two sides are building a relationship that has the QB highly intrigued. Along with Scangarello, UK defensive backs coach Chris Collins is also involved in O'Neil's recruitment.
"I went on an unofficial visit down there about a month or so ago and I've been in contact with them ever since," O'Neil told KSR on Friday. "Me and Coach Scangarello have built a really good relationship and then he came up to see me on Monday and then we talked on the phone later that day. He let me know that he wanted to give me an offer and just basically how much he believes in me and what a great quarterback he thinks I am. He really hopes Kentucky ends up being the place because he thinks pretty highly of me."
O'Neil is high school teammates at Cathedral with Kendrick Gilbert, a four-star '23 DL highly considering the 'Cats.
O'Neil later reiterated the growing relationship between him and Scangarello. The allure of Scangarello's prior NFL experience clearly sticks out in his mind.
"He mentions about how much he can really transform my game," O'Neil said of Scangarello. "He coached at the highest level, he knows what it takes to play there and he knows that it's my goal to make it there one day. He really preached about how much of an impact he could have on my career. He seems like a super cool dude and the relationship we've built over the last few months has been great. Just getting to know each other on a personal level."
Following an impressive sophomore season at Cathedral that ended with a 14-1 record and a state championship victory, O'Neil is on the cusp of a blow-up in his recruitment. He registered 3,261 total yards and 43 touchdowns in 2021, sitting out 13 quarters in the process due to sizable leads. O'Neil threw for nearly 3,000 yards and 33 scores with just two interceptions while completing 63 percent of his passes.
The rising junior told KSR that he's hearing from plenty of big-name SEC programs, including Alabama, Georgia, Florida, LSU, and Tennessee, along with independent Notre Dame, which he says has been in contact "quite a bit". He also took recent visits to Illinois and Ohio State.
O'Neil will take camp visits to Alabama on June 1 and then Georgia on June 2. He's also planning to camp at Tennessee, Florida, LSU, and Notre Dame over the coming months in hopes of collecting a few more offers. On top of that, he'll take unofficial visits to Purdue, Indiana, and then again to Kentucky. Dates for those visits have not been finalized as of this post.
As for a decision timeline, O'Neil admitted that he "definitely want(s) to be committed before this time next year," but plenty will happen between now and then. Heading into the summer, his recruitment is effectively wide-open, with the in-state schools and Kentucky holding a slight edge. O'Neil paid close attention to what Wildcat QB Will Levis did in 2021 and is especially interested to see how Scangarello coaches him through 2022.
"I know of the quarterback now, Will (Levis), I definitely watched him last season, saw what he could do," O'Neil added. "He had a good season last year and I think Coach Scangarello is gonna help him this year and I feel like he's gonna be one of the top quarterbacks taken in the draft for sure."