3-star '24 LB Jaden Smith joins Kentucky's June official visitors list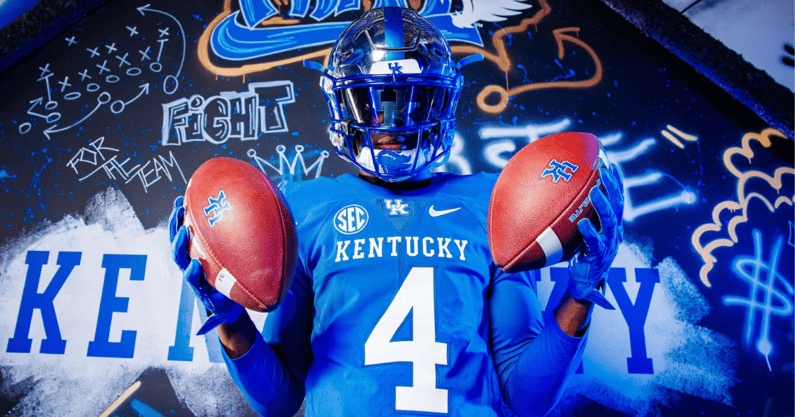 If you haven't been over to KSBoard in a while, you might not know just how jam-packed next month is going to be with official visitors for the Kentucky football program. In particular, the weekends of June 9-11 and June 16-18 will be loaded with big-time, soon-to-be high school seniors. There will be four- and three-stars galore roaming the Lexington campus during those two massively important weekends for the staff.
Another name we can add to the list is class of 2024 linebacker Jaden Smith, who posted to his Twitter on Tuesday that an official visit has been locked in with Kentucky. He later told KSR that he'll take the trip from June 16-18, adding to a still-growing list of nationally-ranked visitors for that weekend.
Smith is considered a three-star recruit and the 30th-best linebacker in the nation by our friends over at On3.
This will be Smith's second trip to Kentucky after coming up for a quick visit in April. The 6-foot-3, 185-pounder from West Charlotte (NC) told Jacob Polacheck of KSR+ shortly after his time in Lexington that he enjoyed his experience. Wildcats defensive backs coach Chris Collins extended Smith an offer back in early March. Inside linebackers coach Mike Stoops is also involved in this recruitment.
"We were watching the scrimmage, but I wasn't able to meet (head coach Mark Stoops)," Smith told KSR+. "He told me the next time I come up, I'm going to be the first person he sees. I had fun. Everybody was just showing love." 
The only other official visit that Smith currently has locked in is to Virginia Tech the weekend before UK on June 9-11. He's visited the Hokies multiple times already, which extended him his first Power 5 offer in January, most recently making a trip in April. Smith also holds offers from the likes of Southern California, Michigan, Miami (FL), Missouri, Vanderbilt, and Utah, among others. He's set to unofficially visit Michigan the first weekend of June, as well.
Smith intends to release a top schools list sometime in the summer with the hope of announcing a final decision during his senior season this fall.
Kentucky football official visitors: June 16-18
Jac'Qwan McRoy (OT) 6-8, 340 | Clay-Chalkville (Pinson, AL)
4-star: No. 179 overall, No. 14 OT
Johann Cardenas (RB) 6-1, 217 | St. Thomas (Houston, TX)
4-star: No. 310 overall, No. 25 RB
Dominic Nichols (EDGE) 6-5, 240 | Oakdale (Ijamsville, MD)
4-star: No. 361 overall, No. 27 EDGE
Tovani Mizell (RB) 6-1, 195 | DeMatha Catholic (Fort Lauderdale, FL)
3-star: No. 447 overall, No. 38 RB
Kendall Jackson (DL) 6-3, 245 | F. W. Buchholz (Gainesville, FL)
3-star: No. 488 overall, No. 40 DL
Raphael Dunn (S) 6-5, 210 | The Lawrenceville School (Trenton, NJ)
3-star: No. 647 overall, No. 67 S
Cam Monterio (WR) 6-3, 180 | Brockton (Brockton, MA)
3-star: No. 722 overall, No. 104 WR
Caleb Redd (EDGE) 6-4, 220 | De Smet (St. Louis)
3-star: No. 832 overall, No. 58 EDGE
Jaden Smith (LB) 6-2, 195 | West Charlotte (Charlotte, NC)
3-star: No. 30 LB