3-star LB Steven Soles sets two official visits as decision looms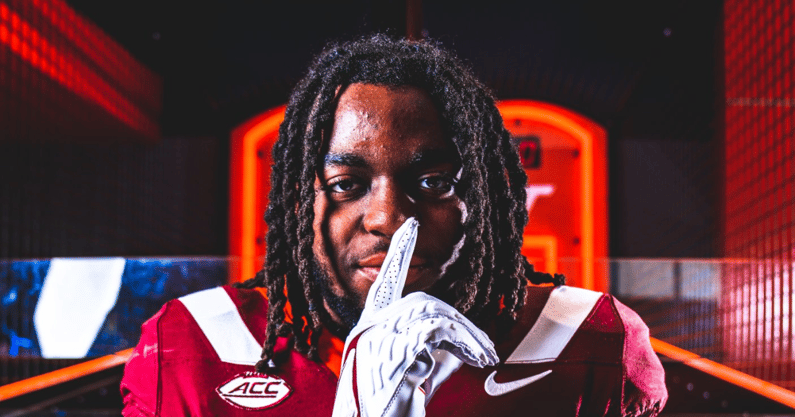 The recruiting process is quickly picking up steam for Steven Soles Jr.
A three-star rising senior out of Powell, TN, the 6-foot-3, 215-pound linebacker could be inching closer to a final decision sooner than he anticipated. With that in mind, Soles has a pair of official visits planned for the month of June as he begins to wind down his recruitment. Those OVs will go to Kentucky (week of June 9) and Virginia Tech (week of June 23), he told KSR on Thursday afternoon.
Soles was initially expected to take a third official visit to South Carolina the week of June 2, but that visit has since been canceled. There is a possibility he could add more OVs in June, but for now, the Wildcats and Hokies are the two with locked-in dates. Virginia Tech currently holds the advantage in On3's Recruiting Prediction Machine with a 56.0 percent chance to land Soles.
Kentucky wide receivers coach Scott Woodward and inside linebackers coach Mike Stoops are the ones who have connected with Soles, who announced an offer from the 'Cats on April 21. Soles tweeted on Thursday morning that he will "be committing sooner than I was planning on".
Soles is considered the No. 808 overall prospect and No. 88 linebacker from the class of 2024, per the On3 Industry Ranking. He also holds offers from the likes of Alabama, Mississippi State, Missouri, Miami (FL), and Kansas, among others.
The week of June 9 is shaping up to be a monstrous one for Kentucky football. With four-star QB Cutter Boley now in the fold for the class of 2024, along with fellow in-state OT commits Hayes Johnson and Aba Selm, Lexington will be filled with top-tier high school talent.
Class of 2024 official visitors (June 9-11)
Cutter Boley (QB) 6-5, 200 | Lexington Christian Academy (Hogdenville, KY) –> June 9-11 (KENTUCKY COMMIT)
4-star: No. 70 overall, No. 8 QB
Brian Robinson (EDGE) 6-5, 230 | Austintown Fitch (Austintown, OH) –> June 9-11
4-star: No. 152 overall, No. 11 EDGE
Jacob Smith (EDGE) 6-4, 224 | Chesire Academy (Chesire, CT) –> June 9-11
4-star: No. 226 overall, No. 17 EDGE
Cameron Keys (CB) 6-0, 160 | A. Crawford Mosley (Panama City, FL)
4-star: No. 310 overall, No. 31 CB
Damarion Witten (TE) 6-2, 205 | Glenville (Cleveland, OH) –> June 9-11
4-star: No. 356 overall, No. 22 TE
Kevin Heywood (OT) 6-7, 295 | Pope John Paul II (Royersford, PA) –> June 9-11
4-star: No. 256 overall, No. 21 OT
Dominic Kirks (DL) 6-5 250 | Villa Angela-St. Joseph (Cleveland, OH) –> June 9-11
3-star: No. 584 overall, No. 53 DL
Aba Selm (IOL) 6-4, 295 | Simon Kenton (Independence, KY) –> June 9-11 (KENTUCKY COMMIT)
3-star: No. 592 overall, No. 44 IOL
Jordan Floyd (OT) 6-7, 260 | Parkview (Atlanta, GA) –> June 9-11
3-star: No. 637 overall, No. 44 OT
Crews Law (LB) 6-1, 215 | CPA (Nashville, TN) –> June 9-11
3-star: No. 721 overall, No. 78 LB
Steven Soles Jr. (LB) 6-3, 215 | Powell (Powell, TN) –> June 9-11
3-star: No. 808 overall, No. 88 LB
Hayes Johnson (OT) 6-3, 295 | Taylor County (Campbellsville, KY) –> June 9-11 (KENTUCKY COMMIT)
3-star: No. 972 overall, No. 70 OT
Willie Rodriguez (TE) 6-4, 225 | Covington Catholic -> June 9-11
3-star: No. 1,023 overall, No. 51 TE
Fred Johnson (OT) 6-4, 310 | Glenville (Cleveland, OH) –> June 9-11
Cam Dooley (ATH) 6-4, 195 | Valley (Valley, AL) –> June 9-11
D'Shawntae Jones (RB) 5-9, 224 | Glenville (Cleveland, OH) –> June 9-11