3-star OT Jordan Floyd includes Kentucky in Top 6 ahead of official visits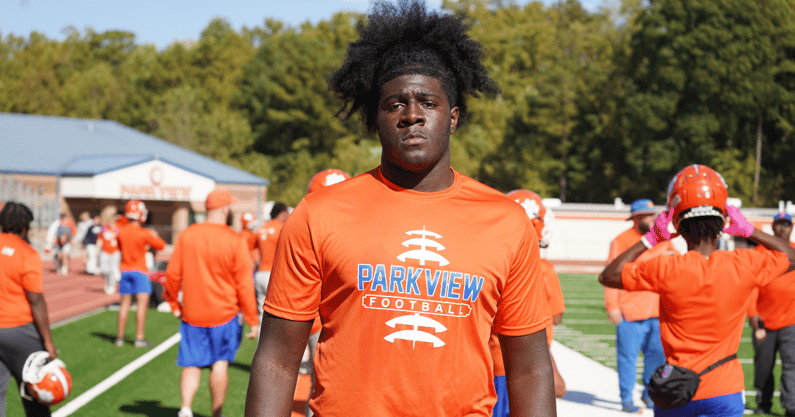 Jordan Floyd will be in Lexington next weekend for an official visit. On Thursday, he included Kentucky among his list of finalists.
According to On3's Chad Simmons, Floyd is down to just six college options: UK, Florida State, Central Florida, South Florida, Georgia Tech, and Mississippi State. Clocking in at 6-foot-7, 260 pounds with a seven-foot wingspan, the Atlanta, GA prospect is considered a three-star recruit and the No. 780 overall prospect from the class of 2024, per the On3 Industry Ranking.
Floyd currently has three official visits locked in. He'll first head to Central Florida this weekend before coming to Kentucky the weekend of June 9. He also expects to visit Georgia Tech the weekend of June 24, although Simmons indicates that trip could get moved up. Floyd is unofficially visiting the Yellow Jackets today, as well.
"These six schools are the schools that I think I could fit the best at," Floyd told On3. "I think I can see myself playing at these schools and having a career there."
Floyd's official visit to UK will be his second trip to Lexington, the first coming back in September, which is when he received a scholarship offer from offensive line coach Zach Yenser and defensive backs coach Chris Collins. The two sides have remained in steady contact ever since.
"We have a great relationship, me and Kentucky," Floyd told KSR in April. "I'm talking to Coach Collins. He was the one who recruited me, I'm talking with him almost every other day. We have a great relationship."
As for a decision timeline, Floyd says he's looking to make a commitment ahead of his senior year this fall, potentially announcing his decision as early as July. This run of official visits in June could factor heavily into where he ultimately commits.
Discuss This Article
Comments have moved.
Join the conversation and talk about this article and all things Kentucky Sports in the new KSR Message Board.
KSBoard