4 Kentucky commits crack updated On300 football player rankings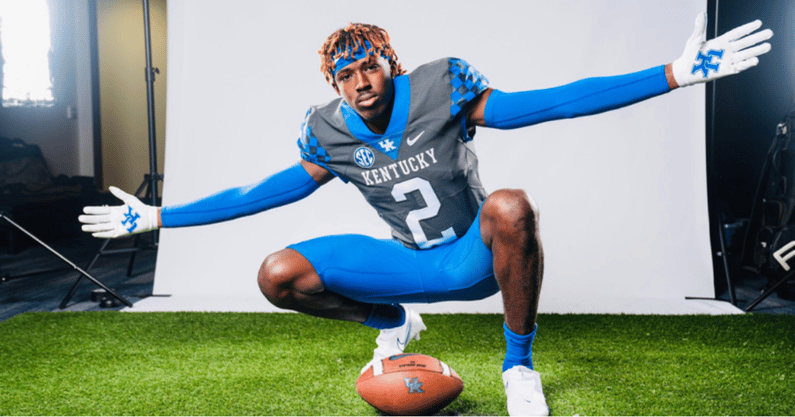 Kentucky football's 2023 recruiting class doesn't have the high national ranking that the already-impactful 2022 class did, but that doesn't mean there aren't some future stars on their way to Lexington next year.
On Monday, our good friends over at On3 updated the 2023 football player rankings for the nation's top 300 high school seniors. Kentucky has four commitments who cracked the list, led by four-star WR Shamar Porter out of Nashville, TN, who came in at No. 178 overall.
Along with Porter, four-star S Avery Stuart (No. 180), four-star S Jaremiah Anglin (No. 244), and four-star LB Grant Godfrey (No. 291) are among the future Wildcats who made the updated On300. Kentucky's 2023 recruiting class is currently ranked 32nd in the nation and 10th in the SEC by On3.
While the rest of Kentucky's 11 commits in 2023 didn't make the On300, we can still look at where they stack up against one another regarding On3's individual player rating system. Each prospect is assigned a number to reflect their talent level. For example, the top-ranked player in 2023, five-star Texas QB commit Arch Manning, has a player rating of 98.98.
The higher the rating, the better the player. Pretty simple.
Kentucky 2023 commits: On3 player ratings
92: WR Shamar Porter
92: S Avery Stuart
91: S Jaremiah Anglin
90: LB Grant Godfrey
88: RB Khalifa Keith
87: WR Anthony Brown
86: EDGE Tommy Ziesmer
86: IOL Koby Keenum
86: OT Malachi Wood
86: ATH Ty Bryant
86: WR Jakob Dixon
85: RB Kaden Moorman
85: IOL Austin Ramsey
84: WR Nasir Addison
81: TE Tanner Lemaster