4 Kentucky FB commits among ESPN's updated Top 300 player rankings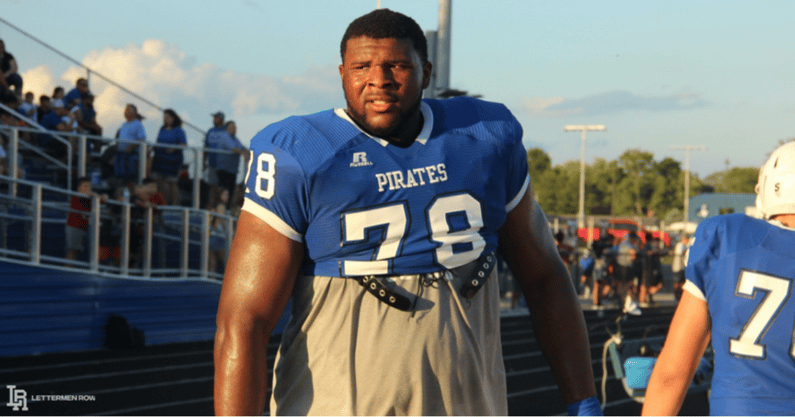 There are four Kentucky Football commitments tabbed as some of the best high school seniors in the country, and a few more could be on the way.
ESPN updated its class of 2022 football recruiting top 300 player rankings on Wednesday morning and several future Wildcats were scattered throughout the list. Led by four-stars Kiyatunta Goodwin (OT, No. 70) and Tyreese Fearbry (DE, No. 123), Kentucky currently has the 27th best recruiting class in the country and 8th best in the SEC, according to the worldwide leader.
Joining Goodwin and Fearbry among the top 300 future 'Cats are the Wade twins, Keaten Wade (OLB, No. 192) and Destin Wade (ATH, No. 286), who are also considered four-star prospects. But Kentucky might not be done adding top 300 recruits just yet.
Aamil Wagner (OT, No. 116), Dane Key (WR, No. 212), and Barion Brown (WR, No. 275) are all still on the board. Wagner and Key, in particular, have been trending toward Kentucky while the staff has picked up steam with Brown in recent weeks. A handful of these players have been to Lexington in recent weeks.
What ESPN says…
Here's what ESPN's Craig Haubert had to say about Kentucky's recruiting class:
The Wildcats have scored some big victories and benefited from a strong spring on the recruiting trail. They went into bordering Indiana to land top-10 OT Goodwin, a big, strong prospect with good flexibility and balance who could contribute significantly on their offensive line. Four-star twin brothers Keaten and Destin Wade were big additions out of neighboring Tennessee, with Keaten a rangy linebacker and Destin a versatile player who could contribute in multiple roles, including competing for the QB position. Fearbry brings excellent length and agility with promising upside to develop into a disruptive edge defender. Kentucky has also had some success within its own state with commitments from four-star ATH Treyveon Longmire and high three-star OG Grant Bingham.

Craig Haubert, ESPN
Below are the complete individual ESPN rankings for all 15 Kentucky commits, along with where they stand in the nation among their position group:
Kiyaunta Goodwin (4-star, No. 70) – No. 9 OT
Tyreese Fearbry (4-star, No. 123) – No. 13 DE
Keaten Wade (4-star, No. 192) – No. 21 OLB
Destin Wade (4-star, No. 286) – No. 19 ATH
Jordan Anthony (4-star) – No. 23 ATH
Andre Stewart (4-star) – No. 38 CB
Treyveon Longmire (4-star) – No. 32 ATH
Grant Bingham (3-star) – No. 14 OG
Nikolas Hall (3-star) – No. 51 OT
Tomiwa Durojaiye (3-star) – No. 46 DT
DeCarlos Nicholson (NR) – No. 1 ATH (JUCO)
Alex Afari (3-star) – No. 63 ATH
Brandon White (3-star) – No. 133 WR
Josh Kattus (3-star) – No. 29 TE-Y
Jackson Smith (NR) – K/P