4-star WR Brandon Heyward intrigued by Kentucky following camp visit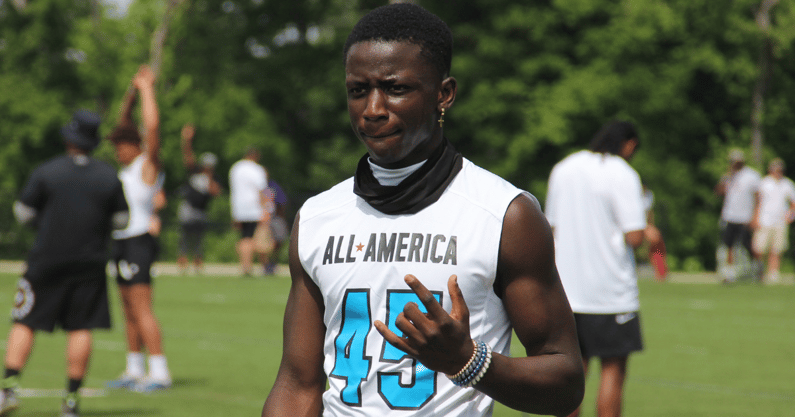 Brandon Heyward is coming off a three-school excursion from earlier this month that saw him visit Kentucky, Louisville, and Cincinnati. Considered a four-star class of 2024 wide receiver by the On3 Consensus, the Oak Ridge (TN) High School product is hearing from plenty of big-name Power 5 programs and decided to make the drive up north to see what some of those options are about.
Heyward, who clocks in at 5-foot-11, 170 pounds, camped at Kentucky and Cincinnati while taking an unofficial visit to Louisville. He was one of the bigger names in Lexington during his camp visit and performed well despite the 90-plus-degree weather. It was Heyward's first time on campus, but he was quickly impressed with the vibes he experienced around the program.
"I ain't never been to Kentucky but when I was there, just the practice environment when I went in there and I seen everybody in there working out, pushing each other and stuff like that, I could see that it was a family and everybody was buying in to being a great team," Heyward told KSR on Wednesday. "That's an important thing for me."
Kentucky initially offered Heyward in August 2021, shortly after his recruiting popularity began to spike. Throughout the spring and summer of '21, he hauled in offers from the likes of Pittsburgh, Marshall, Michigan State, Tennessee, Boston College, and Georgia Tech, along with the 'Cats. Heyward has since received scholarships from Arkansas, Louisville, Vanderbilt, Cincinnati, Memphis, Mississippi State, and Purdue. A visit to LSU in July and another to West Virginia later this year are on the docket, too.
Despite the 'Cats getting in earlier than most with the top 200 rising junior, the staff is still working on building a relationship with Heyward. Former UK wide receivers coach Jovon Bouknight, who is now at Marshall, was the one who offered Heyward last summer. Scott Woodward has since taken over that position and is in the process of getting to know the star pass-catcher more.
The camp visit to UK went well for Heyward, who said he's big on a college's proximity to home. The vast majority of the schools interested in him are within driving distance. That was a big factor in his decision to make the trip to Lexington in the first place. It's also why he said he intends on coming back for a full campus tour in the future.
"Kentucky is a big-time school, they play great teams," Heyward said. "I'm looking for schools that are maybe five, six hours away. Kentucky they're like three, four and that's a great range for me to go see my family, my family can come see me. That's what really motivated me to come check them out and see if I liked it or not… I could see the team was a family."
Home state program Tennessee was one of the very first to reach out to Heyward last year, but like with Kentucky, a change in the coaching staff has slowed the Volunteers' momentum. That being said, Heyward said he's working on re-establishing a relationship with UT. He took multiple game visits to watch the Vols last season and expects to hear more sooner rather than later.
But Louisville might actually be the biggest threat in Heyward's recruitment as we enter the summer. While he missed out on the experience of fancy jets and expensive cars, he did get a tour of the Cardinals' facilities, snapped some pictures, and talked with new offensive coordinator Lance Taylor for about 45 minutes.
"I like them. I like them a lot, to be honest with you," Heyward admitted of UL. "Photoshoot was great. They showed a lot of love for my first time there."