4 things you need to know about the Citrus Bowl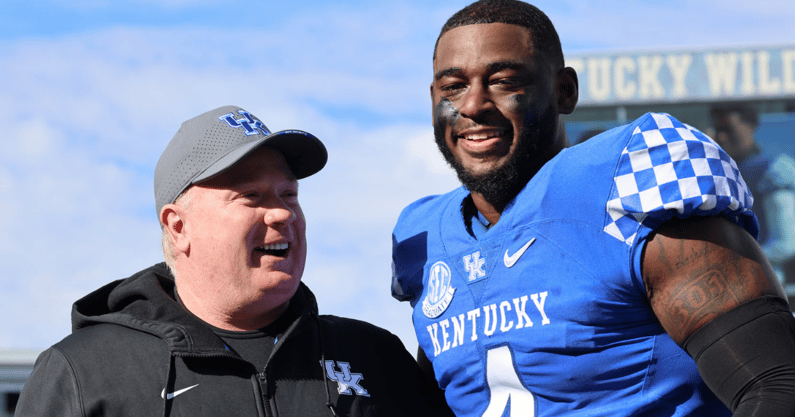 Sunday afternoon the University of Kentucky learned it will end the 2021 football season in Orlando by playing Iowa in the Citrus Bowl. KSR will spend the next month getting you ready for the event, but first, let's dot some T's and cross a few I's before you purchase your tickets to the game.
Non-Conference Streaks on the Line
Many jokes will be made about the similarities between Kentucky and Iowa in the lead up to this game. Some of the similarities are a compliment to each program.
Kirk Ferentz (23 seasons) and Mark Stoops (nine) are among the longest-tenured coaches in all of college football. Development and defense are backbones of the programs that produce consistent winners. Kentucky and Iowa have each won their last 15 non-conference games. Whoever wins the Citrus Bowl will have the longest non-conference winning streak in FBS football. Not too shabby.
Undefeated in the Citrus Bowl
Each team has appeared in the Citrus Bowl once before. Both left Orlando victorious with a combined eight-point margin of victory. Kentucky controlled most of the game before letting its foot off the gas in a 27-24 victory over Penn State in 2019. Iowa needed a prayer to defeat LSU in 2005. That prayer was answered when Drew Tate found Warren Holloway streaking open down the field to score a 56-yard touchdown as time expired.
Iowa's Tyler Linderbaum Opts In
The Big Ten's top offensive lineman will line up in the trenches against the Cats. Not only is he the best offensive lineman in the Big Ten, he is arguably the best offensive lineman in the upcoming NFL Draft. A finalist for every major college football offensive line award, some see Linderbaum as a future Top 10 pick. Selecting an interior offensive lineman that high only happens about once every five years (most recently Quenton Nelson). You might not ever see a center receive as much praise as Linderbaum.
Linderbaum's presence is significant for one Wildcat in particular, Marquan McCall. A nose guard cannot ask for a better NFL audition than by playing four quarters against Linderbaum. If all goes well for Bully in the Citrus Bowl, he could climb up draft boards as fast as Jamin Davis.
Sorry, Disney
For those who did not attend the last Citrus Bowl, let me personally vouch for the game. It's a top-notch event, first class all the way around. Fans will flock International Drive, creating a fun atmosphere leading into the game. Unfortunately, one activity off the beaten path cannot be factored into the equation.
Walt Disney World is currently operating by reservation only. You will not be surprised to hear that in-between Christmas and New Year's is one of the theme park's busiest times of the year. Epcot is currently the only park with any vacancy in the days leading into the bowl game. Do not fret too much — you can still take your kids to Universal Studios if you want to plan a week of fun prior to kickoff.