5-star Baye Fall on Kentucky: "It would be a really good place for me."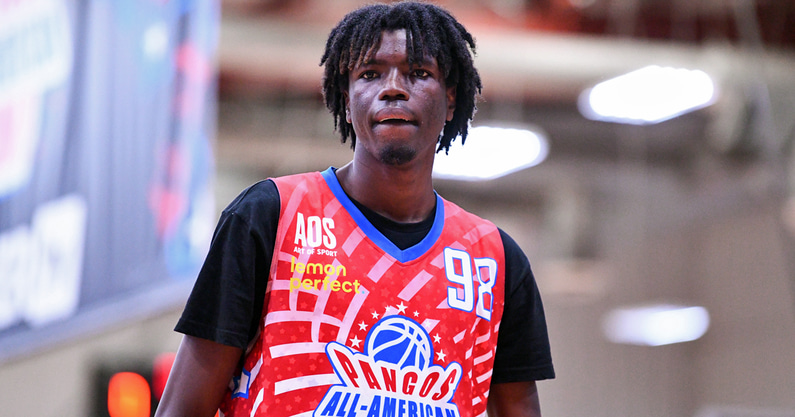 Kentucky is emerging as a legitimate option for 2023 five-star center Baye Fall. The 6-foot-10, 205-pound prospect ranked No. 1 overall by On3 has been hearing from the Wildcats since the spring, and now, a visit is in the works.
In a conversation with On3's Joe Tipton, Fall said he will take an unofficial to Lexington to open the new year, with official visits to Arkansas, Auburn and USC also being scheduled.
Kentucky in consistent contact
Kentucky has not yet extended a scholarship offer, but Fall says UK is reaching out most consistently among interested schools.
"I hear from Arkansas every day, Kentucky, USC a lot, Colorado," Fall told On3. "I would say Arkansas is the most consistent, after Kentucky. Maryland is in there too."
When asked about Kentucky specifically, Fall said he could see himself playing for John Calipari in Lexington. The five-star center wants to get to the next level, and he knows UK is a place that could help make that happen.
"A really good place for me."
"I think it would be a very good place," Fall told On3. "Only God knows, but I think it would be a really good place for me. You're around pretty much a (professional) environment out there. Based on what I've seen and what we've talked about, it's a really good school, basketball-wise. … They'll help you get to the next level.
"The coaches are cool, like Coach Cal. They show you proof, like the guys they've helped get to the next level. It's a lot of guys and some of the players are similar to me"
Fall previously told KSR that Kentucky was a "pretty good option" for him, again highlighting the professional aspect that comes with being a Wildcat.
"It's one of the bigger schools in history and they just take care of you, help you get to the pros quick," Fall told KSR in June. "So it's a pretty good option for me."
"I just want to be ready for the next level."
What is he looking for in a school? You guessed it, somewhere that will help him develop for the pros, with academics also being a point of interest.
"Just a good place that's going to help my game grow to be able to play at the next level," Fall told On3. "Somewhere I can be appreciated and the coaches will be there for me and help me get the work done. I just want to be ready for the next level. Academics are important too because my family is really heavy on that."
Fall is originally from Senegal, West Africa, arriving in the states less than three years ago. At the time, he "just knew Kentucky, Duke, and Texas," he told On3.
Now, UK is emerging as a serious contender to land the five-star standout.
For more on Fall, subscribe to On3+ and read Tipton's entire interview here.