5-star CG Cason Wallace includes Kentucky in top 4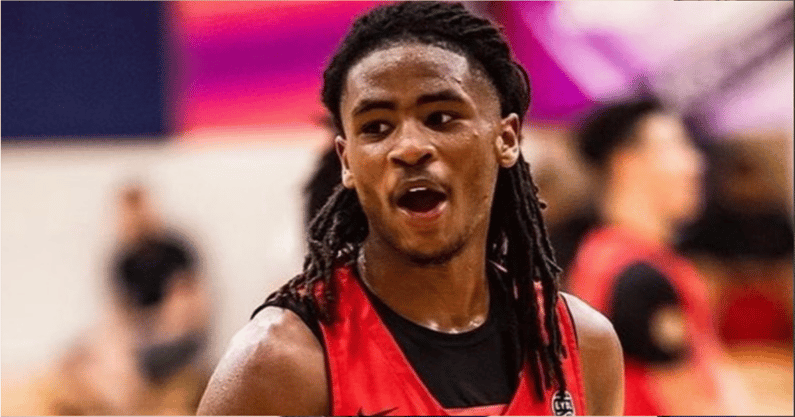 The momentum for Kentucky Men's Basketball on the recruiting trail continues to pick up. On the same day that five-star shooting guard Shaedon Sharpe scheduled his decision date, Cason Wallace has dropped an official top four that includes the Wildcats.
Wallace, who is a consensus five-star recruit and ranked by On3 as the No. 7 overall prospect from the class of 2022, posted his top four college choices to his Twitter account on Wednesday. Kentucky made the cut, as did Texas, Tennessee, and the University of Texas at San Antonio (UTSA). Wallace has an announcement date scheduled for Nov. 7.
He plays his high school basketball at Richardson High School in Texas, where Kentucky assistant coach Jai Lucas is familiar with the area. Wallace is cousins with current Kentucky freshman Daimion Collins, who came from Atlanta High School in Texas.
Cason Wallace initially appeared to be down to just three schools: Kentucky, Texas, and Tennessee, but has now added UTSA. He was in Lexington over the weekend for an official visit that went incredibly well and will take two more visits to Texas (Sept. 4) and Tennessee (Sept. 17) before making the final call. The trip to Tennessee will be Wallace's second.
Kentucky offered Wallace following his impressive showing at the Nike Peach Jam over the summer for ProSkills EYBL (TX). There are currently two Crystal Ball picks and three FutureCast predictions in favor of Wallace choosing UK.
"That offer meant a lot to me. I've been looking forward to that offer for a while," Wallace told KSR in July.
Scouts and recruiting sites have often tabbed Wallace, who is 6-foot-4, 185 pounds, as one of the top two-way players in the class, if not the very best. He can control the game on offense and is a bulldog on defense who is near impossible to outwork.
Wallace would be a perfect fit with the 'Cats.