5-star forward Xavier Booker commits to Michigan State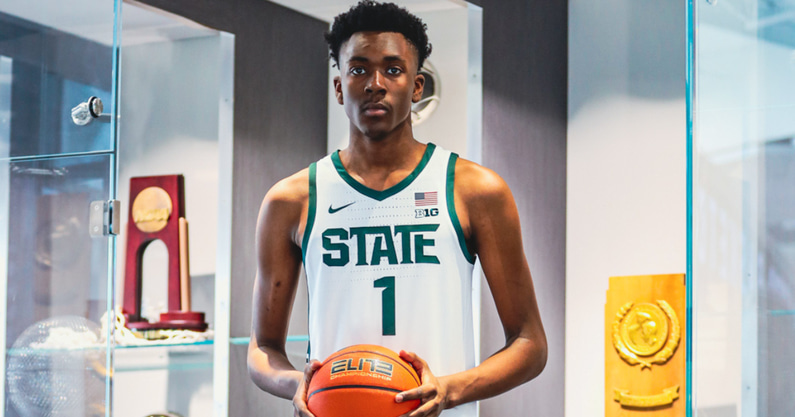 2023 five-star forward Xavier Booker has committed to Michigan State, choosing the Spartans over Michigan, Auburn, Ohio State, Gonzaga, Purdue, Notre Dame, Indiana, Cincinnati, and Oregon.
The 6-foot-10 prospect out of Indianapolis (Ind.) Cathedral previously considered Kentucky before cutting the Wildcats from contention earlier this week.
Booker joins four-star guard Jeremy Fears in Michigan State's 2023 recruiting class.
"Really just the relationship I have with Coach (Tom) Izzo," Booker told KSR in June. "I have a really good relationship with him, he actually FaceTimed me during Game 6 of The Finals while he was at the game. I have a good relationship with the coaches and I like their play style. They compare me to Jaren Jackson a lot. I can see the fit there."
Prior to his commitment, Michigan State had a 90.5% chance to land the five-star forward, per On3's Recruiting Prediction Machine.
The five-star forward heard from Kentucky throughout the spring and summer, with the staff visiting him on multiple occasions. At the time, Booker made it clear that UK was a program he was interested in and would like to visit.
"As of right now, I'm just continuing to talk to Coach (Orlando) Antigua, Coach (John) Calipari, continue to build my relationship with them," he told KSR. "Hopefully I can get up there for a visit soon."
Contact soon died down between the two sides and no trip to Lexington was ever scheduled. Instead, Booker made official visits to Michigan State, Indiana, Purdue, and Notre Dame, along with unofficials to Ohio State and Cincinnati.
With Booker choosing the Spartans, the Wildcats will turn their attention to five-star prospects Aaron Bradshaw and Ron Holland to round out frontcourt targets in 2023. Kentucky is also expected to land five-star center Ugonna Kingsley, who recently reclassified to 2022, on Monday.
UK has already landed commitments from five-star prospects Rob Dillingham and Justin Edwards, along with a third from four-star guard Reed Sheppard in the rising senior class. Bradshaw, Holland and five-star guard DJ Wagner round out the "Dream Team" both Dillingham and Sheppard are hoping to form in Lexington.
"The Dream Team would definitely be DJ (Wagner), Justin (Edwards), Aaron (Bradshaw), maybe a few more people. We already know Reed (Sheppard) is there," Dillingham told KSR at Peach Jam last week. "Maybe not a super team, but a team that can win a national championship because Kentucky hasn't won it in a minute. That's what I hope to bring there, that's my goal."
"It's just really cool now to have two other teammates (in Dillingham and Edwards)," Sheppard added this week. "Hopefully we can get some more with Aaron (Bradshaw), DJ (Wagner) and Ron (Holland). All of it is just really fun, an experience we'll never forget."
Three down, three to go.