5-star guard Robert Dillingham will announce commitment December 1st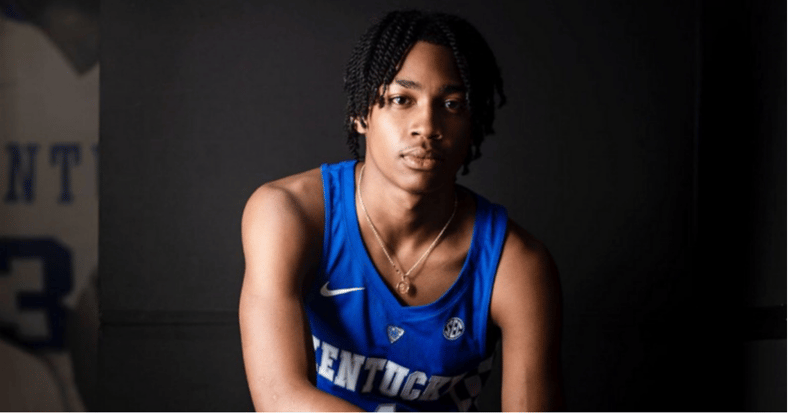 One of the top point guard prospects in the class of 2023 will announce his decision this week. Robert Dillingham, the nation's No. 11 overall prospect in the latest On3 Consensus, announced this evening he will be committing on Wednesday, December 1 at 2 p.m. ET.
The five-star prospect is set to choose between Kentucky, Kansas, LSU, Memphis and N.C. State. He also holds offers from the likes of Auburn, Clemson, DePaul, Florida, North Carolina, Tennessee and Texas, among others.
Dillingham received a scholarship offer from Kentucky during an official visit to Lexington back on Oct. 24. He also took official visits to NC State (Oct. 29), LSU (Oct. 15), Memphis (Sept. 17) in recent months.
Dillingham currently attends Kanye West's Donda Academy (CA), where he has led the team to a 3-3 record to open his junior season. The 6-foot-2 native of Charlotte was named the top high schooler from the state of North Carolina as a sophomore. He averaged 21.2 points, 4.9 assists, 4.1 rebounds, and 2.1 steals per game last season at Combine Academy (NC).
Leading up to this evening, there were five Crystal Ball picks and four FutureCast predictions for Dillingham on 247Sports and Rivals, respectively, all favoring the Kentucky Wildcats. Tonight, though, 247's Travis Branham changed his pick to NC State, the first reputable source to shift away from the 'Cats.
"Not too long after his official to LSU, Dillingham took a trip to Lexington and after his time at Kentucky, sources indicated that the Wildcats had the lead and it was just a waiting game until he became a Wildcat," Branham wrote. "However, as we head down the final stretch I have updated my Crystal Ball and now predict that the top ten prospect will do the unexpected and play for the NC State Wolfpack."