5-star PG AJ Johnson talking with Kentucky, schedules visits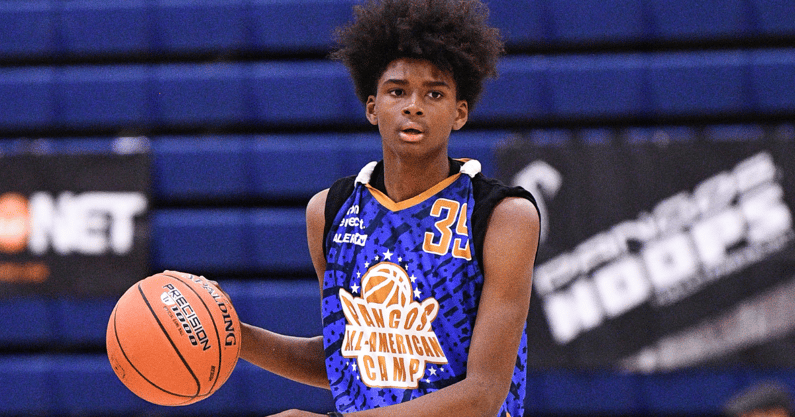 2023 five-star point guard AJ Johnson once called Kentucky his "dream school," telling KSR it was a school he "really wanted to go to" growing up in basketball.
Now, he's in regular contact with the Wildcats.
"I talk to the assistant coach (Chin Coleman), been texting him and stuff like that," Johnson told KSR at NBPA Top 100 Camp in Orlando. "Nothing crazy yet, but I've been texting him a lot. I've always liked Kentucky growing up, their point guards, stuff like that. De'Aaron Fox, Shai Gilgeous-Alexander, I watched them all the time. Coach Calipari is a great coach."
He previously told KSR that he was a "crazy fan" of Gilgeous-Alexander and "always wanted to rep Kentucky" because of it. Now, he's exploring that possibility, waiting for things to ramp up on the school's end. The early contact with the coaching staff is a start.
Beyond the Wildcats, things are moving quickly elsewhere for the 6-foot-6 point guard out of California. Visits are being scheduled with various high-major programs across the country.
"I am going to visit LSU on September 10 and then Texas is like September 17," Johnson told On3. "I am also going to visit USC too. These were the schools that first started recruiting me and I've developed a pretty good relationship with them."
Johnson is in the exploratory stages with the Kentucky coaching staff, but a few other schools have gone out of their way to prioritize the stock-rising guard early.
"The coaches I have the best relationships with are LSU, Louisville, USC," said Johnson. "I just talk with them all the time, and they talk to my family, stuff like that."
LSU and USC already have visits in the works. What about Louisville?
"Yeah, I'd like to make a visit up there," he said. "I talk to them all the time. I have a pretty good relationship with them."
When asked about which players he'd like to suit up with at the next level, a few interesting names came to mind for the five-star guard. Two names, each with Kentucky ties, including one commitment in the rising senior class.
"Xavier Booker, Rob (Dillingham)," said Johnson. "There are just so many good players."
Johnson is rated as the No. 9 overall prospect and No. 3 point guard in On3's latest player rankings in the class of 2023. He's one of the most electric ball-handlers in the class with elite length and quickness for his position.
Kentucky has Dillingham committed and DJ Wagner is undoubtedly the program's top priority at the guard position, but there's early mutual interest there with Johnson.