5-star PG DJ Wagner likes Kentucky, enjoying the recruiting process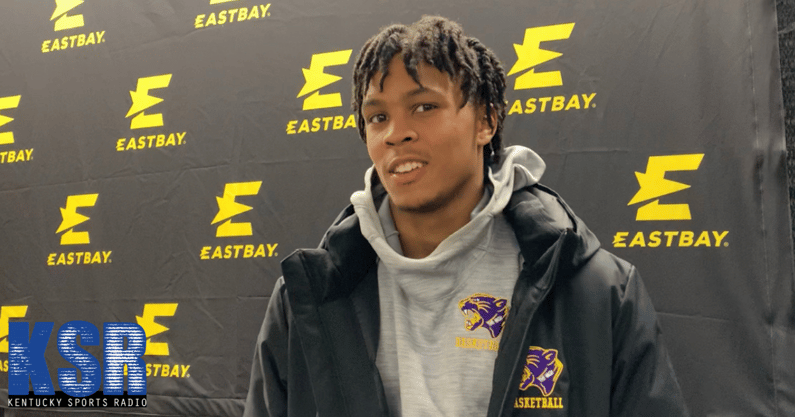 No. 1 overall recruit Dajuan Wagner Jr. isn't like most top-ranked kids his age. He's quiet and reserved, letting his play do much of the talking for Camden High School, who had won 44 straight games going into last week.
The standout junior's got a flashy style of play, but off the court, he keeps to himself. He doesn't look for attention on social media, rarely goes out of his way to do high-profile interviews and keeps his circle tight. Wagner just likes to hoop.
Even as the No. 1 prospect in the junior class, he's handling his recruitment the same way. We haven't seen any major list cuts or scholarship announcements and visits have been kept to a minimum — he's taken two officials, one to Kentucky and another to Memphis. With his junior year well underway, his focus is on closing out the high school season strong, and coaches recruiting him know that.
"When I talk to coaches, we have conversations — they know I'm focusing on the high school season right now," Wagner told KSR on Saturday at the Hoophall Classic. "I'm still open to all opportunities. I'm still open to everyone. They all know I'm just focusing on the season right now."
As low-key as he'd like to keep things, he is the top-ranked player in his class and comes from a family of great basketball successs. His grandfather, Milt Wagner, was an NCAA and NBA champion as a player and coached from 2000 to 2014, serving as an assistant under Tony Barbee at UTEP (2006-10) and Auburn (2010-14). His father was a star under John Calipari at Memphis in 2001-02 and was selected No. 6 overall in the NBA Draft.
The ties to Calipari and the UK program run deep. And while his recruitment remains open — he's a fan of all schools and coaches — Wagner will be the first to admit he likes what Kentucky has to offer.
"That's definitely a great school, I grew up watching Kentucky. That's definitely a great school and I like that school," Wagner told KSR. "But in general, I like college basketball. I really love all the schools that call me, appreciate all the schools that call and text me, stuff like that. I appreciate that stuff because I'm just a fan of all kinds of basketball."
The five-star guard took an official visit to Lexington back in October for Big Blue Madness, a trip he thoroughly enjoyed. Among the highlights? Big Blue Nation and its presence and passion as a fanbase.
"It was great. Kentucky fans, they love basketball," Wagner told KSR. "It's a great atmosphere, so I had a great time there. Just interacting with the coaches, talking with the coaches. They're just great people, you know? I had a great time there. I got to go to Big Blue Madness, and that just showed how crazy the atmosphere was and how the fans love basketball down there."
The UK head coach sees the top-ranked prospect as a winning talent just like his father, who helped lead Calipari's Memphis Tigers to a 27-9 final record and a Conference USA regular-season title in 2001-02.
"Just playing hard, doing whatever I can do to contribute to helping the team win," Wagner said of Calipari's pitch.
Could the pro route shake things up down the road? Wagner doesn't see it unfolding that way. As things stand now, the 6-foot-3 guard sees himself playing college basketball.
"I don't really know right now, not sure about the different options with pro and all that," he told KSR. "Right now, I'm just really locked in with high school. I don't know much about pro ball, all that kind of stuff. As of right now, I'm going to college for sure. But right now I'm focused on high school."
When could a decision come? He'll let the rest of the high school season play out before jumping back into the thick of things with his recruitment. That's when things are expected to ramp up.
Right now I'd say whenever I really start to focus on (my recruitment)," Wagner said. "Obviously right now we're in the high school season, (but after) is when I'll really start to focus on that kind of stuff and looking into it."
Wagner is leaning on his father, a former McDonald's All-American and high-profile recruit in his own right, for guidance on his next steps. His advice? Enjoy the process and do what's in the five-star guard's best interest.
"Really just whatever I feel or whatever I like, he just tells me to enjoy the process," Wagner said of his father. "Don't try to focus too much on it and just enjoy the process."