5-star SG Ian Jackson in contact with Kentucky -- his "dream school"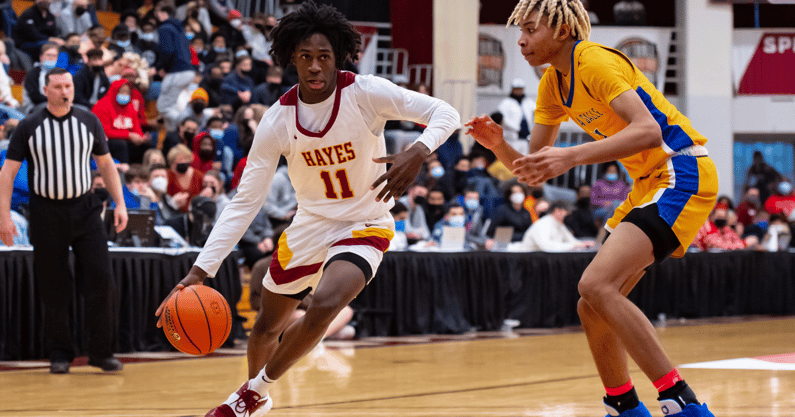 Boasting a unique blend of size, skill and athleticism, 2024 five-star guard Ian Jackson has separated himself among the best of the best in the sophomore class. Standing 6-foot-5 — and growing — he's got the quickness to beat you off the dribble and explode for rim-rocking dunks, but he's also got the length to be a disruptive presence on the defensive end of the floor.
And yes, he can shoot too.
His all-around game is why schools such as Kansas State, Nebraska, Oklahoma State, Seton Hall and St. John's have extended early offers. UConn just extended an offer today after a brilliant 30-point performance at the Hoophall Classic in Springfield, MA.
It's also why Kentucky has engaged in early conversations with the five-star guard.
"I've had a few conversations with Orlando Antigua from Kentucky," Jackson said Sunday. "I talk to Florida State a lot, Michigan State and some of the schools in my area."
Two schools have caught Jackson's eye early, both dream schools for him growing up.
"My dream schools are Kentucky and Florida State," he said. "Those two schools."
His interest in the Seminoles is fresh, something that developed watching former five-star recruit Scottie Barnes play at FSU last season. Being a versatile two-way player himself, Jackson was intrigued with how Barnes was used in Leonard Hamilton's system.
"I picked up on it recently, actually. Last year with Scottie Barnes, he went there," Jackson said. "I see how they played him through the offense and how he produced for them and how productive he was. I talk to the coaches there. … They're looking to see my game grow a little bit more in the next year and seeing where things are at."
As for the Wildcats, it came down to a first impression. By chance, John Calipari was in New York — Jackson is a Bronx native — watching a former potential recruit play. The now-five-star prospect introduced himself and the two had a short conversation that resulted in him falling in love with the program.
From then on, he's been "locked in" with Kentucky.
"It happened at an event, I had a small conversation with Coach Calipari when I was a little bit younger," Jackson told KSR. "Ever since then, I've been locked in on that school and watching them. It was at an Empire event up in New York, he was up there watching a player from Westtown a few years back. That's when we had that conversation."
In particular, he's a fan of the school's success with guards and their development as NBA prospects under Calipari's guidance.
"I watched all the guards," Jackson told KSR. "Jamal Murray, watched him a lot at Kentucky and saw how he played. De'Aaron Fox, watched him a lot. I just like how they play their guards. … Knowing they come from that school, from that program. The program helped them develop so they can have success in the NBA at the highest level. That means a lot."
That interest has been reciprocated on UK's end, with contact now ramping up between the two parties. No offer yet — Calipari doesn't typically offer recruits until they are juniors — but one could be on the horizon in the not-so-distant future.
"They said they don't offer this early," he said. "They said they were going to watch and hopefully continue to watch my game grow over the years, see what I can do."
As shown Sunday with his 30-point, four-rebound, four-assist performance at Hoophall, Kentucky is intrigued with his two-way potential and efficiency as a scorer.
"They say that they like the way I get after it on both ends of the floor," Jackson told KSR. "I play defense and I can score. They like how I get up and down in transition and how I score efficiently."
With early mutual interest between the two options, the five-star guard is "definitely" planning on visiting Kentucky. UK is one of two trips he wants to take, with FSU being the other.
"Yeah, definitely. Kentucky and Florida State, definitely," Jackson told KSR. "… Right now I don't have any (visits scheduled)."
When could we see some movement in his recruitment? Things will ramp up this spring and summer after his sophomore year ends.
"A little bit after the season finishes," he told KSR. "Right now I'm just focused on the season and trying to win a championship, but I'll schedule some visits and try to get out to schools."