5-star wing Matas Buzelis schedules official visit to Kentucky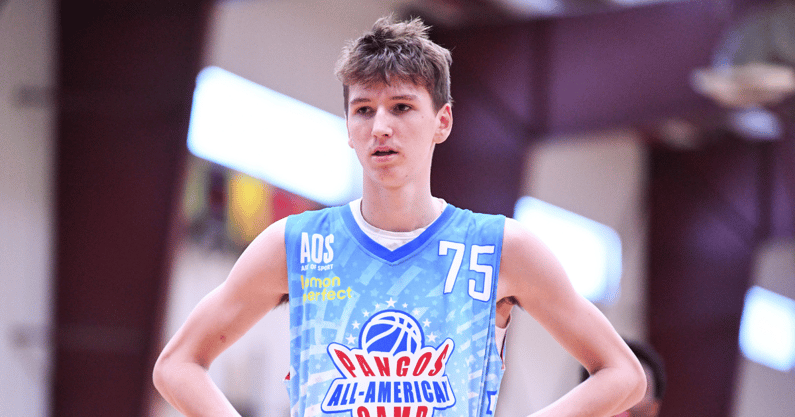 Kentucky is set to host one of the top wing prospects in the class of 2023, as Matas Buzelis will take an official visit in December.
On3's Joe Tipton reports that Buzelis will be in Lexington starting Dec. 21.
Buzelis is the No. 10 prospect in the 2023 class, according to the On3 Consensus. He ranks as the country's No. 6 small forward and the No. 1 prospect in New Hampshire.
Soaring stock
The five-star wing has seen his stock explode in recent months, adding seven new offers since June. Duke, Michigan State, North Carolina, and Florida State are among his other newest suitors. He took officials to Wake Forest and Florida State in in August and September, respectively.
Buzelis is considered one of the most versatile players in the junior class. At 6-foot-10, he possesses true guard skills and playmaking abilities, but has the size and length to guard multiple positions. Buzelis is comfortable handling the ball, passing, shooting, and scoring from all three levels.
Buzelis joins a strong list of options in 2023
Kentucky was among the first schools to reach out to the standout wing when the contact period opened in June. John Calipari has since made multiple trips to see Buzelis in person in recent months.
The five-star prospect joins the likes of DJ Wagner (No. 1), Kwame Evans Jr. (No. 2), Baye Fall (No. 3), Mackenzie Mgbako (No. 4), JJ Taylor (No. 5), Mookie Cook (No. 6), Justin Edwards (No. 9), Robert Dillingham (No. 11), Elijah Fisher (No. 24), and Isaiah Miranda (No. 36) as Kentucky's top targets in the class of 2023. Wagner, Mgbako, Evans, Taylor, Dillingham, Cook, Edwards and Fisher have already received scholarship offers.
Calipari and the UK program have already received one commitment in the class in London, KY's own Reed Sheppard (No. 22).
Check out some of Buzelis' most recent highlights below:
Come on down.