5-star WR Barion Brown on Kentucky: "It felt like home."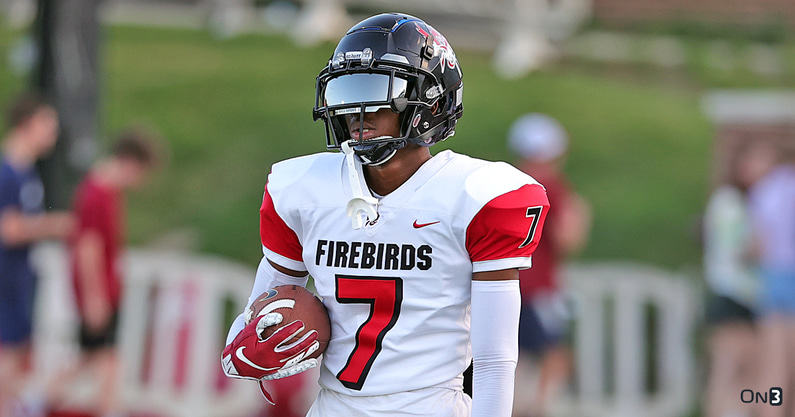 Five-star wide receiver Barion Brown is a Wildcat, committing to Kentucky over Alabama, TCU, and Ole Miss, among others. Coming in ranked No. 23 overall and No. 2 at his position by On3, the 6-foot-1, 173-pound prospect is officially the highest-rated offensive skill player to join the program.
How did UK end up with one of the top recruits in all of high school football? It came down to the coaching staff and proximity to home.
"I love the energy from the coaches," Brown told On3's Chad Simmons. "The program is taking off in a good direction and they are playing good football in the SEC.
"Kentucky is close to home and the fan base is great too. Those are the main reasons I chose Kentucky."
After taking three separate visits to UK over the course of his recruitment, it became clear rather quickly that Lexington was "home."
"It felt like home," Brown said. "It is not too big, just a simple community. They showed much love."
Simmons outlined how Kentucky landed the five-star receiver from the outside looking in, adding that Liam Coen's offense was a significant draw.
"Their overall play, the new offense, the chance to change games immediately, how they use Wandale Robinson, and the chance to be the guy in Lexington, in the end, helped Stoops and company win this prized target," Simmons wrote.
With Brown's commitment to Kentucky, the Wildcats now have the No. 14 class, according to the On3 Consensus Team Recruiting Ranking. UK is now ranked fifth in the SEC, behind only Georgia (No. 1), Alabama (No. 2), Texas A&M (No. 3), and LSU (No. 12). Kentucky sits ahead of Missouri (No. 15), Arkansas (No. 18), Florida (No. 19), Tennessee (No. 21), South Carolina (No. 26), Auburn (No. 27), Mississippi State (No. 30), Ole Miss (No. 32), and Vanderbilt (No. 50) in the SEC team recruiting rankings.
For Brown's complete comments on his commitment to Kentucky, subscribe to On3+ and click here.