5 Things We Learned on Day One of Kentucky Spring Football Practice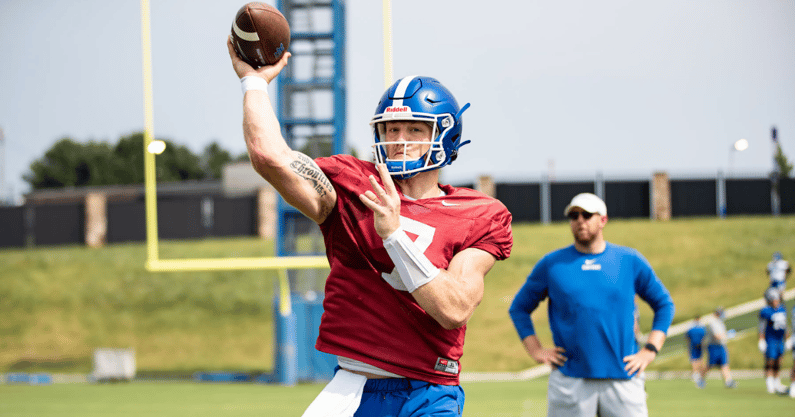 Kentucky spring football practice kicked off Tuesday morning. The Wildcats will have one more on Thursday before taking off a week for spring break. I admittedly tried to make this recap brief, but I got too excited and ended up writing 1,000 words. Allow me to hit all of the high notes from this morning's conversations with Mark Stoops, Rich Scangarello, Will Levis, Eli Cox and Clevan Thomas.
Kentucky is Healthy
Mark Stoops did not provide a full detailed injury report, but he did have an overall positive outlook on the Wildcats' injury situation. WR Dekel Crowdus, WR Clevan Thomas and TE Keaton Upshaw are back to practicing full-go after missing the entire 2021 season. OL Eli Cox was a Midseason All-American before suffering a season-ending hand injury. Today the former guard was the Wildcats' first team center, the position he previously played in high school.
"It was tough. I mean, it's been a dream come true to be able to play football here, growing up in Nicholasville and being a UK fan my whole life," said Cox. "It was tough to see it come to an end unexpectedly. But I think it gave me some time to kind of sit back and just enjoy the process a little bit more. Because when you're game-planning everything you kind of forget that 'I'm playing football at the University of Kentucky.' You're so worried about what blitz is coming next week, so it was kind of nice to just be able to take a step back. I was able to rest and heal and just be able to enjoy being around the guys."
There are two significant players that will not be 100% cleared to practice this spring, DL Octavious Oxendine and TE Izayah Cummings. Ox tore his meniscus six weeks into the 2021 season, while Cummings injured his shoulder in the regular season finale against Louisville. He was able to play in the Citrus Bowl, but received offseason surgery. Even though neither is cleared for full contact, they will be available for conditioning and other light duty work.
Scangarello's Spring Practice Goals
"There's a good foundation there, and so it's something exciting to build on," said Rich Scangarello following his first practice as Kentucky's offensive coordinator.
The new offensive play-caller made a few tweaks to the terminology, but did not completely overhaul the playbook. The NFL journeyman brings a detail oriented approach to Kentucky to make the Wildcats as efficient as possible.
"When we come out of spring let's know what everyone does well. What can we do to put them in a position to bring out their best traits? And then, what Will does well distributing the ball at his best; we can combine all that and not waste time on things that guys can't do or Will doesn't want to do — our perfect fit. If we do that, I think we can have the best, most efficient offense and have to practice less and do less. And that's the goal right now so that everyone sharpen the fundamentals."
Tisdale at Corner, but not Permanently
In addition to Cox's move down to center, there's another potentially huge position change at Kentucky spring football practice. This spring the Wildcats are experimenting with Vito Tisdale at cornerback. The former four-star recruit from Bowling Green has spent his entire career busting heads at nickel. Stoops said they're just in the trial phase for Vito.
"Vito is a very versatile player. You've heard me say that all the time," Stoops said Tuesday morning. "We'll experiment with moving him around. That doesn't mean it's set in stone. He's a very good football player. He's one of our top 11, so we want to get him on the field and playing where we need some help. We feel like he's versatile enough to do that, but we'll continue to move him around."
There could be some moving around at linebacker as well. Kentucky has five or six guys that can play inside linebacker. Stoops was less eager to share of a potential position switch for a guy like Trevin Wallace, but it's clear the veterans, DeAndre Square and Jacquez Jones, will be taking it easy this spring to let the underclassmen gain valuable experience.
Levis Focused on Footwork, Timing
Will Levis is spending the offseason not working on his arm, but his feet. His goals are to "marry" his footwork and timing together. "The throw starts from the ground up. When a throw is missed, more often than not, you can see something," said UK's QB1. "The footwork is why the throw is missed."
Levis can conquer the footwork aspect individually. Timing is a different story. To get on the same page with his pass-catchers, many of which are stepping into a bigger role this season, they've put in more work than a typical offseason. A personal quarterback mechanics coach will video in to instruct Levis and Beau Allen, while the young receivers work on their timing and route running. Synergy will not happen overnight, but they're getting in the reps to perfect the passing game marriage.
Keep an Eye on WR Chris Lewis
It's too early to write about players who stood out in practice. This week they're running without pads in the early playbook install. However, no matter what time of the year it is, there are always a few players that folks are excited to see in action. It's the football version of Matt Pilgrim playing like a beast in pick-up games. Last year during Kentucky spring football practice, Keaton Upshaw received all of the hype before he suffered a season-ending injury. This feels like it's going to be the Spring of Chris Lewis.
The former four-star recruit from Birmingham is entering his redshirt freshman season and WOWing teammates with his athletic ability. Dare Rosenthal and Clevan Thomas are two who have gone on the record to warn the BBN that big things are coming. Last summer he was brutally honest when he shared with me how unprepared he was for the physicality of the SEC. After a year of going through the daily grind, he's adjusted to what it takes to get open. With his length and athletic ability, Lewis could be primed to transform into a reliable target on the outside for Will Levis.