5 Things To Know About The Texas A&M Aggies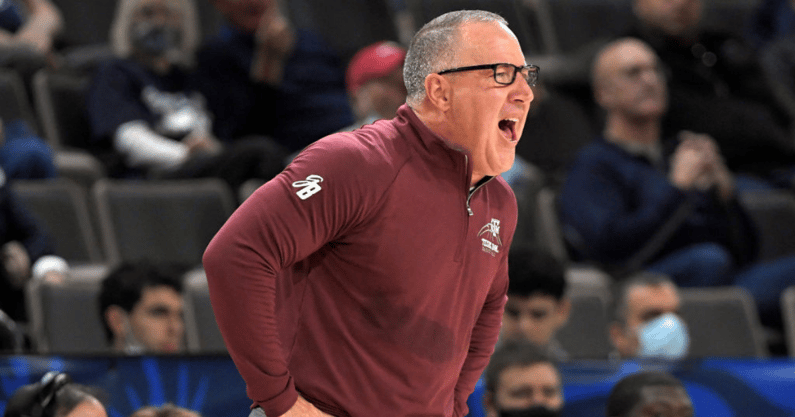 Tonight at 8:30 p.m. ET, Kentucky takes on Texas A&M in a very rowdy Reed Arena in College Station. As of now, the Cats are a 7.5-point favorite. We'll have a thorough scouting report for you as the day goes on, but first, here are five quick things to know about the Aggies.
1. They're off to their best start since the 2015-16 season
The Aggies are 15-2, 4-0 in SEC play. This is their best start since the 2015-16 season. If you recall, that Aggie team beat the No. 14 Cats in College Station 79-77 in overtime due in part to the technical foul on Isaac Humphries for "slamming" the ball to the floor.
That call still makes me mad. The Cats did get revenge, beating the Aggies 82-77 in overtime to win the SEC Tournament.
Back to this Texas A&M team. Their 15-2 record sounds impressive but upon further examination, might be a little deceiving. The Aggies beat Notre Dame, who beat Kentucky, in the Maui Invitational and also beat Arkansas. Yet, they barely got by Georgia and Missouri. If not for a desperation three by Marcus Williams, the Aggies would have lost to the Bulldogs, the worst team in the SEC:
Texas A&M 2021-22 Results
DATE
OPPONENT
RESULT
W-L (CONF)
Wed, Nov 10
vs North Florida
W 64-46
1-0 (0-0)
Fri, Nov 12
vs Abilene Christian
W 81-80 2OT
2-0 (0-0)
Sun, Nov 14
vs Texas A&M-CC
W 86-65
3-0 (0-0)
Wed, Nov 17
vs Houston Baptist
W 73-39
4-0 (0-0)
Mon, Nov 22
vs Wisconsin *
L 69-58
4-1 (0-0)
Tue, Nov 23
vs Butler *
W 57-50
5-1 (0-0)
Wed, Nov 24
vs Notre Dame *
W 73-67
6-1 (0-0)
Tue, Nov 30
vs New Orleans
W 85-65
7-1 (0-0)
Sat, Dec 11
vs TCU *
L 68-64
7-2 (0-0)
Tue, Dec 14
vs Tulane
CANCELED
Sat, Dec 18
@ Oregon State
W 83-73
8-2 (0-0)
Tue, Dec 21
vs Northwestern State
W 80-61
9-2 (0-0)
Mon, Dec 27
vs Dallas Christian
W 102-52
10-2 (0-0)
Wed, Dec 29
vs Central Arkansas
W 85-59
11-2 (0-0)
Tue, Jan 4
@ Georgia
W 81-79
12-2 (1-0)
Sat, Jan 8
vs Arkansas
W 86-81
13-2 (2-0)
Tue, Jan 11
vs Ole Miss
W 67-51
14-2 (3-0)
Sat, Jan 15
@ Missouri
W 67-64
15-2 (4-0)
* Neutral Site
The Aggies received votes in both polls this week, which would slot them at No. 35 in the AP Poll and No. 32 in the Coaches Poll. They're No. 60 in KenPom and No. 70 in the Sagarin ratings. In the latest Bracketology, Joe Lunardi has Texas A&M as his first team out.
2. Four of five starters are transfers
Buzz Williams built this Texas A&M team via the transfer portal. Four of the Aggies' starters came from other schools: Henry Coleman III from Duke, Tyrece Radford from Virginia Tech, Marcus Williams from Wyoming, and Ethan Henderson from Arkansas. Coleman has been particularly efficient in SEC play, averaging a team-best 18.3 points and 6.0 rebounds, and shooting an SEC-best 69% (29-42) from the floor.
Texas A&M's top scorer actually comes off the bench. Fifth-year senior Quenton Jackson leads the Aggies in scoring with 12.9 points per game. Four-star freshman Wade Taylor IV is the Aggies' other top reserve, averaging 7.7 points and 2.7 assists per game. He won SEC Freshman of the Week after scoring 19 points at Oregon State a month ago.
3. They lead the SEC in three-point shooting
Texas A&M shoots a league-best 37.4% from three-point range (Kentucky is No. 2 at 36.1%). Four players have made 20 or more threes this season, led by Marcus Williams, who is connecting on 34.7% (25-72). The Aggies average 7.6 made threes per game, which Calipari inflated to nine on his radio show this week.
"They lead the league in threes," Calipari said on Monday night. "They make nine a game. You've got to guard them but not at the expense of them shooting layups or dunks. So you've got to kind of guard both. They play fast and when they play fast they get threes off. They're a dangerous team. They're a team that can play fast and they run some good stuff."
On defense, the Aggies also rank high in the SEC. They rank second in scoring defense, holding opponents to 62.9 points per game. Texas A&M is No. 47 in KenPom's defensive efficiency, No. 9 in turnover percentage, and No. 4 in steal percentage.
4. They give socks to each player who draws a charge
The oddest fact I found in the Texas A&M game notes is that they award each player that draws a charge socks. A screenshot of the charge is also printed out and put on the Aggies "Charge Wall" in the film room. Players can choose from a wide variety of socks, including Stance NBA socks and ones that feature Marvel superheroes, crazy emojis, TV shows, movies, and music artists. Andre Gordon leads the team in charges drawn with nine. He must have quite a sock collection.
5. They're 10-0 at home
Even if Texas A&M isn't as good as their record indicates, they are a perfect 10-0 at home this season. Limited tickets still remain for tonight's game, and, as is tradition when Kentucky comes to town, each attendee will receive a free "Rock Reed" t-shirt.
Kentucky got its first road win at Vanderbilt last week, but tonight's environment will be on an entirely different level. Cats better be ready.