5 Things You Need to Know About the Northern Illinois Huskies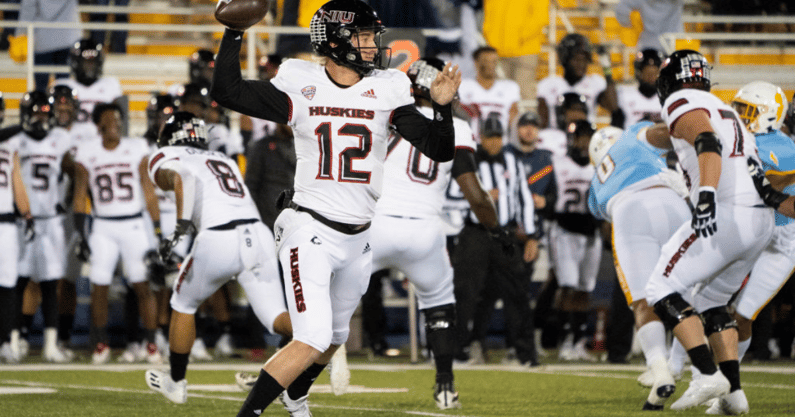 Before we get to the Northern Illinois Huskies, a message from our sponsor. Ramsey Consulting is a CPA, Business, Tax, and Financial Planning firm based in Richmond, Indiana. With 35+ years as a CPA, Bob Ramsey started Ramsey Consulting with the goal of helping businesses and individuals reach their strategic and financial goals. Now, Kentucky Sports Radio's very own, Brandon Ramsey, has joined the family business as a certified life and disability insurance producer. Brandon looks forward to helping individuals across the Commonwealth, or fellow Big Blue Nation members anywhere, secure their financial future through insurance and related planning.
Whatever your financial goals may be, Ramsey Consulting is here to help. Whether it be through Bob's decades of experience as a tax and business consultant or Brandon's skills as an insurance advisor, your financial future can be improved by contacting Ramsey Consulting to discuss your financial and/or business needs.
For an initial consultation, you can email [email protected] or call/text 765-914-2581 to schedule an appointment. Ramsey Consulting looks forward to working with you, BBN!
---
It is football time in the Bluegrass once again. At 7:00 p.m. Eastern Time on Saturday evening the Kentucky Wildcats will lineup against the Northern Illinois Huskies. The matchup against the preseason MAC favorite will be the 'Cats final test before SEC play gets into full swing. Northern Illinois enters after back-to-back losses against Tulsa and Vanderbilt. In contrast, Kentucky has the second longest winning streak in the country and is ranked #8/#9 in the AP and Coaches Poll respectively. The Wildcats ranking has earned them a primetime, ESPN2 kickoff even against a lower level non-conference opponent.
On paper, this is a classic look ahead spot for Coach Mark Stoops' Wildcats. Three consecutive victories have put the 'Cats as high as they have ever been in the polls. Also, a potential Top 15 matchup in Oxford, Mississippi looms in Week Five. However, Coach Stoops and company have made a point during their media appearances to let it be known that they were not satisfied with last Saturday's win over Youngstown State. There are still plenty of miscues to be cleaned up on both sids of the ball. This game against the Huskies offers the perfect opportunity to clean it up before the schedule gets much tougher.
As always, we've got plenty of preview content right here on Kentucky Sports Radio. Be sure to check out Adam Luckett's Scouting Report and Freddie Maggard's goals for the game. Those will be two of your best resources for learning about the Huskies. Now, without further ado, let's dive in and learn five things you need to know about the Northern Illinois Huskies.
Huskies Star Quarterback May Not Play
Rocky Lombardi is without a doubt the Northern Illinois Huskies best player. However, the super senior quarterback may be unavailable against the Wildcats on Saturday night. A former Michigan State Spartan, Lombardi injured his knee in the loss to Vanderbilt when attempting to slide. After passing for 2597 yards and 15 touchdowns while leading the Huskies to a MAC title a year ago, Lombardi was off to a good start this season as well. The Iowa native was 39-60 for 530 yards and five touchdowns through three games prior to his injury. His availability, or lack thereof, will drastically impact the ceiling for this Northern Illinois team at Kroger Field.
In Lombardi's absence down the stretch last Saturday, Ethan Hampton stepped in with mixed results. He did complete 12 of 19 passes for 124 yards and two scores. However, he also threw one interception and allowed five other pass breakups. The Kentucky secondary could have some playmaking opportunities if the Huskies are forced to go with their redshirt freshman backup.
Inefficient Rushing Attack Has Held Offense Back
The running game wasn't expected to be an issue this season. Last season, the underclassmen duo of Antario Brown and Harrison Waylee combined for 1155 yards on the ground with 6.3 yards per attempt. Now, a year later, the two account for just 4.6 yards per rush and have produced just seven rushes over 10 or more yards. The sophomore and junior respectively have not lived up to the hype created in 2021.
A Kentucky defense that has been strong against the run should be able to shut things down against the Huskies. Rocky Lombardi offers an additional threat for the Huskies in the ground game, but if he is unable to go it could really be trouble for Northern Illinois to move the ball on Saturday.
Veteran Offensive Line Gives Hope Up Front
Things haven't necessarily gone as planned through three weeks for the projected MAC champions. The lack of a rushing attack, paired with potentially losing their star quarterback, has led to a 1-2 start for a team with higher expectations. The early outcomes are especially surprising given the continuity in the trenches for the Northern Illinois Huskies. At the tackle positions, redshirt seniors Marques Cox and Nolan Potter have started over 50 combined games in their careers and offer some serious size up front. Redshirt junior Logan Zschernitz returns at right guard as well after an All-MAC season. The experience and talent is certainly there for the Huskies on the offensive line, but the production hasn't yet lined up with expectations.
Northern Illinois Features an Eighth Year Senior
Calling Kyle Pugh a super senior doesn't do justice to how long he has been a member of the Northern Illinois Huskies. Between a redshirt season, an additional year thanks to Coronavirus waivers, and two medical hardship waivers the linebacker is in his eighth season in DeKalb. Yes, you read that correctly. This is year eight for Pugh. He has collected over 200 career tackles including 23 this season. Back in 2018 he was a second team All-MAC performer with 106 tackles including five for loss.
Shaky Secondary Has Struggled Against the Pass
Will Levis is going to have opportunities to air it out on Saturday night at Kroger Field. The future first round pick completed 27 of 35 passes against Youngstown State for 377 yards and two touchdowns. However, he also threw a pair of interceptions. Against the Northern Illinois Huskies, Levis will be going against a defense that allows an average of 284 yards per game and nine yards per pass. Opponents have found the end zone through the air 11 times already this season through three games. This certainly could be a game where we see Levis and the Wildcats wide receiver/tight end rooms put up some big numbers.
The secondary has struggled for defensive coordinator Derrick Jackson at Northern Illinois. However, the Huskies best defensive player is at the safety position. Junior C.J. Brown earned All-MAC honors last season as a sophomore after recording a team-best 109 tackles. This season, Brown is second on the team with 27. He also boasts a pass breakup and a fumble recovery. Kentucky will have to account for the Huskies safety as he lurks up into the box to make plays in the rushing attack.