5 Things You Need to Know About the Ole Miss Rebels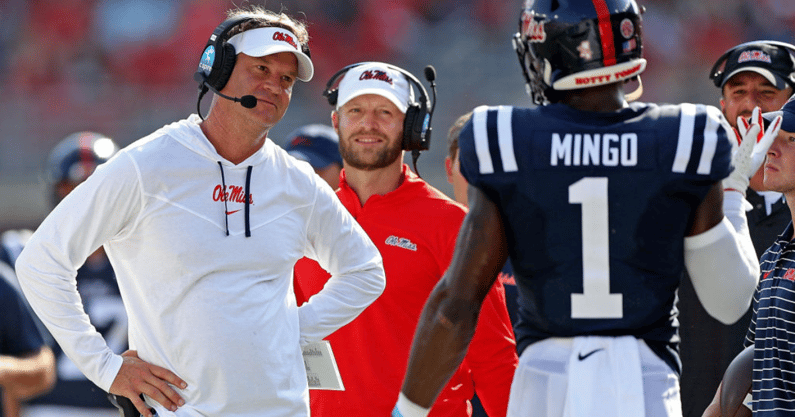 Before we get to the Northern Illinois Huskies, a message from our sponsor. Ramsey Consulting is a CPA, Business, Tax, and Financial Planning firm based in Richmond, Indiana. With 35+ years as a CPA, Bob Ramsey started Ramsey Consulting with the goal of helping businesses and individuals reach their strategic and financial goals. Now, Kentucky Sports Radio's very own, Brandon Ramsey, has joined the family business as a certified life and disability insurance producer. Brandon looks forward to helping individuals across the Commonwealth, or fellow Big Blue Nation members anywhere, secure their financial future through insurance and related planning.
Whatever your financial goals may be, Ramsey Consulting is here to help. Whether it be through Bob's decades of experience as a tax and business consultant or Brandon's skills as an insurance advisor, your financial future can be improved by contacting Ramsey Consulting to discuss your financial and/or business needs.
For an initial consultation, you can email [email protected] or call/text 765-914-2581 to schedule an appointment. Ramsey Consulting looks forward to working with you, BBN!
---
We've been waiting for this one for a while, folks. 10-win seasons and Citrus Bowl victories have helped to change the culture of Kentucky Football under head coach Mark Stoops. However, there still have not been too many opportunities like this for the Wildcats. #7 ranked Kentucky will travel to Oxford, Mississippi to take on the #14 Ole Miss Rebels. With a noon kickoff on ESPN, this game will have a ton of eyes on it around the country. To continue making strides as a program this is the type of game you want to play and ultimately win.
Ole Miss holds a perfect 4-0 record coming off their closest game yet against Tulsa. Likewise, Kentucky is 4-0 coming off their closest game yet against Northern Illinois. Both of these programs were probably looking ahead to Week Five in their last game. Now, Week Five is here. Much has been made of the atmosphere, or lack there of, at Vaught-Hemingway Stadium. However, head coach Lane Kiffin pleaded with fans and the Rebels have a sellout on Saturday. Big Blue Nation assuredly helped the cause as the 'Cats descend on The Grove. It is going to be a fun one between these two top 15 teams. Wake up, grab a beverage, and let's watch some football.
As always, Kentucky Sports Radio has you covered for all your game day content. Make sure you read Adam Luckett's Scouting Report for a deep-dive into Saturday's opponent. Also check out Freddie Maggard's take on How Kentucky Beats Ole Miss. Now, let's dive into five things you need to know about the Ole Miss Rebels.
Ole Miss Rushing Attack Enters as a Monster
A lot of fans probably think of a Lane Kiffin offense as a gunslinger type of approach. However, that is certainly not the case in 2022 for the Ole Miss Rebels. Through four games, the Rebels are seventh nationally in run play percentage at just over 65%. Zach Evans and Quinshon Judkins lead the way out of the backfield with a combined 794 yards and nine touchdowns. Their average of 6.2 yards per rush will be a serious challenge for the Kentucky defensive front to contain.
It appears unlikely that Ole Miss will have their third running back in Ulysses Bentley IV for this one. The redshirt junior SMU transfer averages 5.4 yards per carry and has found the end zone four times. However, quarterback Jaxson Dart also contributes to the running game and can pick up some slack if Bentley IV is unavailable. Dart is averaging 7.6 yards per attempt on the ground and has collected over 200 non-sack rushing yards. His mobility in the pocket adds another weapon the the Rebels ground game.
Transfer Portal Additions at Wide Receiver and Tight End
The Ole Miss Rebels were one of the biggest winners of the transfer portal heading into the 2022 season. That rings especially true when you look at their passing attack. Mississippi State transfer Malik Heath leads the Rebels with 13 receptions on a team-high 20 targets. He has collected 220 yards and three touchdowns. Former USC tight end Michael Trigg also has caught 13 balls and three touchdowns. Rounding out the portal additions is Louisville transfer Jordan Watkins. The speedster has brought in six balls for 69 yards.
However, despite all of the attention given to the transfers, veteran Jonathan Mingo is still the most dangerous receiver for Ole Miss. The 6'2″ senior is a multi-year starter for the Rebels and has been a big play threat this season. Mingo has recorded a team-best 257 yards on just 12 grabs, good for 21.4 yards per reception. Kentucky's secondary will need to limit those explosive play opportunities on Saturday afternoon.
Rebels Quarterback Jaxson Dart Hasn't Shown Much
Sophomore quarterback Jaxson Dart took over as the Ole Miss Rebels starter in Week Two and has helped lead the team to a 4-0 start. However, he hasn't been asked to do too much so far this season. That may change now entering SEC play where the former top-50 recruit will be asked to sink or swim. So far this season Dart has thrown the ball just about 20 times per game for the Rebels connecting on 62.2% of his passes for 697 yards and five touchdowns. His pass breakup/interception rate of 16.9% shows that the Kentucky secondary will have some playmaking opportunities on Saturday afternoon in Oxford.
If the Wildcats can limit the explosive plays both through the air and on the ground, it could be tough sledding for the USC transfer at quarterback. In a big time top 15 matchup there is no question that the best quarterback on the field will be rocking the Kentucky blue.
Unique Defense Will Provide Different Looks
The competition level hasn't been great, but the Ole Miss Rebels defense has done their job through four weeks of the season. Defensive coordinator Chris Partridge's defense is sixth nationally having allowed just 10 points per contest and comes in at 11th allowing 4.2 yards per play. However, coming off of giving up 27 points to Tulsa, some inefficiencies have been exploited and the Kentucky offense has the luxury of seeing those on film for a week.
A 3-2-6 scheme is set up to take away the vertical passing game while allowing for blitzes from different spots on nearly each possession. The Rebels will rotate where they bring a fourth rusher from to try and confuse the Wildcats offensive line that has struggled at times to protect their star quarterback Will Levis. Ole Miss has recorded 28 tackles for loss already this season. Getting Chris Rodriguez back should help keep the 'Cats ahead of the chains and force Ole Miss to be more aggressive. If they can't just sit back with six in the secondary it will open up some potential downfield opportunities to Dane Key and Barion Brown.
Talented Defensive Front Will Test Big Blue Wall
It is no secret that Kentucky's offensive line has been a weak point so far this season. They were able to settle in against a good defensive front against Florida, but will still need to play their best game of the season this Saturday. Talented nose tackle JJ Pegues is expected to return to the lineup after being limited due to injury. Cedric Johnson will be one of the top havoc producers for the Rebels. He has recorded 10.5 career sacks in 21 games with Ole Miss. Jared Ivey and Tavius Robinson will be other names to know up front.
These players on the line will look to get after the quarterback in front of a raucous crowd on Saturday. What they may lack in raw size and power they make up for with athleticism and speed. This will be a measuring stick for the improvement of the Big Blue Wall.